Campus Life
USF Makes Princeton Review's 2023 Top Colleges List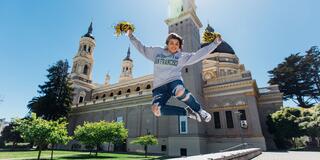 The University of San Francisco, one of 388 colleges and universities recognized August 17 by the Princeton Review as a top university in the U.S., received high marks from students who were surveyed.
"USF is interested in developing the individual into a strong leader with a particular emphasis on the forces of self-reflection and self-awareness," said one student who was surveyed for the book, The Best 388 Colleges: 2023 Edition. More than 160,000 students across the country took part in the survey.
Students were asked what they like the most about their schools, everything from financial aid and career services to sustainability and quality of life.
The Princeton Review features about 14 percent of four-year colleges in the United States, and it doesn't rank schools.
USF students who responded to the survey emphasized academics, the student body, and campus life.
For academics, the Princeton Review reported that students said, "We have academic success advisers who help make sure we are on track with graduation, help with major changes, and choosing class schedules."
Students described the student body at USF this way: They "come from all over the world" as well as from many "different cultural backgrounds and hobbies and interests," but hold a common interest of being "committed to their education" and, for the most part, "everyone gets along very well."
And campus life gets high marks from students who said campus is a "welcoming, second home for all of its students," even as many noted they spend weekends exploring San Francisco.