A Tribute to Motherhood on Lone Mountain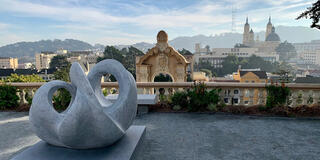 Before Lone Mountain became part of the USF we know and love today, it once hosted the Lone Mountain College and San Francisco College for Women.
In celebration of mothers and maternal bonds, the daughters of two Lone Mountain legacies, Natalie Tachis Stafford LM '73 and Lia McGinness Whitehead LM '71, speak on adopting the concrete benches that adorn USF's hilltop campus in their mothers' names.
Natalie Tachis Stafford LM '73
Image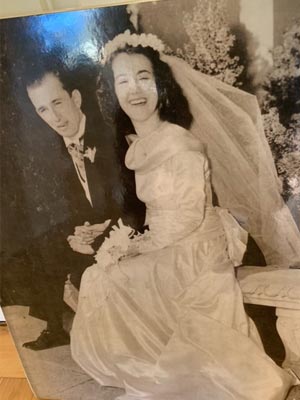 On the evening of their November wedding in 1948, Rita Lucia LM '49 and Tom Tachis, were photographed sitting on the east bench situated atop the Lone Mountain steps, the same year that Rita graduated from Lone Mountain. Their daughter, Natalie Tachis Stafford LM '73, and her husband, cherished the photo for years, only to find that the original concrete bench still stands.
"Lone Mountain College was a point in our academic careers and lives where she and I grew tremendously," said Tachis. "I'm saving my mom's seat on this bench as a way to honor the passion she had for education and personal growth."
Following conversations with USF's Development Office and Facilities, the Staffords inquired how they could pay tribute to this special moment and a woman of many talents. In 2022, the Staffords adopted the bench and had a plaque installed to honor Natalie's mother.
Lia McGinness Whitehead LM '71
After learning about the Stafford's bench, a second Lone Mountain alumna, Lia McGinness Whitehead LM '71, and her husband, Jim, decided to adopt a second original concrete bench on the west side at the top of the Spanish Steps. This bench would honor Lia's mother, Ilda Gherini McGinness, one of the first students to graduate from the San Francisco College for Women in 1933.
"My mom wasn't a teacher like me, but she was a quiet educator who led me, my husband, and her grandkids by example. I wanted the bench to be a place on campus where I would like to stop on my way to class to arrange my books and experience the campus as she did," said Whitehead.
The commemorative benches adopted by both graduates celebrate generations of education at the historic Lone Mountain campus, and honor the special roles mothers play in life and in supporting educational dreams.