Giving
$1 Million Scholarship Gift Supports Underrepresented Students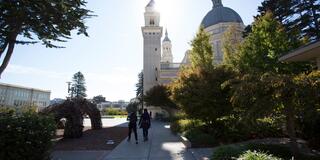 A 1967 graduate of the University of San Francisco has pledged $1 million to the university to help support underrepresented students from communities in the East Bay.
The scholarship fund will provide each student with a $25,000 scholarship, every year for four years. Ten students will receive the scholarships.
The university is selecting academically qualified students with demonstrated financial need to receive the new scholarship. The students are being chosen from area high schools as the donor wished, says Michael Beseda, vice provost for strategic enrollment management at USF.
Part of the plan is to make sure each student, in addition to all of the regular academic support, is mentored to help them navigate university life and classes at USF. The goal is to set up the students for success. The students also will be required to maintain a 3.0 grade point average.
Diversity and Inclusion Efforts
USF has expanded efforts to reach students who are still underrepresented in higher education, particularly African Americans and Latinos. These scholarships help, says Beseda.
"This scholarship is going to help us meet the need of students who are academically able and interested in the life-changing Jesuit education we offer here and who wouldn't be able to take advantage of what USF offers if we didn't offer a scholarship like that," he says.
In addition, he says, it makes sense for USF to step up its recruiting efforts in the Bay Area.
"I've heard from alumni who say we need to do a better job of connecting with Bay Area students and setting them up for success. This scholarship does that," Beseda says.
The Power of a Jesuit Education
Meanwhile, the alumnus who made the gift credits the Jesuit education he received at USF with influencing his philanthropy, moving him to consider how he can help others. Today, he supports education, health care, and environmental efforts.
"I have been blessed, and I'd like to give back and thank USF," the alumnus says, adding that he would like to remain anonymous. A resident of the East Bay, he expressed interest in supporting the community there, particularly African American and Latino students.
Rev. Paul J. Fitzgerald, S.J., president of USF, says he is very grateful to this alumnus who wants to support USF and help us continue building a diverse and inclusive environment at the university.
He said he would love to see others support both current-use and endowed scholarships for students.
"In order to create a campus that reflects our values, these sorts of scholarships are essential," he says.
The donor says the scholarships are designed to support the call to philanthropy that his parents instilled in him.
"I have had many opportunities, " he says. " and now I want to provide for others. I see it as my responsibility to give back."
Find out how you can support scholarships
This gift was made in support of Changing the World from Here: Campaign for the University of San Francisco.