Campus Life
Students Doused in Festival of Spring Colors
Up, up, away! Colors fly at USF's Holi Festival.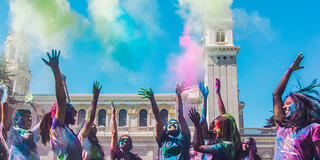 USF students welcomed spring to San Francisco in a burst of color on March 26, filling the air and dousing each other's clothes and hair with bright violets and yellows as part of Holi.
A Holi mess
About 30 students from all backgrounds took a break from studying to join the lunchtime celebration. It was the second year of the festival at USF, which is put on by the Indian Student Organization (ISO).  Holi, or the Festival of Color, is a major holiday in India. There, shops close, people race through the streets dousing each other with colored powders and colored waters, sing, dance, and hug, and set off fireworks, says Mohak Singh, ISO president.
"It feels good to be able to represent our culture on campus, and it's great for Indian-American students too because many of them aren't familiar with their native culture so this helps them preserve a little piece of it," Singh says.
Know someone with a powerful USF story? Let us know! usfnews@usfca.edu | Twitter @usfcanews