Passion for Justice
Students Deliver Food Justice in the City
They distribute groceries to low-income seniors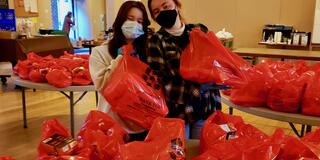 Selecting food for someone in need helped Claire Mattingly '25 start the day off feeling more centered.
She filled bags with items such as celery, potatoes, onions, summer squash, pasta, and canned tuna for low-income senior citizens in San Francisco. The food provided weekly groceries for the seniors. It was also an example of food justice, a theme that Mattingly and the other students in the Martin-Baró Scholars (MBS) living-learning community studied this year.
"If you're ever feeling hopeless or disconnected or awash in high-minded conversations, holding these vegetables and giving them to someone who needs them, it's the best," Mattingly said.
A Quest for Food Justice
Mattingly, a history major, was one of five first-year USF students from the MBS program who worked with Groceries for Seniors, a local nonprofit that packages and delivers meal basics — fruits and vegetables, a protein, and a starch — to 1,100 seniors living independently but struggling with costs.
"When people think of food inequality, it can seem like such an umbrella term and not something specific," said Sheila Ta '25, an international studies major. "We realized that you can help simply by volunteering with the time that you have. You're making someone's day better so they can cook a meal and sustain themselves."
The MBS living-learning community, now in its 20th year, dives deep into one topic each year. Students in the program examine issues of poverty, social justice, and diversity while working with community partners directly on those issues.
Food justice — the concept of equity throughout the food system — became the focus this year because of the prevalence of food insecurity, both locally and beyond, said David Holler, professor of rhetoric and language and director of the MBS program. 
Many Hands Make Light Work
The students helped fill bags of food at Old St. Mary's Cathedral in Chinatown — always more than 200 bags and sometimes close to 300 — and then loaded them into a delivery van. Students on occasion rode along to deliver the bags to apartments across the city.
"What made this year's community outreach especially gratifying was, quite simply, the fact that so many of us wanted to help our community in any way possible amidst the catastrophe of COVID," said Holler. "In our class in particular, studying food insecurity from many angles for an entire year, it felt important to be helping people with their most basic needs. Food insecurity in San Francisco is at crisis levels, and we wanted to do whatever we could."
The students brought a lot to their volunteer roles, said Tim Thompson, executive director of Groceries for Seniors. They forged connections with other volunteers, many of whom are seniors themselves. And they put into action what they learned in class. 
"It's one thing to discuss food justice," Thompson said, "but it's another thing to help build hundreds of bags, help load them into the van, and in some cases, help deliver them to the buildings where these seniors live."