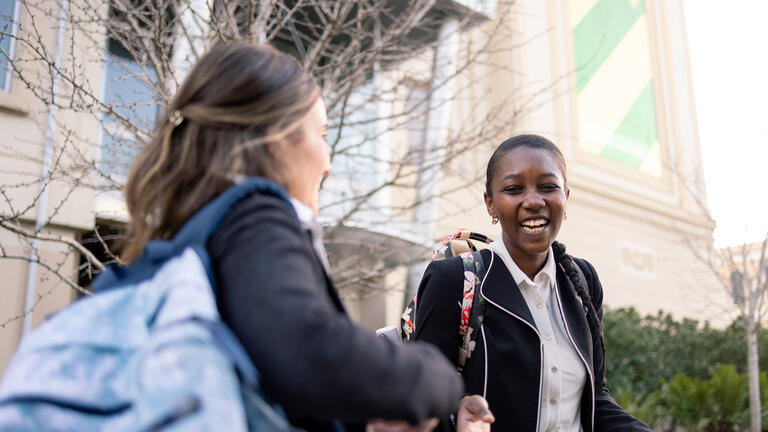 Martín-Baró Scholars Program
Yearlong Living-Learning Community
The Martín-Baró Scholars program is a yearlong living-learning community for first-year students at the University of San Francisco. Now completing its eighteenth year, the program integrates five core requirements into a single, comprehensive curriculum that examines issues of poverty, social justice, and diversity.
Using the city of San Francisco as a springboard, students develop their abilities in observation, discussion, analysis, and writing through a multidimensional lens. Students engage with the societal problems they examine by doing significant service with one community partner for an entire academic year.
Be The Change: Martín-Baró Scholars
Members of USF's Martín-Baró Scholars living-learning community help the children of homeless families at Raphael House in San Francisco's Tenderloin neighborhood.
Engage with Social Justice in San Francisco
This year the central focus of the Martín-Baró Scholars Program is social justice in San Francisco. To engage with this subject, we will combine our classroom texts and assignments with a service-learning project. Students who successfully complete the Martín-Baró Scholars Program curriculum earn 8 units of credit in the fall and 8 more units in the spring. MBS typically takes up half of your schedule each semester, allowing you to take two other classes each semester.
Cores you Earn with MBS
Oral Communication (Core A1)
Writing Communication (Core A2)
Literature (Core C1)
Community-Engaged Learning (Core CEL)
Cultural Diversity designation (Core CD)
Apply to the Program
Only first year students may apply for the Martín-Baró Scholars Program. The application is only offered online and all fields must be complete in order to be considered. Be sure to review your responses and complete your application by pressing SUBMIT. You will receive an automated response confirming successful submission.
Deadline: The deadline for the MBS Application is Friday, May 26, 2023.
Please Note: You should have already applied for university housing.
If you have questions or need help, please contact Prof. David Holler of the Martín-Baró Scholars Program at dholler@usfca.edu.
Who was Martín-Baró?
Image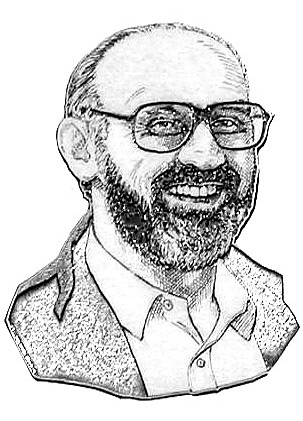 Ignacio Martín-Baró, S.J. (1942-1989), was a disciplined professional who worked tirelessly as a Jesuit priest, psychologist, and as Vice Rector of the University of Central America.
His self-discipline was balanced by a true passion for helping the poor and advancing social justice in El Salvador. These passions, which conflicted with the governmental agenda of Salvadoran military leaders, prompted his execution-style murder in November 1989. His life work has strengthened the Jesuit mission of ministry, service, and teaching the poor and serves as inspiration for others who seek to create a socially just world.
Student Testimonials
The best and worst thing about the Martín-Baró Scholars Community is that you can't escape learning. Conversations continue after the classroom empties and the exploration of ideas never ceases." — Megan P.
The highlight of the Martín-Baró Scholars Community is when we go into the city on field excursions. Not only do we get to see a new part of the city and explore it more, but we also come into contact with people and do things that we never would have done… the best way to learn!" — Andrea W.
I learned how to communicate my feelings and most importantly, I got a chance to understand the meaning of friendship and its relation to the community." — Alex P.
Faculty and Staff
The Martín-Baró Scholars Program is staffed by faculty from the College of Arts and Sciences, in conjunction with staff from the division of Student Life.
Faculty for this Year's Program
Martín-Baró Scholars Program Fact Sheet
Fall 2022
Professors: David Holler, Kara Knafelc; Department of Rhetoric and Language
Contact: dholler@usfca.edu
Phone: 415-994-3853
Program Overview
Founded in 2002, MBS is a living-learning community for first-year students only
Students live together in Toler Hall
MBS fulfills five "cores": oral communication (public speaking), written communication (composition), literature, cultural diversity, and community-engaged learning
MBS students earn 8 units each semester (it's half your schedule in fall, allowing you to take two other classes in fall). The same holds true in spring: MBS would be half your schedule, so you can take two other classes.
We meet Monday, Wednesday, Friday 11:45 - 2:05 (with a short break in between)
We are project-based and typically work with one community partner per year, although we may need to adjust our partnerships this coming academic year as we emerge from the challenges of the pandemic
In 2022 - 23 our themes will be food justice and poverty in San Francisco 
We will likely serve at USF's Food Pantry, and also have many off-campus engagement opportunities (volunteering at the Food Bank, for example)
Major Assignments
Neighborhood Case Study (teams of three research, visit a neighborhood, then co-write and co-present a final paper) (due in October)
Policy paper and speech of your choice (due in December)
"Rogerian" research project, paper and speech of your choice (due in March)
Short literature-based responses (students choose one to expand in May)
Readings will explore rhetorical, political, historical, literary angles on food justice and poverty throughout the academic year
What Makes the Program Unique?
Living-learning communities offer a supportive atmosphere
Integrated curriculum with five cores blended together
Project-based experiential learning (e.g., we've made a documentary; installed an edible garden at a homeless shelter; tutored; written and edited books—but all our work is based on what our community partner needs—this year it's all about ameliorating food security)
We prioritize student growth and leadership (many students go on to leadership positions, earn awards)
We meet leaders at City Hall; attend plays and events off-campus as a class
Lots of individual attention, meetings with professors
MBS student cohorts typically range from 16-18 students
Who Was Martín-Baró?
Spanish Jesuit priest who lived and worked in El Salvador during the worst of its civil war, assassinated in 1989
Internationally renowned Social Psychologist (University of Central America)
Author of numerous books (Noam Chomsky wrote favorably of his work in Social Psychology)
Who We're Looking for in MBS
Team players with strong work ethic
Students with genuine interest in community-engaged learning
Students who are communicative with peers and professors
Students who challenge themselves and take research seriously
Exceptionally mature students of any major
What Happens After I Apply?
Program faculty carefully review all applications beginning May 27
A brief conversation with finalists and program faculty is necessary before joining the program. This will likely take place between May 30 - June 2
Notifications are emailed on or before June 4
Housing assigns rooms on June 5
Students who are accepted to MBS are not expected to do any summer readings (we'll have plenty of time together next academic year)