San Francisco Advantage
Sport Management Students Help Kick Off Super Bowl 50 in San Francisco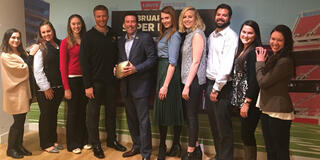 With Super Bowl 50 less than one month away the Super Bowl 50 Host Committee and its USF Sport Management interns are onto the final days of preparation for this year's big game.
Students Mackenzie Murtagh, Justine Dutton, Skyler Corcoran, and Travis Gorsch have been involved with the committee since early September.
Murtagh, who works as a special events associate, said these last four months have been a huge learning experience.
"The events I have been involved in and the things I am learning and doing have really made the material we are learning in school come alive," said Murtagh. "I have gotten more hands on experience than I ever could have imagined. The program has been extremely supportive and helpful during the past few months."
Dutton, a general operations associate, also noted that being proactive outside of the classroom is vastly important when looking at the bigger picture.
"It's the only way to gain real work experience," said Dutton. "Without that work experience, I don't see how anyone would get a job. I would say that time spent outside of the classroom is more important than the work done inside the classroom."
As an Event Operations Production Assistant, Corcoran is tasked with managing the onsite volunteer program for Super Bowl City, which consists of over 3,500 volunteers. He was hired, much like many of his colleagues, by program alumna Sarah Louise Atkinson, the event and operations manager for the committee. Corcoran had high praise for Atkinson, as well as other program alumni who are always willing to lend a hand to current students.
"She has been extremely helpful to me in my position with the Host Committee, and I have learned a lot from her," said Corcoran. "I have also found that other alumni are available and eager to help, and are always available for informational interviews."
Gorsch, works as a community relations associate primarily with the 50 fund, the legacy fund of Super Bowl 50.
"In my opinion, your time spent outside of the classroom doing internships or volunteering becomes more valuable after a certain period of time," said Gorsch. "Your education will help you get your foot in the door, but after a certain period of time people start looking at your experience in the sports industry more than your education."
The time has finally come for San Francisco to step into the spotlight and with the help of our Sport Management students it's sure to make Super Bowl 50 shine.