Research
Silicon Valley Venture Capitalists Remain Cautious According to New University of San Francisco Research Report
SAN FRANCISCO (February 23, 2023) – Macroenvironment challenges continue to restrain sentiment among San Francisco Bay Area venture capitalists (VCs), who pointed to international conflict, high inflation, rising interest rates, and volatile public markets for their cautious outlook in a January 2023 University of San Francisco School of Management survey. An on-going indicator of VC sentiment, The Silicon Valley Venture Capitalist Confidence Index™ Research Report for Q4 2022, based on a survey of 34 San Francisco Bay Area venture capitalists, registered 3.25 on a 5-point scale, indicating moderate confidence (with 5 indicating high confidence and 1 indicating low confidence). The Q4 2022 Index was essentially unchanged from the prior quarter's reading of 3.24, and still well below the 19-year average of 3.66.
"While optimism in the long-term strength of the entrepreneurial ecosystem remained among the VCs responding to the Q4 survey, macro issues weighed on the VC business model and, thus, on VC sentiment for the near term," indicated Mark Cannice, University of San Francisco School of Management professor and the study's author.
One VC respondent to the survey, Dag Syrrist of Valedor Partners, voiced concern over "a recessionary macro environment, made harder with many or most new funds and investors being unfamiliar with challenging times in general and the need to triage portfolios - letting go of some, and focusing on fewer." As venture capitalist Cindy Bi of CapitalX reported, "It's harder for both startups and VCs to raise money."
Some VC respondents to the Q4 survey were somewhat more sanguine. Edward Suh of Alpine Ventures reflected "I have spent nearly 17 years in the San Francisco Bay Area, and there has never been a time that it wasn't the epicenter of startup activity in terms of company formation, talent, and capital." Nitin Pachisia of Unshackled Ventures noted that "We've seen great startups founded during economic downturns."
Dr. Cannice concluded the report by stating that "Looking beyond the horizon is a specialty of visionary entrepreneurs and their supportive venture investors, and it is what has made Silicon Valley the launch pad of 'what's next' in technology and the future of industry for generations."
The survey and research report for Q4 2022 marks the 76th consecutive quarterly report since Q1 2004, providing unique quantitative and qualitative trend data and analysis on the confidence of Silicon Valley venture capitalists in the future high-growth entrepreneurial environment. Mark Cannice, professor of entrepreneurship and innovation at the USF School of Management, authors the research study each quarter. USF graduate student Maryam Amr provided invaluable research assistance for the Q4 2022 report.
Those interested in viewing the report in its entirety should contact Kellie Samson at the University of San Francisco at ksamson@usfca.edu.
Image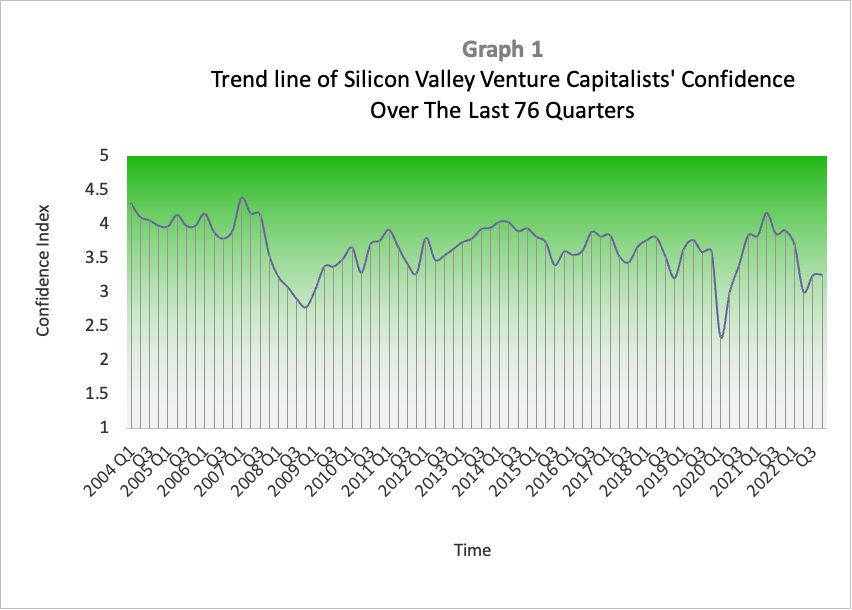 About the USF School of Management
Founded in 1925, University of San Francisco's School of Management is on the forefront of educating the next generation of conscious, mindful business leaders. Each year those students join the over 40,000 School of Management alumni around the world to create ethical and innovative change in the private, public, and non-profit management sectors. The School of Management is accredited by the Western Association of Schools and Colleges Senior College and University Commission (WSCUC) and the Association to Advance Collegiate Schools of Business (AACSB).
About the University of San Francisco
The University of San Francisco is a private, Jesuit Catholic university that reflects the diversity, optimism, and opportunities of the city that surrounds it. USF offers more than 230 undergraduate, graduate, professional, and certificate programs in the arts and sciences, business, law, education, and nursing and health professions. At USF, each course is an intimate learning community in which top professors encourage students to turn learning into positive action, so the students graduate equipped to do well in the world — and inspired to change it for the better. For more information, visit usfca.edu.