Giving
Passion Drives Recent Alumni to Stay Connected to USF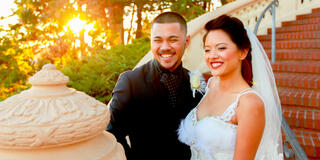 Despite rising levels of student loan debt in this country and challenges for recent graduates who are trying to establish themselves, USF alumni say they support giving back to the institution that shaped both their career and personal trajectories.
"USF's mission resonated with me from the very beginning," said Jessica Casas '09. "It made a difference in how I approached my career and my life — to be meaningful, impactful, and not self-serving."
Supporting the USF Mission and Each Other
Casas and her husband Argel Sabillo '09 met before deciding to transfer to USF to complete their undergraduate education. During their time at USF, the relationships they built with their peers, professors, alumni, and each other really molded their outlook and personal missions.
"When we decided to get married, it was only fitting that we had the wedding at St. Ignatius," Casas said. "USF is where we really fell in love."
In lieu of wedding gifts, the couple asked for donations to the university.
"We're so grateful for our USF educations and the connections, it just made sense," Sabillo said.
Casas is now the global real estate manager for APAC and North America at Avery Dennison a Fortune 500 company, and Sabillo is the founder of GoodSpring, a mission-driven accounting firm helping startups and social enterprises run their financial back-office. Part of the firm's mission is to mentor underrepresented high school students to pursue a career in accounting and finance. They each give a portion of their paychecks to support student scholarships at the university, donate their time to serve on the Los Angeles Regional Alumni Council for USF, and mentor students through USF's Alumni Mentor Program.
"There is a certain caliber of students who graduate from USF. They have high values, ethics, and integrity. You can trust that USF alumni will make the right decision," Casas said.
"That's something we're really proud of as alumni. We want to stay connected because of that," Sabillo added.
Choosing USF Year After Year
Collectively, philanthropy by younger donors and recent graduates has been rising in recent years in comparison to their older counterparts, according to the 2018 Burk Donor Survey.
One USF alumna, Sascha Rosemond '15, MNA '19, gives to USF every year and even supported the university while she was a student when she served on the Student Philanthropy Committee.
"I don't think USF is a school that students attend to simply get a degree and go make money. Although that might be the outcome of hard work and ingenuity, I think that most people come to USF because they really want to make a difference and change the world," Rosemond said. "That's why I choose to give to USF year after year."
Rosemond works as a development and donor relations assistant at the San Francisco Foundation. She is pursuing a graduate degree at USF in Nonprofit Administration, and she serves on the university's Women in Leadership & Philanthropy board.
"I think it is a normal response for alumni to feel hesitant about giving back to the university after they have paid tuition and are most likely dealing with student debt. For me, paying back my loans and giving back to the university are separate," she said. "I feel like it is my responsibility to give back to the university that gave me so much."
To learn more about how to get involved as an alumnus/a or to make a gift to what you care about most at the university visit usfca.edu/alumni.