Equipped to Lead and Succeed
Preventing Sexual Assault
Research on dating violence-prevention wins national award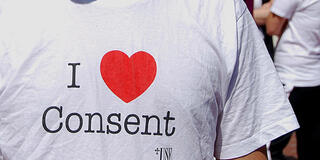 Dating-violence prevention programs for middle and high schoolers teach students the signs of unhealthy relationships, but they don't actually reduce dating violence, according to research by Lisa De La Rue, assistant professor of counseling psychology.
"Our research is the first to show that these middle school and high school programs aren't consistently implemented throughout the students' years in school, and aren't able to move the needle on dating violence behaviors," De La Rue says.
Her analysis of 23 school-based programs won this year's Outstanding Research Award from the American Educational Research Association and was highlighted in The Atlantic and U.S. News and World Report.
The behaviors she studied included sexual assault but also such incidents as controlling who a partner's friends are or monitoring a partner by forcing them to share social media or email passwords.
Constant communication is key
The kinds of problematic behaviors de la Rue studied can escalate when students reach college — where sexual assault on campuses has become a nationwide problem. Nearly 25 percent of female undergraduates reported being sexually assaulted after enrolling in college, according to a 2015 survey from the Association of American Universities.
While De La Rue's research doesn't speak to the effectiveness of college dating-violence programs, it's clear that consistent programming and communication through a variety of channels is important, she says. 

USF administrators and student groups, for example, host sexual violence prevention events more than once a month during the school year. These include mandatory training for students about sexual violence and observing Denim Day — a national campaign to support sexual assault survivors and increase awareness.  
USF was the first university in the country to implement Callisto, an online system for reporting sexual assaults that makes it easier for victims who may be hesitant to come forward in person. The system allows the university to analyze data in order to provide more targeted sexual violence prevention programming, says Leighia Fleming, who heads USF's sexual violence training programs. 
Promoting Equity
Ultimately, there's a much bigger cultural shift that needs to take place in addressing sexual violence nationwide, De La Rue says. Some of that work is being done on campus. 
"USF tries to promote equity based on gender, race, and ethnicity," she says. "All of those things promote a culture that's less tolerant of sexual harassment."
But there's more to be done — particularly when it comes to being respectful of women.
"In our society there's an underlying message that women are objects," she says. "The fact that Donald Trump was able to say such abusive comments about women, and was rewarded the highest office in the land — I think that really captures where we are as a country."
Know someone with a powerful USF story? Let us know! usfnews@usfca.edu | Twitter @usfcanews