Giving
Nurturing a Pipeline Towards Success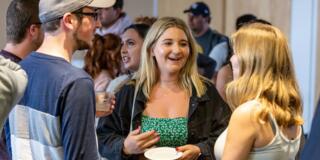 After a successful first grant period, the Humanities Mellon Scholars (HMS) program between Foothill-DeAnza Community College District (FHDA) and the University of San Francisco has been awarded a renewal grant of $793,000 from the Andrew W. Mellon Foundation.
The partnership between FHDA and USF supports students in obtaining a quality education with a strong focus on the humanities and creates a strong transfer pathway between FHDA and USF. After completing university transfer requirements at Foothill and De Anza colleges, students are guaranteed a pathway to earn a bachelor's degree in a humanities program at USF's College of Arts and Sciences.
"Part of USF's mission is to serve the underrepresented and underserved students. HMS underscores the importance of these students as change-makers and highlights the importance of arts and humanities in liberal arts study, regardless of what major you choose," said Eileen Fung, Interim Dean of the College of Arts and Sciences and principal investigator for the grant.
Students accepted into the HMS program receive financial and experiential assistance through scholarships, research assistantships, and financial support for course materials. Additionally, Mellon Scholars meet regularly with Mellon Scholar Coordinators and faculty members to help them navigate course schedules, identify research and internship opportunities, and guide them through degree completion.
"Transfer students are easily overlooked. Building the cohort community is important for retention, meaning our intentionality is critical to help them face the obstacles of higher education," said Fung. "HMS places students in a community and helps support them with a goal of retention to graduation."
In addition to supporting transfer students at USF, the grant also supports faculty at both USF and FHDA through training that teaches innovative instruction to best support transfer students. This training teaches instructors how to build a collaborative curriculum between the institutions and offers opportunities to co-teach, creating advanced exposure to the learning environment of a four-year university.
The HMS program is just one way USF is showing its commitment to transfer students. Funded by the Koret Foundation and overseen by Shirley McGuire, Ph.D., senior vice provost of Academic Affairs and Professor of Psychology, the Transfer Pathways Initiative builds off the strong foundational vision established by HMS to expand outreach and provide resources for transfer and first-generation students.
Together, these two grant-funded programs demonstrate USF's commitment to community college students, building strong transfer pathways and helping them secure their four-year college degree.
"The Jesuit tradition has always included meeting people where they are. It is crucial that we meet these USF students where they are before, during, and after they are completing their degrees with us," said McGuire. "We need a community full of people with different experiences and perspectives and transfer students are a key to that richness."
As the HMS program continues to evolve and grow, USF remains committed to supporting transfer students across the Bay Area by adding more community college partners to generate more matriculation and offer more opportunities to local students.
This gift was made in support of Changing the World from Here: Campaign for the University of San Francisco.