Equipped to Lead and Succeed
Not Done Yet
Billie Jean King visits USF, talks about her lifelong fight for equality
When Billie Jean King picks up a racket and starts hitting autographed tennis balls into the audience to the tune of Elton John's song "Philadelphia Freedom," you know you've just attended a different kind of guest lecture.
The tune, which was written about her, marked the end of a lively conversation between USF Director of Special Initiatives Jennifer Azzi and the tennis legend and equality champion. King was at USF's War Memorial Gymnasium at the Sobrato Center March 19 as the latest guest of the Silk Speaker Series. She came out, and literally left, swinging.
"Now you're rocking! Let's go!" was her welcome to the audience of nearly 800, and her enthusiasm didn't wane over the next hour spent talking about her life, tennis career, equality advocacy, and awards.
"I don't really care that much about the grand slams," she said in response to Azzi's mention of the 39 grand slam titles King won. "Everyone measures everything by grand slams now, and that's not what we measured. We women measured (our success) by getting from amateur tennis to pro tennis. 1968 was the first time we got a check, actual money."
Tennis as an equality yardstick
King has been determined to bring parity to the game of tennis for almost her entire life. She began to play at age 11 in her hometown of Long Beach, California and was soon attending tennis tournaments in Los Angeles and San Diego.
At the country clubs where those tournaments were held, she noticed almost immediately that "everybody in tennis wore white shoes, white socks, white clothes, and everybody who played was white. And I said to myself, where is everybody else? And that was the moment I promised myself that I'd fight for equality for the rest of my life."
King used the fame she found as a tennis star to champion causes on and off the court. Fighting for equal prize money for men's and women's games at tournaments earned her recognition as an equality advocate, and her "Battle of the Sexes" match against Bobby Riggs (still one of the most-watched televised tennis tournaments in history) proved that women's tennis deserved to be taken as seriously as men's. A long-time hope is to see men's and women's tennis playing under the same union, she said.
"Together as men and women we have power, and not just on the court. Think what we can do off the court to make the world a better place."
King co-founded World Team Tennis, the only professional co-ed sports league, and womenSports magazine, the first magazine dedicated to women in sports. She created the Women's Sports Foundation with three goals in mind: that women born anywhere in the world be able to compete, that they be recognized for their accomplishments and not their looks, and that they be able to make a living playing their sport, should they have the desire and ability to do so.
Billie Jean King Leadership Initiative
In 2014, King founded the Billie Jean King Leadership Initiative, a nonprofit aimed at achieving equality in workplaces around the world for all genders, nationalities, faiths, and sexual orientations.
"Every human being has knowledge that is so important, and we're just not using what we've got," she said when asked about the important work left to be done.
But don't ask her to name her most important accomplishment.
"I'm not done yet!" she laughed when a USF student asked what she considered to be her greatest legacy. And then she used her racket as an air guitar before serving those autographed souvenirs to her audience, on its feet and cheering. Her fist was still pumping as she left the stage.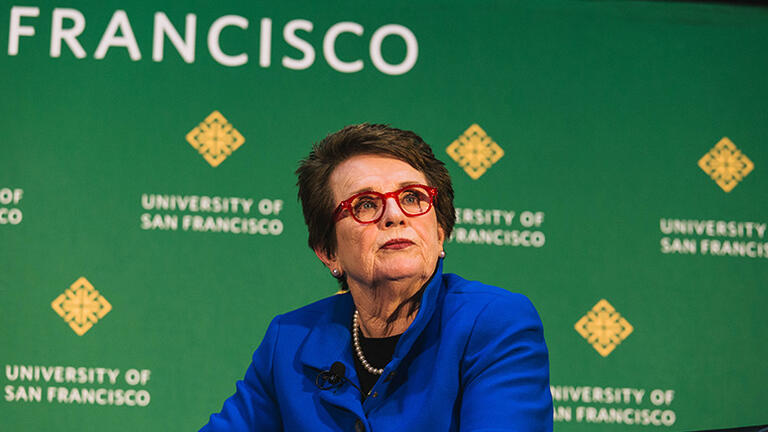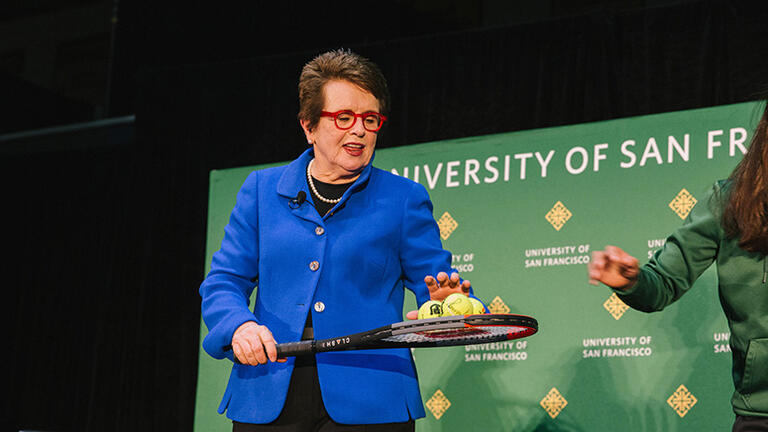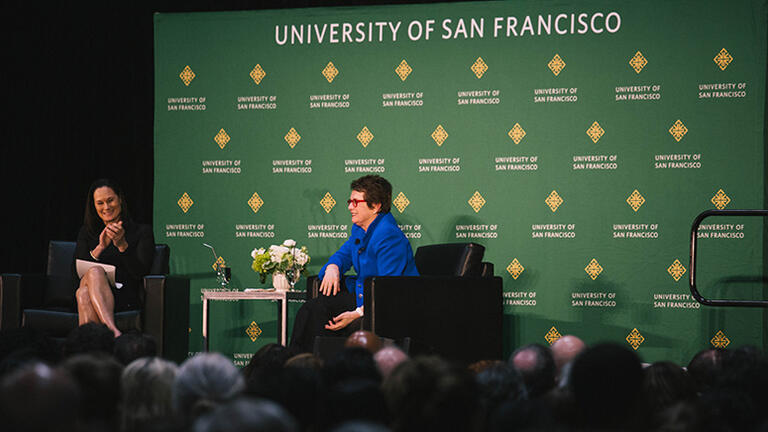 Billie Jean King at the Silk Speaker Series
Billie Jean King at the Silk Speaker Series
Billie Jean King speaking at the Silk Speaker Series