San Francisco Advantage
New MS Program Cultivates Leaders in Renewable Energy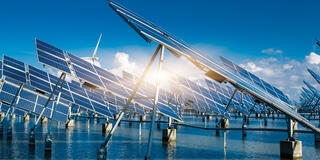 USF is offering a new Master of Science program, Energy Systems Management. Under the wing of industry experts, future students will receive training in renewable energy technologies, energy policy, and the smart grid, as well as other skills that will equip them to become leaders in the rapidly expanding field of renewable energy.
The program arose from Professor Maggie Winslow's passion for energy efficiency and renewable energy — she's been researching these issues since graduate school and earned her PhD from the Energy and Resources Group at UC-Berkeley. She will serve as the program's inaugural director.
"This program is a way to both help the move towards a low carbon grid, and to help prepare students who are interested in working in this vital and growing sector," she said.
The program will live up to USF's call for social responsibility by training future leaders in the energy sector to reduce greenhouse gas pollution and ultimately make the earth more hospitable for future generations. This is particularly important for protecting the poor and socially vulnerable, whom, Prof. Winslow points out, continue to suffer the most from the effects of climate change — from heat waves and droughts to natural disasters — because of their limited ability to prepare for and cope with the damage.
"It is imperative that we reduce global carbon emissions," Prof. Winslow said. "We now have the technologies available to move to a low carbon grid, and renewable generation is becoming rapidly more price competitive. This transformation has resulted in the need for workers educated in the new low carbon grid."
A Fertile Job Market
Another concern that drove the program's development was the lack of training for people wanting to work in the new, low carbon energy system.
There are few other programs in the country where students can learn how the electrical grid and renewable generation work, in addition to learning about energy markets, energy economics and finance, and energy regulation. By equipping students with an unparalleled skill set, the MS in Energy Systems Management will give future graduates a distinct advantage over their competitors.
Because the program will help compensate for the current dearth of energy professionals educated in the low carbon grid, Lorenzo Kristov — well known in the energy industry as the Principal of California Independent System Operator — happily agreed to sit on the advisory board and help develop the curriculum.
"The dramatic transformation in electricity underway today, driven by environmental sustainability, bottom-up decentralization, and rapid technology advances, requires leaders who can bridge engineering, economics, law and public policy to help develop the 21st century grid," Kristov said.
This well-designed master's program will build the new wave of energy professionals the industry desperately needs.
A Hub for Energy Innovation
USF is well situated for a program in energy conservation, as California — especially San Francisco — is leading the nation in energy innovation. By studying in the Bay, students in the program will be surrounded by companies and global experts in renewable energy, energy-efficient technologies, and policy development.
The new program will take full advantage of its prime location by working directly with these industry leaders, as evidenced by the external academic advisory board of area experts Prof. Winslow put together. She and other USF faculty members have known many of these experts for years.
"They have played an important role in developing the curriculum, the learning outcomes, and the program mission," she said.
These professionals know the landscape and what students graduating from the program need to know to excel in the energy field.
In addition to Lorenzo Kristov, some of the board's reputable professionals include SunPower's Vice President of Market Strategy & Policy Tom Starrs, PhD, JD; the Nature Conservancy's California Energy Program Director Erica Brand; and Canadian Solar's Senior Director for Policy and Government Affairs Jason Simon, who is also an alumnus of USF's MS in Environmental Management program and played a key role in the new energy program's early development.
Prof. Winslow expects many board members will guest lecture, giving students the opportunity to learn from and network with these industry leaders. Students may also have the chance to intern at the advisory board's companies, such as the California Public Utilities Commission, Pacific Gas and Electric, Advanced Microgrid Systems, Leidos Engineering, and elsewhere. Coupled with the comprehensive skillset the program will provide, this hands-on experience will prepare students for success following graduation.
"There are many energy-related jobs now in California," Prof. Winslow said. "Students with this background will be able to step into many types of positions with a full understanding of the renewable energy landscape."