Giving
USF Magazine - One Big USF Family
There are a lot of families like the Murphys in USF's history — families with many siblings who attended the university and who have lived the motto "for the university and the city."
But the Murphys are special. Over four decades, more than 10 members of the family and their extended families have received USF degrees, spanning the period from 1958 to 1994. During that time, they have also given to the university, supporting USF so new generations of students can enjoy their alma mater.
"We're not just a big family — we're a big USF family," said Bernard "Bernie" Murphy '74.
Bernie and Clare Murphy '71 are two of the 11 Murphy siblings. Their father, six of their siblings, and a half dozen Albrecht, O'Shea, O'Connor, Mannix, and Morris cousins attended USF. That kind of loyalty comes with a story.
The First Murphy
Patriarch Cornelius Murphy '58 graduated from St. Ignatius high school in 1932 but didn't graduate from USF until 1958. Between 1932 and 1958, he lived through the Depression, served in World War II, started working for the City of San Francisco, and started a family. The GI Bill, approved in 1944, provided a path for him to attend USF.
Image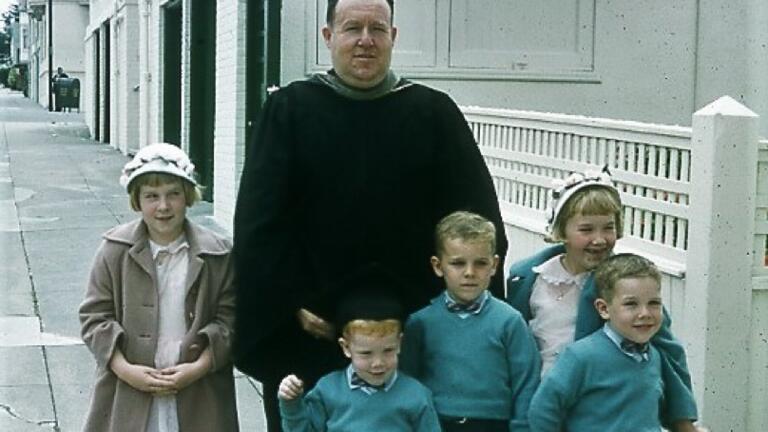 "Many USF graduates during the '50s were returning servicemen who went to school on the GI Bill. It was America's way of paying soldiers for having fought for America and for democracy," explained Bernie. The passing of the GI Bill was seen as a social justice movement, and USF responded by admitting service men and women into evening programs.
"Our father worked full-time and went to night school," recalled Clare. "USF made sure that veterans like him could go to school while working full-time to support their families."
The Murphy Legacy Begins
The Murphy children grew up with attending USF as their goal.
"I knew I was going to USF. Our lives were just so intertwined with USF. It was a natural fit," said Clare. USF had become co-ed before Clare graduated from high school, and she attended USF as one of the first female non-nursing students.
"I chose USF because my older brother William (Bill) Murphy '73 and I went to St. Ignatius High School," shared Bernie. The Koret Health and Recreation Center was the site of St. Ignatius High School until 1969. Bernie recalls that "back then a number of St. Ignatius graduates would move onto USF."
According to Bernie and Clare, USF particularly appealed to prospective students interested in working for the city of San Francisco. The motto, For the University and the City, is what both Clare and Bernie believe inspired many USF students to go in civil service careers.
For the University and the City
"We all did well in our careers in city and state government," said Bernie. "Clare supported retirees with pension plans, and I helped children receive their child support."
"Our sisters Sheila '79 and Mary '81 helped the city government run as systems programmers, and our cousin Mike Morris '69 was the Assistant Deputy Chief of the San Francisco Fire Department. Even in Oregon, our sister Cathy '78 worked in the state's Social Services agency helping Seniors and those with disabilities," said Clare.
"USF taught us how to learn, adapt, and be bold during times of change," said Bernie. "That's what made us successful at our jobs."
Grateful for an education that led to meaningful careers, Bernie has donated to the university for more than 43 years, while Clare has been giving for more than 38 years.
Today, USF recognizes their commitment by bestowing membership on them in the new giving society, the Wolf & Kettle Society, which honors generous alumni, students, parents, faculty, staff, and friends who have given a gift, at any level, for any purpose, to USF for two or more consecutive years. As Gold Members, Clare and Bernie, along with more than 800 other donors, are honored with the highest level of membership for their 25+ years of giving to USF.
"We all benefited from our time at USF," Bernie said. "And now we give back because if we learned anything from Jesuit education it's that giving back is the right thing to do."
"We truly appreciate that while USF has kept pace with changing times, it still remains true to its identity and values," added Clare. "We all will certainly continue to support USF for as long we can."
This gift was made in support of Changing the World from Here: Campaign for the University of San Francisco.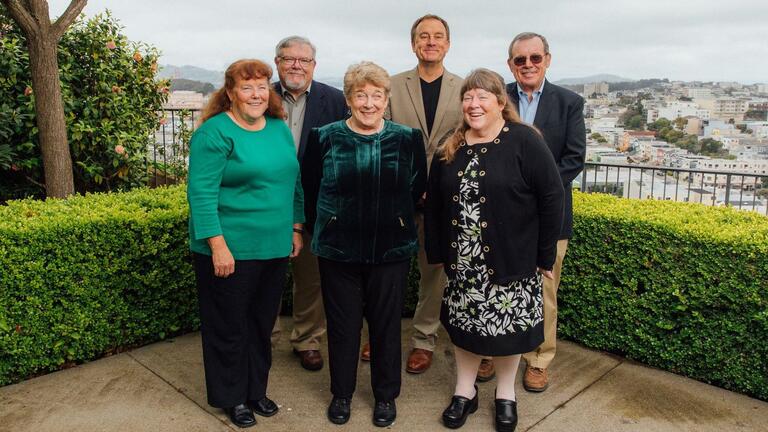 The Murphy family from left to right: Bernard Murphy '74, Tim Albrecht '87 (cousin), William Murphy '73, Mary Murphy '81, Clare Murphy '71, Sheila Murphy '79