Equipped to Lead and Succeed
MFA Alumnus on News Team Awarded Pulitzer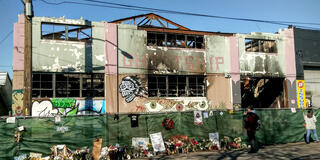 USF's own Thomas Peele MFA '07 was the lead investigative reporter on a news team that just won a Pulitzer Prize for its coverage of Oakland's "Ghost Ship" warehouse fire, which killed 36 people during a party in December 2016.
The East Bay Times' stories about the warehouse, where artists lived and had

studios, "exposed the city's failure to take actions that might have prevented" the tragedy, according to the Pulitzer board.
USF News reached out to Peele about his work, and his time in USF's Master of Fine Arts in Writing program.
What was your role on the team that won the Pulitzer Prize for breaking news reporting?
I was assigned within hours to lead our investigation into how it happened. We dove into records and learned the building was zoned as a warehouse — not a place where people could legally live or charge admission to parties. We found documentation the first day that city code enforcement officers had been trying to inspect the property just weeks before.
There were all sorts of questions about how the warehouse was allowed to operate outside the law and why, given that it was clearly a deathtrap, it had not been shut down before. One early story showed that police, firefighters, and social workers had been to the building at least 10 times in the three years before the fire, yet none of them raised the kind of alarms that could have shut the building down.
What set your work apart from other news organizations?
We went hard after government accountability very early, and that put us ahead of other news organizations. We were able to hold that position and break several investigative stories. People, especially members of the victims' families, wanted answers.
How did you feel when you heard the news that your team won?
The first moments were purely ecstatic. I mean, we'd just won the highest honor in journalism. But at the same time, 36 people died in the fire. That tempered things somewhat. Certainly not entirely. I was floating all afternoon, as I heard from friends around the county. It was, and is, a pretty incredible feeling.
Why did you decide to get an MFA at USF, and what did that experience teach you?
I wanted to write books and the writing program offered a clear path to achieve that. My first book, Killing the Messenger, was published four years after finishing the program and I am working on my second.
Having a published book credit is very meaningful in journalism for the credibility it offers. It is the bar, really, for being perceived as a very serious journalist. I doubt very much I could have written a book without attending USF.
Know someone with a powerful USF story? Let us know! usfnews@usfca.edu | Twitter @usfcanews