San Francisco Advantage
Making Headlines
Chinese Studies students publish in national newspaper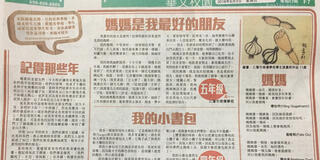 The Chinese Studies program equips students in the most extensive ways possible. While being located in a city with one of the largest Chinatowns outside of Asia, students living in San Francisco thrive in a multicultural hub packed with the most prestigious news labels around the world.
For confirmation, meet two students within the Chinese Studies program, Dori Do '20 and Helen Kao '20, who had their essays published in the USA edition of Sing Tao Daily, a popular Hong Kong based Chinese newspaper specifically delivered to Chinese communities in major cities.
"It was a blast for me to know that my final class project was being published on a national-scale newspaper. Coming from not knowing anything about the culture to now being able to speak the language, I feel like I am on a journey to find a new me. It is not just about looking for an edge in job hunting anymore," says Dori.
Students are encouraged to submit their Chinese language essays to Sing Tao Daily and other local publications to actively engage in the community they're learning about. "The profound personal effects of studying a foreign language," Dori said, "is acquiring a more patient attitude, an added self-awareness and general open mindedness toward her surroundings."