USF Makes Princeton Review's 2024 Top Colleges List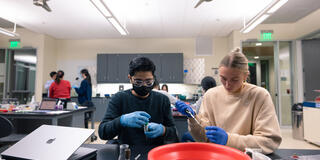 In the new Princeton Review college survey, USF rates as a top university in the United States.
A few highlights from Princeton Review's The Best 389 Colleges: 2024 Edition, released Aug. 15, with comments drawn from a survey of USF students:
"San Francisco is a global city with a wealth of opportunity."
"USF offers a 'diverse education in an even more diverse setting.'"
"Small class sizes and good work opportunities in the city."
​​​​​​More than 165,000 students across the country took part in the survey. The Princeton Review includes about 14 percent of four-year colleges in the United States. It does not rank the schools.

USF students who responded to the survey talked about academics, student life, and campus life.
On academics: The "extremely talented, well-educated, hardworking, and passionate professors" are "well qualified and deeply care for my education," facilitating "fun and learning combined" in "interesting, engaging classes that are small." In class, students "discuss, ask questions, and give feedback. It was not the professor's classroom, where the professor was controlling the classroom. It was our classroom, all of us together."

On student life: At USF, students come together "in one of the best cities in the world" to form "a culturally diverse community that teaches respect, dignity, and honor for all individuals." They "come from all over the world" as well as from many "different cultural backgrounds and hobbies and interests." They "care about the community and the world beyond themselves."

On campus life: Students note that the campus is "in a beautiful location" that's "the ultimate city to be in as a young person." It's easy to get around the city ("public transportation becomes your best friend") and "students very often go off campus to visit tourist attractions, go hiking, explore new food places" and enjoy "concerts and trips to museums, shows, and performances." USF is a "welcoming second home for all of its students."