Giving
Athletic Scholarship Opens Doors for USF Student
Five Questions with Khalil Shabazz '22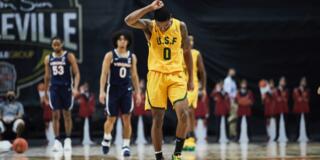 Khalil Shabazz '22 started playing basketball when he was four years old. Even then, he knew he wanted to play at the collegiate level one day. Years later, after tremendous hard work and discipline, he landed an athletic scholarship to play for USF's esteemed NCAA Division I men's basketball team. 
Shabazz joins a group of teammates who prioritize excellence both on and off the court. Last season, the men's basketball team was the only athletic program that earned four West Coast Conference All-Academic first team honors. Shabazz was one of those students. 
As a communications major, Shabazz hopes to achieve great feats during his time at USF. He shares his gratitude to the university community for giving him the support to make his childhood dreams come true. 
What does USF's motto "Changing the World From Here" mean to you? 
It means that it doesn't matter what your major, sport, or reason for being at USF is. The opportunities that the school provides and the resources you have access to while you're here encourage everyone to do their part and more in the world. The process to change the world just starts here at USF.
I plan on changing the world through communications by taking the skills I've learned, applying them to the real world, and educating people on how to effectively communicate with each other, no matter the topic. Through basketball, I hope to show people that anything is possible, no matter your background or the challenges you've endured throughout your life. 
There's this quote from Nipsey Hussle that goes, "Instead of trying to build a brick wall, lay a brick every day. Eventually, you'll look up and you'll have a brick wall." Life is a marathon, not a sprint. If you do something every day to help you reach your goal, no matter how big or small, eventually you will look up and see that you achieved what you were aiming for.
What is it like to be a part of the USF men's basketball team? 
Being a part of the USF men's basketball team is one of the best experiences I have had here at USF. We really are a family and we constantly look out for each other, on and off the court, coaching staff included. We have a very strong history with NBA legends that attended here, like Bill Russell and Bill Cartwright. Back then they won a lot of national championships and were the number one ranked team in the country, so we have high standards to live up to. I am excited to be a part of the team that will build upon that legacy.
How has your athletic scholarship impacted you?  
My athletic scholarship has impacted my life a lot. As incredible as USF is as a school, it costs a lot of money to attend, money that my family and I don't really have. So that's why it was so important for me to work extremely hard in middle and high school so that my mom wouldn't have to pay anything for my college tuition. 
I would just like to express to our donors how grateful and appreciative I am of the generosity they consistently show to our program and school. It never goes unnoticed. If any of the donors see me around at school or at a game, we can for sure "chop it up" (talk) for a second so we both can get to know each other!
Who is someone you know within the USF community who is "Changing the World From Here" and how have they transformed your time at USF?
My professor Bryan Whaley. I have taken two of his communications classes and he always keeps it real with his students and is straightforward about what he wants us to get out of the class. It's helped me a lot. He helps us see things for what they are and shows us skills that everyone can apply to the real world once we're out of college. I appreciate that from him.
What makes you proud to be a USF Don? 
The community, the city, the culture, my team, the diversity, the support, the resources, the faculty, the architecture, the struggle, the memories, the future, the love, and the green and gold. 
To support students like Shabazz, consider giving to Dons Fund and Changing the World From Here: Campaign for the University of San Francisco ».