Equipped to Lead and Succeed
Volodymyr Markovetskyy Shines in the Postseason
USF basketball player attends Final Four to speak about family in Ukraine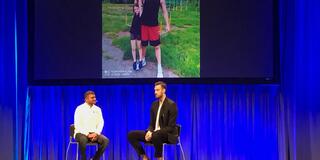 Volodymyr "Vova" Markovetskyy, USF basketball's sophomore center, was back in class this morning on the Hilltop after traveling to New Orleans for the weekend to speak at the NCAA Final Four Talks.
Even though USF basketball's bid in the tournament ended in overtime on March 17, Vova continues off the court, sharing the story of his family torn apart by the violence in Ukraine.
"Thank you to everyone who made the event possible and for giving me a voice and chance to speak," Vova said of the Final Four trip.
He urged those interested in helping the people of Ukraine to send clothes, donations, or prayers. "I would be extremely grateful."
Vova was invited to the Final Four Talks, a series Sunday that featured student-athletes and others in short discussions that reached beyond basketball.
Meanwhile, his family and their country are fighting for survival.
Vova's mother and sister, Julia, 10, left Ukraine for safe haven in Lithuania, but his father, a police officer, has stayed in Ukraine, resisting Russian forces.
When the Russian attacks on Ukraine began, Vova reached out to his family.
"I called my mom, and she said 15 or 20 minutes ago, our apartment was destroyed," he said in a CBS interview. "I was like, oh my God. It's not safe in Ukraine, even in my hometown."
The family has been able to stream most of Vova's USF games. But it's not enough.
"I really want to hug my dad," Vova said. "I really want to see him again."
Eve-Anne Doohan, Vova's communication studies professor, wants him to know how much support he has at USF from his professors, teammates, fellow students, and the university community.
"That he has somehow been able to focus on school and basketball when he is worried about his family in a war zone is a testament to his strength," Doohan said. "Vova is a quiet guy but he has spoken so publicly about what he and his family are facing and how it is affecting him. I am so proud of him."