Giving
Day of the Dons Returns in Historic Fashion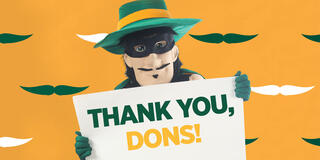 The eighth annual Day of the Dons celebrated a return to campus with a student carnival and commencement ceremonies for USF's newest alumni. Over 3,135 donors raised a record-setting $1.86 million in support of USF students in the first-ever 48-hour Day of the Dons, marking another historic day of giving.
On April 7, 2022, University of San Francisco alumni, students, faculty, staff, parents and supporters came out in record numbers for the eighth annual Day of the Dons. This fast-paced day of giving was not only a celebration of being back on campus, but also a celebration of the newest USF alumni as the university welcomed back the classes of May 2020, December 2021, and May 2021 for their graduation ceremonies in St. Ignatius Church.
This year's goal was to attract 2,500 donors to unlock a $600,000 gift from long-time USF supporter Craig Newmark. However, in the initial hours of fundraising, USF experienced an unprecedented amount of donors. This high level of participation inspired an additional challenge gift from Mark Buell '64, Board of Trustee member, if USF reached 3,000 donors — bringing the total challenge gifts available to $650,000. To meet the new goal, Day of the Dons was extended for the first time ever.
With double the days, there was an opportunity to double the impact on USF students. Not surprisingly, the USF community rose to the occasion and exceeded all expectations. Every gift made on April 7 and 8 are combined to provide a life-changing education to all USF students, an impact they can feel today and for the rest of their lives.
With participation from almost 100 graduating classes, over 3,135 donors contributed a record-setting amount of over $1.86 million in gifts to support current and future generations of Dons pursuing a Jesuit education.
"Day of the Dons has become one of our favorite traditions at USF. It's a day dedicated to our USF community acting as one to invest in allowing our graduates to truly Change the World from Here," said Chantel Smith, associate vice president, annual giving and operations.
The student carnival returned to Day of the Dons, providing a space for students to celebrate the return to campus and philanthropy's role in helping to make that happen as safely as possible. This year's carnival was centered around a bingo card challenge encouraging students to learn about how they are directly impacted by the USF community's philanthropic support, indulge in community building games and activities with their classmates, and to make a gift to the area of campus that means the most to them.
The return to campus celebrations continued through to April 8 as four graduation ceremonies were held to honor USF's newest graduating classes. These long-awaited "Welcome Home" ceremonies marked an important milestone in the lives of these USF alumni and offered a tangible example of the life-changing impact of Day of the Dons.
"This year's outpouring of generosity was made even more inspirational with the extension of Day of the Dons to include a second day of celebrating graduation for alumni whose ceremonies were impacted by this global pandemic," said Smith. "It was 48 hours like no other, and we are so very grateful for each and every gift that helped to make this Day of the Dons the best one yet!"
The eighth annual Day of the Dons was made possible through the support from generations of Dons coming together to support over 100 programs, scholarships, athletic initiatives, and schools on campus.
Day of the Dons by the Numbers (as of 4/11)
Top 3 areas of campus with the greatest number of gifts:

Kaiser Nursing Scholarship
USF Athletics
The USF Fund

Class year with the greatest participation: 2018 and 2019 (tie)
Total number of participating class years: 97
Class year with the highest amount raised: 1987
State outside of California with the biggest participation: Hawaii
First-time donors: 1,096
All gifts made on Day of the Dons support Changing the World From Here: Campaign for the University of San Francisco.