Giving
Every Link Matters
Craig Newmark's continuous philanthropy paves the way to a more equitable future.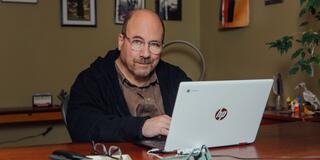 Craig Newmark is a pioneer at leveraging the Internet to link people directly with one another. Community is at the core of Craig Newmark Philanthropies, too. Alongside his philanthropic efforts to nourish journalism, combat misinformation and defend democracy, Newmark has been a committed supporter of USF, helping veterans connect with public service and working to close the gender gap in tech.
"Every gift — to USF and many other organizations — is a way to improve the quality of public discourse and make technology a more equitable field," says Newmark, whose most recent gift to USF totals $600,000 and included a challenge match for USF's recent Day of the Dons. "I have been known to say 'a nerd's gotta do what a nerd's gotta do,' and this is what I felt I had to keep doing."
Over the last decade, Newmark has given over $4.6 million to USF to help establish the Center for Applied Data Ethics, support USF's Women in Tech (WiT) group, and build the Leo T. McCarthy Center for Public Service and Common Good. Newmark Fellows in the university's Public Leadership program have won offices in Arizona and California, found meaningful work in high-level executive branch appointments, assisted the Department of Defense with COVID-19 vaccine distribution. Several fellows were personally responsible for evacuating vulnerable women from Afghanistan.
"[Newmark's support] is important not only because veterans and their families have sacrificed a lot for Americans but also because their fundamental understanding of selfless service is, frankly, harder to find in other sectors of society," says Seth Lynn, adjunct professor of civil-military relations and academic director of public leadership at USF. "I believe that when we support veterans in their leadership development outside the military, we are making a solid investment in the future of ethical public service in our country."
Veterans are also underrepresented in USF's fastest-growing majors: computer science, data science, and engineering, where women are a growing minority as well. Newmark's support, in collaboration with Girls who Code and Hack the Hood, have helped to build a more diverse pipeline in the tech industry. Twenty-two women and veterans received Newmark Scholarships for 2021-22; 16 students had research and teaching assistantships funded by Newmark.
"Mr. Newmark's support has significantly changed the status quo for women and veterans in our department," says Associate Professor Alark Joshi, who chairs USF's Department of Computer Science. "They now have a sense of community that provides academic and professional advice to students who are part of the Women in Tech group."
Newmark's giving to USF dovetails with impactful support for like-minded organizations such as Georgetown University's McCourt School of Public Policy, the Electronic Frontier Foundation and the Bob Woodruff Foundation. Every gift connects with each of the others to protect, inform, and support communities that are underserved and at risk. In a networked world that's divided as often as it's brought together, that impact is more important than ever.
Craig Newmark's support for USF is part of Changing the World From Here: Campaign for the University of San Francisco.