Giving
Putting Cura Personalis into Practice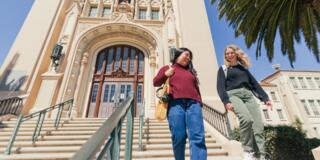 In 2020, the Koret Foundation continued its longstanding partnership with USF with a $5 million gift. One of the areas supported by this gift was the renewal of the Koret Scholars Program, which launched in April 2016.
Through the support of the Koret Foundation, USF provides scholarships to a cohort of 20 full-time, undergraduate students with financial need. The scholarship provides students with a sense of financial stability, allowing them to focus on their academic and extracurricular pursuits, fostering an overall positive holistic experience at USF. Over 120 students have participated in the Koret Scholars program since its inception.
Ambitions Meet Reality
This year, the Koret Scholars felt the support of the Koret Foundation more than ever before. The financial assistance allowed students to focus on pursuing their passions, both in and outside the classroom, during a time when a global pandemic added additional stress to everyone's lives.
Sutej Singh '24 is able to pursue all his interests at USF. As a computer science and physics double major, he spends his academic time honing skills that will make him a competitive asset in San Francisco's tech industry after graduation. During his free time, he produces LoFi music to pop culture soundtracks. Without the stress of needing to figure out how to fund his college degree, Singh spent time cultivating his music production skills. He has written two songs this year with hopes of producing them over the summer months.
Similarly, Camellia Nasrah '24 has been able to see her dream of becoming an architect come true because of the Koret Scholars program. Her family's source of income was temporarily lost due to the pandemic and the scholarship offered the assistance Nasrah needed to participate in her architecture studio classes. These classes require a lot of hands-on work building models and drawing, all of which required supplies purchased by the student to complete.
"Having this scholarship offered a solution and helped me ensure that I have a school to go to and I didn't have to drop out," Nasrah explained. "It was a huge blessing because it allowed me to experience the classes the way they were meant to be experienced."
Pursuing Cura Personalis
The financial assistance from the Koret Foundation has allowed students to care for themselves through a year of ups and downs, feeling supported to bring their whole selves to school.
Jesiree Moral '24 was attracted to USF because of the environment it offered, centered around cura personalis, the care for the entire person. In a turbulent year, Moral was able to experience cura personalis first-hand thanks to the Koret Scholars program: "USF felt like a place where I could be myself and feel welcomed. It has done just that; Everyone makes sure we all feel included, which is what I love most about this school."
Nasrah also found the Jesuit principle of cura personalis to be her guiding light during the pandemic. 
"I learned the importance of self-care during the pandemic. I took time to take care of my mind, body, and health and focus on myself and how things affect my well-being. Without taking care of ourselves, we can't help others," said Nasrah. 
Inspired by her mother, who planted the seeds for Nasrah to help others in the community, Nasrah hopes that pursuing architecture at USF will help her support social good by designing spaces that bring the community together, something that seems even more precious after a year of isolation.
Until then, Nasrah and her fellow first -year Koret Scholars are focusing on their second year at USF and are excited to be on campus for the first time:
"I'm excited to make new friends and finally show my professors my work in person and have them help me improve my skills so I can continue to get better and learn more every semester."
To support scholarship programs that help students like these, consider making a gift in support of Scholarships and Changing the World From Here: Campaign for the University of San Francisco.