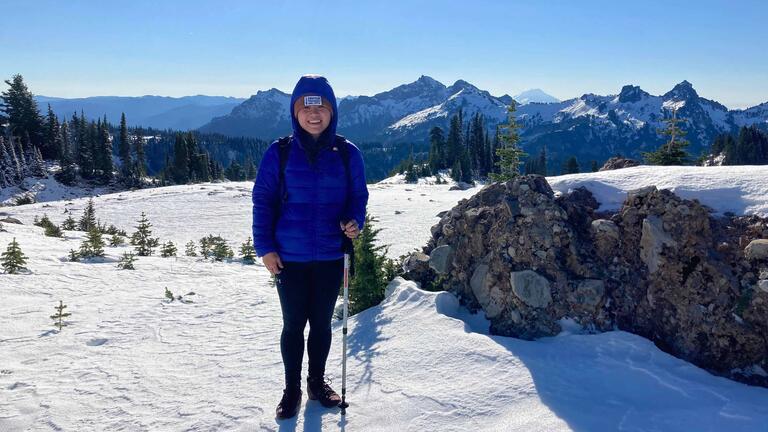 Alumni
Community and Connection
Five Questions With Agnes Morelos MA '18
For Agnes Morelos MA '18, keeping USF alumni and students connected is pivotal to expanding the university community. As the Assistant Director of Digital Community Engagement, Morelos manages NetworkUSF, an online platform encouraging graduates and current Dons to create meaningful and career-driven connections. Morelos shares how the networks developed through this platform inspire her as she hopes all USF students and alum can experience this level of connectivity.
Looking back at your time at USF and the years spent after graduation, what motivated you to come back to USF and inspired you to continue to give back?
USF's mission of cura personalis, which calls us to care for the whole person, has resonated with me since learning about this university during high school. I think fondly of my time as a student at USF and how the education I received during grad school helped shape who I am. I'm excited to utilize Network USF to provide similar opportunities for current students and fellow alumni to find community and connection.
How has working with NetworkUSF helped you stay connected to the university community?
Since working with the platform, it's been inspiring to learn about the many ways our alumni apply and carry on their USF education in their professional lives. Ranging from education to healthcare or finance to communications, viewing the career paths of our members on NetworkUSF keeps me curious about our university's community and the evolving workforce. I also value the number of ways both alumni and students can get involved on the platform including our Alumni Mentor Program, identity/affinity groups, regional groups, industry groups, and general networking.
Is there someone at USF, such as a professor, peer, coach, or adviser, that had or continues to have a substantial impact on your college experience? How?
Porter Shreve, the former Program Director and faculty member of USF's Master of Arts in Professional Communication (MAPC) Program, continues to impact me to this day. During my time in the MAPC program, I began exploring how to integrate my creative and writing skills into my professional life. By providing opportunities for creativity through the program's media group and digital storytelling class while encouraging me to write regularly, he always ensured that my colleagues and I had the space to create freely. It meant a lot to me to have Porter's support, feedback, and mentorship as well.
What is a piece of advice you can give to current Dons?
I advise current Dons to develop the skills and self-awareness needed to build and nurture meaningful relationships early on. By learning how to navigate conflict, understanding when to take up space and when to actively listen, you're better able to form strong connections professionally and personally in the long run.
What does "Changing the World From Here" mean to you?
I view "Changing the World From Here" as using one's strengths and areas of interest to make a sustainable and equitable impact on our society and planet. There's a lot one can accomplish when they use their skills and talents with intentionality and purpose.
---
Interested in being a part of NetworkUSF? Join NetworkUSF or contact the Office of Alumni Engagement at alumni@usfca.edu or (800) 449-4873