Equipped to Lead and Succeed
Where are They Now: Ria Laxa '21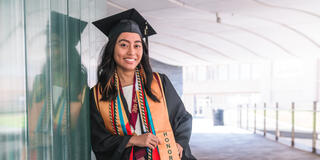 Ria Laxa '21 remembers when she opened the email congratulating her on being accepted to the first-ever McGrath Scholars cohort. She thought it was a mistake. In fact, she emailed them back and asked: "Are you sure?"
Turns out that the McGrath Scholars selection committee was one hundred percent sure.
Established in 2019, the McGrath Scholars program brings students together from all disciplines to hone their leadership skills through hands-on engagement. Additional gifts to the McGrath Scholars program through Changing the World From Here: Campaign for the University of San Francisco continue to provide opportunities for students like Laxa.
Like many students from that first cohort, Laxa has gone on to graduate from USF and used lessons learned as a McGrath Scholar to inspire her goals and work to change the world for the common good, one interaction at a time.
Leading Through Representation
As Laxa has set out to change the world, she hasn't forgotten her roots as a child of an immigrant family raised in the Catholic faith. While Laxa's upbringing set the foundation for her interest in social justice and service leadership, her experience as a McGrath Scholar cemented that passion by offering a roadmap to how she could live an authentic and empowering life, one that is a model for other women of color just like her.
As a part of the McGrath Scholars capstone project, Laxa's all-female team created a performing arts program for female trauma survivors. While Laxa set out to help others, she realized that she was finding healing and understanding herself better through the project. For the first time, she experienced how her story could have the potential to help others.
As a student, Laxa sought out mentors who looked like her and were in positions of leadership that she admired. She found some great mentors, but they weren't easy to find. Now as a USF graduate, she hopes to fill that role for the next generation of women of color.
"I'm extremely grateful for the way USF professors truly cared about me to mentor and support me. I've had so many opportunities open up to me simply because a professor believed in me. That kind of support pushed me to pursue things I never would have done," said Laxa. "That's one of the reasons why I want to give back; they modeled that for me."
Every year since finishing the McGrath Scholars program, Laxa has given back to the program in some way. She has assisted with the interview process and spoke on multiple McGrath Scholar alumni panels. She hopes that when younger students see her, they can identify with her story and believe that they can achieve their dreams too.

"I've always wanted to do something good for my community and USF helped me prepare for that. You can make a big difference right here, even in small interactions you can have a big impact."
A Genuine Care For Others
The desire to help others, a strong tenet of the Catholic faith Laxa identifies with and an underpinning of USF's Jesuit education, has also influenced Laxa's career and volunteer choices. As a freshman, Laxa started volunteering with Camp Kesem San Francisco, a camp for children with family members affected by cancer. And now as a USF alumna, she works in both hospice care and cancer research, areas that she has personal connections to.
"McGrath was unique in that they taught us to lead and work in a group in an entirely community-informed way. I learned to ask questions like: What does the community need and what do I have that can meet that need?"
Laxa didn't stop feeling the impact of the McGrath scholars program after her graduation from USF. Reflecting back on her recent foray with medical school applications, she reflects on how impressed and intrigued interviewers were with the program. She's confident it played an important role in her acceptance into her dream graduate school (which she is keeping under wraps for now).
"A choice that I made that really stuck with me in undergrad was to get involved with things that I had a personal interest or connection to whenever possible. By taking advantage of these opportunities, you'll end up where you want to be at some point but do so in a way that you feel proud of and is true to yourself."
For someone who admitted she did not always see a path for herself, she surely has found the confidence to forge her own, one with the space to welcome others, women of color with dreams just like her's, along for their own journeys.
---
Learn more about how you can support students like Ria Laxa '21 become the next generation of leaders who will make the world a more just and humane place for all