Diversity
Providing Visibility and Greater Inclusivity With Crystal Vega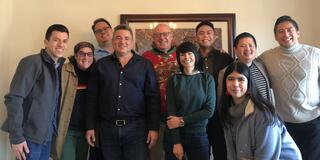 What is USF Pride and why did you get involved?
It has been almost a year to date since I joined the Pride group. I got an email and it was a call for alumni to join. It was a year of me being virtual, and it felt like the right moment to reconnect with USF, and to see what it's like to build community over zoom. The Pride group was fairly new when I joined and we were introducing ourselves to each other, figuring out who we were, and how we wanted to engage with USF. Ultimately, we wanted to be a resource for each other professionally, personally, and to USF students at this time.
I came out during the pandemic as nonbinary, and now I facilitate our core affinity groups, and now I help run affinity groups. While I was in undergrad at USF I volunteered at the intercultural center so I felt really compelled to join these groups across the alumni network.
How has the group grown in the past year?
I wasn't the founding member but there were at least 15-20 people on the initial zoom, but the email list was a lot more. We even asked, "How many total board members should we have?" In a year it has grown from 11 to 26 board members, but it's also grown in terms of thinking about how we want to operate, how we want to treat each other, and how we want to engage with USF.
One of the initial phone calls we had was to talk about our charter, how we want to build out our board, our committees, and our chair. We put together an election, and that's how we (me and Joaquin Razo '15) became co-chairs.
The pride alumni group now has over 140 members and is something that everyone can join. NetworkUSF is the primary holding place to join and then separately there is the board where we meet monthly to talk about activities, how we want to engage with USF students, and the intercultural center at USF.

What do you think has been the most meaningful accomplishment?
I think for us it was hosting our first ever Pride alumni brunch. Finally, folks were able to gather in-person. There were people of the board and faculty convened at a member's house. Fr. Donal Godfrey and Rabbi Camille Angel were also in attendance and led the group in a dedication. To have that moment of community together, in person, was such a meaningful moment.
We were all talking about our own histories and experiences being a member of the LGBTQ community and a member of the USF alumni community. I think I was one of the most recent graduates there. There were alumni who graduated 10,15, and 20 years ago.
I felt honored to be there and to be selected as a co-chair.
Why is it important to have a Pride Group at USF? How do you think the group has deepened its relationship to USF?
At USF, they do an incredible job through the intercultural center, and looking at it through a critical diversity studies and gender studies lens, USF does a great job of including and welcoming parts of the community. It can feel really daunting to leave your community that you created at USF. You can keep in touch but it's still different. The Pride group is here for you, whether you go to grad school, get a fellowship, get your first job – we're here for that next chapter in your careers.
What are your hopes/goals for the group moving into the next year?
I think first and foremost, build and foster the sense of community, especially because the group expands across the state and nation. Now that we have a more formalized structure, we are meeting with everyone individually and collectively reassessing our goals. Each committee has been great in knowing how they want to connect with alumni and students. How we think about engaging with students past USF, lending ourselves as professional resources, and then with NetworkUSF using that online community so they can share accomplishments, job and volunteer opportunities, or maybe speaking at a virtual event. How can we support them?
Pride strives to be there as a resource for USF at large: how do we continue to provide visibility and greater inclusivity? We want to make sure that folks feel welcome when it comes to joining the university, graduating, and beyond.
---
Learn how you can create and maintain connections through affinity groups through NetworkUSF. Make a difference in your community and join NetworkUSF.