Alumni
Building a Community: The Heart of USF's Alumni Board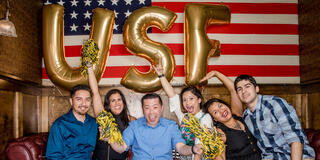 The USF Alumni Board is a group composed of people from all walks of life, ages, abilities…it's not about giving or fundraising, but rather, it's a service-oriented group focused on building community. - Bobby Lee, USF Alumni Board President
What words come to mind when you think of an Alumni Board?
For some, the words: community, networking, engagement, may come to mind. For others: giving, service, and impact. In speaking with Bobby Lee '07, USF's Alumni Board President, it is clear that what drives life in this group is the art of human connection.
Building Community is Our Way Forward
"There's something deeply invigorating and essential here," said Lee, when asked what attracted him to join the Alumni Board.
Bobby Lee always had a passion for student leadership and sought out any opportunity to improve his experience at the university. His time at USF was formative and inspirational for him, and he wanted to give back to the community of future students. This passion led him to join the USF Alumni Board.
The USF Alumni Board is composed of all people from different walks of life, ages, and abilities. Lee shares that the group is not about giving or fundraising, but rather, it's a service-oriented group focused on building community. He emphasizes that the alumni community is only as strong as its fellow students and alums, and everyone is welcome to be a part of it. The board's goal is to help alumni understand that they are in the best company, and the board is there to support them every step of the way in their higher education journey and after graduation.
Mario Peraza, USF's associate vice president for campaign and engagement, agrees with Lee. He highlights the importance of alumni engagement for continued success of the university. Engaged alumni build a sense of community and loyalty, which leads to a greater understanding of the individual and community impacts of a USF education. This understanding is what sets the stage for successful fundraising and support for various academic innovations and programs based on the school's Jesuit values.
Taryn Moore, USF's senior director of alumni engagement has exciting plans for the future of what engagement will look like. She shares that over the coming years USF will work to increase the consistency and quality of engagement focused on relevant professional and personal content, celebrating university and alumni successes, and creating a lifelong sense of community that begins during their time as a student.
Small Wins Achieve Big Goals
Lee is particularly proud to co-lead the board through numerous initiatives that aim to help current and recently-graduated students leverage the power of the 110,000+ strong USF Alumni network. Including forging a strong partnership with Career Services and Student Life to increase alumni mentorship opportunities, job shadowing, and engagement through NetworkUSF, along with raising awareness of the USF brand outside of the university community.
Image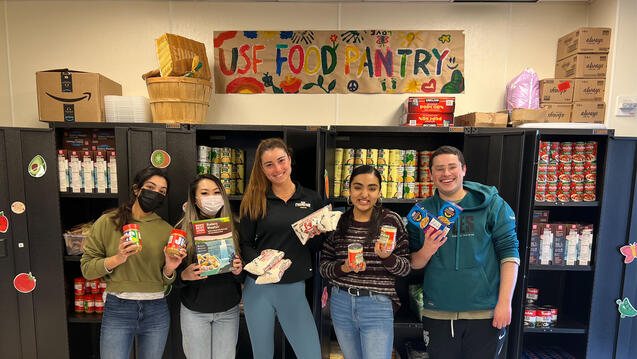 Looking forward, Lee's big goal for the board is to support the USF Food Pantry. He acknowledged that every university has food insecurity and housing issues, and USF is no exception. Lee believes students should not have to face these insecurities while pursuing their degrees at USF, tackling this issue together is a top priority for the board.
The board's ultimate goal is to ensure that the university continues to thrive and plays a bigger role in the city and beyond. He believes that alumni engagement is vital for achieving this goal.
Lee affirms that alumni engagement as a whole does not require making a financial donation, but rather building relationships that works best for an alumni and their values, whether it's time, sharing knowledge and your unique point of view, or simply to build connections. Every time Lee enters the mindhive of USF's Alumni Board he's reminded that USF is the university of the city of San Francisco, and its alumni are a vital part of this community.
The alumni board members are changemakers, passionate about service, and are eager to grow and facilitate human connections.