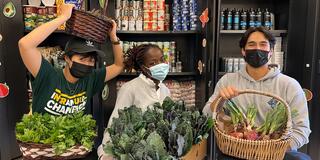 Since 2018, USF's Food Pantry has operated as an extension of the university's Student Assistance Fund. At the start of the pantry program, Associate Vice President of Student Life, Shannon Gary, and Vice President of Student Life, Julie Orio, worked alongside ASUSF, and a small group of Student Life staff to drive awareness and foster empathy for students facing financial hardship or food insecurity.
Located in the basement level of Gleeson Library at room G04, the food pantry has become an educational and compassionate space where students can safely access the items they need to support life beyond campus.
The contributions of university donors and volunteers were used to support partnerships among the Urban Agriculture Program, Bon Appétit, and other departments across campus since the inception of the pantry. As the need for support increased, so did the willingness of the USF community to provide a selection of packaged food items and supplies made readily available to help undergraduate and graduate students experiencing basic needs insecurities.
"Income, for most students in higher education, has been a challenge long before the pandemic. Having the food pantry as a resource on campus goes a long way in relieving some of that stress," said Stuart Blackwell MA '22.
The Food Pantry Grows
The pantry, which sought to aid students with a short-term resource for finding sufficient quantities of food and hygiene products, has grown its capacity to fulfill more than 2,000 requests and serve hundreds of students since its inception.
"The food pantry has been an excellent resource in helping provide a variety of items to help me get by when I did not have a job during most of the pandemic," said one such USF student.
During the first year of the pandemic alone, USF's Food Pantry fulfilled 663 requests and served 226 students. COVID-19 affected USF students who were both already experiencing food insecurity and even those who may not have been experiencing financial hardship before.
Access to Fresh Food Provided
To help provide greater access to fresh produce and healthier foods, which can be expensive for student grocery budgets, the food pantry established an outreach initiative with CalFresh during the 2020-2021 academic year. The pantry's website has since been updated with CalFresh eligibility information to increase awareness of this resource.
"If we are asking students to be active and willing participants in our society, it's important that we help them find the resources they need to do that," shared Andrea Rocha, USF's associate director of off-campus living.
In response to surveys that shared the challenges USF students face in affording balanced meals, students of USF's Urban Agriculture minor began offering fresh produce from the USF Community Garden, Gleeson Garden, and Star Route Farms for pantry distribution.
As we approach a time in the year particularly focused on the spirit of gratitude, the pantry and its collaborators welcome contributions of any size for the continued support of student success and life.
Consider supporting USF students by contributing to the Student Assistance Fund in light of the ongoing pandemic.