San Francisco Advantage
Big Shot in Big Data
Data Science program is top 50 in the country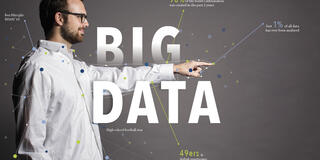 USF's big data program is a big deal — one of the top 50 such programs in the nation, according to Value Colleges, a college-ranking website that focuses on the affordability and value of degree programs.
The Master in Data Science program ranked 32 on the Top 50 Big Data Graduate Programs list, which touts USF's balance of cost, quality, and return on investment. Value Colleges' list is based on data from U.S. News & World Report rankings, Payscale (an online salary and compensation comparison company), and actual cost per class credit. 
As big data becomes ubiquitous in our lives, there is a growing demand for data scientists to help companies make sense of it all, whether that's analyzing online clicks, tracking airplane traffic, spotting patterns in medical records, or much more. According to the Bureau of Labor Statistics, jobs for computer and information research scientists is projected to grow 19 percent between 2016 and 2026, much faster than the 7 percent average for all occupations.
Work for Google, Amazon
Offered at USF's Downtown Campus, the one-year data science program is known for its extensive practicum that provides students with about 15 hours of on-the-job training per week for nine months.
More than 95 percent of program graduates find jobs in the industry within three months. Many end up working for companies like Google, Amazon, Capital One Labs, and Mozilla, earning a median starting salary of $110,000.
Know someone with a powerful USF story? Let us know! usfnews@usfca.edu Twitter @usfcanews