Giving
Generosity and Serendipity - Hand-in-Hand During a Time of Crisis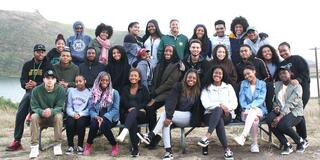 In December 2019, the world looked much different than it does now. That was when Bob Tomasello '71 made the decision to finalize a $25,000 gift to the university, one that specifically supported the funding of the university's Black Achievement Success and Engagement (BASE) program through the Tomasello-Millard BASE Economic Hardship Fund.
"Economic hardship is difficult for all students, but I think for minorities it is even more difficult," Tomasello said. "This is a cause I am enthusiastic to support because I understand that student debt is a heavy weight to carry, but more importantly I want to see young people stay at a university they love and not have to move to somewhere else because they can't afford to stay."
The Tomasello-Millard BASE Economic Hardship Fund is available to any USF undergraduate and graduate students who identify as black and are unable to meet immediate, essential expenses due to a temporary financial hardship that may jeopardize their health, safety, academic performance and/or ability to stay enrolled at USF. Funds may be used for such necessities as rent, tuition, and transportation home among other needs.
"I hope others will understand the importance of this and help grow the funding for it even larger in the future," Tomasello said.
Timing Is Everything
Only created a few months prior to a time that would certainly be written on the pages of future history books, an unmatched global pandemic, and economic crisis uprooting and impacting every single life in some way, the Tomasello-Millard BASE Economic Hardship Fund was able to provide support for many students who had no idea what would come next.
"This gift came at such a serendipitous time," said Candice Harrison, Faculty Director of BASE. "The moment we created BASE we knew there were immediate needs and one of those was helping students, like juniors and seniors, who couldn't get the last portion of their tuition bills covered. Providing that funding assistance was the original conversation behind the creation of this fund."
When the COVID-19 pandemic came on full force, Harrison said the fund had not yet been tapped into. She worked tirelessly to speed up the process for the fund to become active for students in need.giving/bllc-student-2018-2019.jpg
"There were so many students suddenly unemployed and panicking about paying for rent and groceries and some who had returned home to situations where their parents and family members had also been unemployed — the need was great," Harrison said.
Within just ten days, the fund made a difference, impacting several lives and helping those students seeking need to find comfort and support in removing a bit of uncertainty during a time of so much. The fund made such an impact, that it had to be temporarily closed until more gifts are contributed.
Waves of Change Bring Waves of Support
Aliyah Washington '21 was one of the students to apply for and receive financial support from the Tomasello-Millard BASE Economic Hardship Fund. Upon the onset of the crisis, Washington moved out of her dorm and back home to Hawaii in a matter of days when circumstances were rapidly shifting.
"I lost one of my two work-study jobs because there just wasn't the need remotely, and just one job was not enough to financially support me or pay my tuition bill," Washington said. "When I returned home, I found out my dad and older sister had also lost their jobs due to the COVID-19 crisis. I was backed up on tuition payments and not sure how I would even begin to finish the March payment plan."
She applied to the Tomasello-Millard BASE Economic Hardship Fund and to her surprise and relief, received even more support than she originally requested on the application.
"I was in tears when I received the news. There is so much uncertainty happening right now and to even just be able to cover my tuition payment for March meant so much," Washington said. " I will still have to figure out how to approach payments for the coming months, but this bought me the time and peace of mind to be able to think about what the next steps might be."
Washington has had to adjust to once again living with her family of five in a small two-bedroom space — taking phone calls and classes from outside on her patio to give the rest of her family the space they need for their daily lives as well.
Although she is miles away from some of her friends in the BASE community, as a member of the BASE program's Marshall-Riley Living Learning Community, Washington meets with her cohort weekly and grinned saying many of the meetings are half academic-focused and half focused on being there to smile, catch up, and stay connected.
"The black community at USF is the main place I feel supported at USF," she said. "I don't think I would still be at USF if it weren't for the BASE community."
Resources for the BASE community have transitioned to online to continue providing academic, resource, career, and social support, but there is still need.
"If we had been able to keep the application for the Tomasello-Millard BASE Economic Hardship Fund open, we would have been able to help out even more of our students," Harrison said. "There is still need and I hope we can bring others to understand how that need creates panic, stress, and anxiety for our students and can impact academic performance. If they can't pay their bills then we are running a risk of losing students. I hope those who have stability and can support BASE and the university during this crisis, choose to do so."
Support is still needed in many areas as the pandemic continues to unfold worldwide. So we can continue to support our USF community, please consider giving to the Tomasello-Millard BASE Economic Hardship Fund ».
To learn more about giving to the Tomasello-Millard BASE Economic Hardship Fund, contact Diana Johnston, Director of Development, School of Management at (415) 422-4068 or djohnston@usfca.edu.
This gift was made in support of Changing the World from Here: Campaign for the University of San Francisco.