Giving
Anonymous $2.5 Million Gift Enriches the Black Experience at USF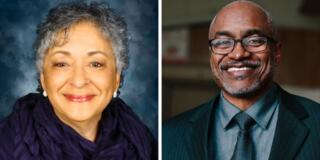 Like so many, the faculty, staff, and students of the Black Achievement Success and Engagement (BASE) program have had a complicated year: enduring a pandemic, moving their entire curriculum online, and standing up alongside communities all over the country for justice and equality. But when the time came to honor an anonymous $2.5 million dollar gift to BASE, the choice wasn't complex at all.
"It's what we needed in that critical moment: to invest in the lives and dreams of our Black students," says Dr. Candice Harrison, BASE's faculty director and associate professor of history. 
And so, in honor of the anonymous gift they helped to inspire and secure, BASE has named its living-learning community — USF's largest — after Dr. Joseph Marshall '68 and Adrienne Riley '71, MA '74, two alumni and trustees emeriti whose hard work and activism have already transformed the Black experience at USF.
"I'm a historian, and I'm always thinking about forebears and ancestors in all the work we do through BASE," says Harrison. "It felt like such a gift to be able to give that back to folks who gave so much to USF over the years."
Heritage Comes Alive
Marshall and Riley were "really model student activists," Harrison says, and were instrumental in laying the groundwork for many elements of today's USF student experience: the Black Student Union, multicultural academic programs, and for the hiring of many Black faculty members. BASE and the Marshall-Riley Living-Learning Community are both successors of that pioneering work.
"The living-learning community is based on the high-touch cohort model of student success, which is a hallmark of Jesuit education at USF," says Harrison. In Marshall-Riley, first- and second-year Black students live together, perform acts of service together, take courses together, and take part in a weekly insaka (a Bemba word meaning "gathering place") to talk through their experiences. In January of 2019 and 2020, the cohort took a Black Heritage Immersion Trip of historical and cultural sites throughout the South, including the arrival point of the last incoming slave ship near Mobile, Ala., the Edmund Pettus Bridge in Selma, and New Orleans.
"There is no student or staff member who attends that trip who is not transformed by it — who is not humbled by it — who is not both broken by this incredibly devastating narrative, but also uplifted by the extraordinary accomplishments," says Harrison. The anonymous gift, she says, has made it possible for every student in the Marshall-Riley cohort to attend the trip, regardless of their ability to pay. 
Intentional Community
It was on the 2020 trip that Harrison asked Dr. Dominique Broussard, USF adjunct professor and staff psychologist, to become community director of Marshall-Riley. Only a few weeks later, USF announced the suspension of in-person classes and eventually the closure of the campus dormitories in the face of COVID-19. Broussard, following the blueprints from previous years of BASE, had to change plans significantly.
In the past, Marshall-Riley students would begin the semester in a two-and-a-half-day retreat in Marin County, learning about their fellow classmates. Each cohort is selected carefully from activist-minded Black students all over the country; even though the nationwide Black community shares a great deal, there are many individual and regional differences that students discover during the retreat.
"Last fall, instead of having [the retreat] be an entire weekend where they would all be on Zoom," says Broussard, "we spread it out over multiple Sundays. I was intentional in making sure the first Sunday was focused on just getting to know one another." Later Sunday sessions helped students build stronger bonds with each other and consider their path forward as a group.
Generation Zoom
For students who had spent the summer away from USF, continuing to sign on to Zoom for a sort of digital insaka gave them a safe space to discuss the turmoil that enveloped the country in the summer of 2020, alongside their own activism and involvement. 
"Black folks have always known our ability to be resilient," says Broussard. "We are able to sustain ourselves despite circumstances outside of our control."
One thing that will not go online is the 2021 Black Heritage Immersion Trip, which is scheduled for later in the spring. In the meantime, even in the small but close-knit Black community at USF, the Marshall-Riley students continue the legacy of activism, equity, and hard work handed down to them by their Don forebears.
"The students got the opportunity to meet, via Zoom, Dr. Marshall and Ms. Adrienne Riley, and that made a huge impact on them," says Broussard, who often coordinates guest speakers for the cohort's meetings. "The students really appreciated that space to hear directly from the folks who paved the way for them."
"And I also think that for Dr. Marshall and Ms. Riley, it warmed their hearts too."
The anonymous gift to BASE is part of Changing the World From Here: Campaign for the University of San Francisco. Learn more about the campaign and how you can support USF »