Alumni
Alumni Engagement: It's a Win-Win for Everyone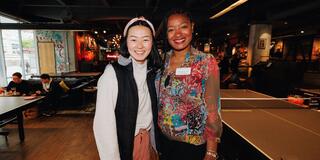 Bukola Adesokan-Cobb, assistant director of recent graduate and student engagement, works to help recent grads make the most of their connection even after they leave the Hilltop.
The office of alumni engagement is committed to providing alumni with programming and experiences that meet USF grads where they are. Alumni programs expand across the globe, based on identity and life stage, leading to increased connection to USF and its mission.
Adesokan-Cobb shares the importance of staying connected.
In her role, Adesokan-Cobb works with current students to stay engaged with the USF community to develop strong campus partnerships, with a focus on third and fourth year students. She also supports recent grads within the last ten years to aid in their transition outside of USF.
Adesokan-Cobb has found that students and recent grads discover two truths:
Alumni engagement can be represented in many forms such as volunteering time and talent
Staying involved as recent alumni holds the power to bridge the gap between dreams and reality by setting an example for current students and showing them what's possible for future alumni
Can you share a recent example of positive alumni engagement/giving?
Recently, we collaborated with the office of student life and engagement to host an "Adulting 101" workshop for graduating seniors. The focus was not only to discuss relevant topics related to life post-college, but to connect our alumni with seniors to hear their experiences.
The alumni speakers shared a range of topics from self-care, financial wellness, tips for moving across the country and student philanthropy. This was an opportunity for our alumni to give back through their time and expertise and it was well received from the seniors in the room.
What was so amazing was not only were the presenters giving back their time and knowledge to the current student community, we had many of them express that they wanted to come back and share more!
What steps has alumni engagement taken to help students still feel a part of the USF community as a current and recent graduate student?
There are many platforms to help students remain engaged with the USF Community! We organize mixers and happy hour events. We also host a variety of volunteer opportunities from career panels, to tabling during "Move-In Weekend."
We also have an online platform called NetworkUSF, with over 6,500 USF community members. Alumni can use this platform for mentorship programs or connecting with people in different areas around the world while encouraging you to create a sense of community outside USF.
CelebrateUSF, a special annual event, is the weekend (Oct. 20-22, 2023) of festivities for students, alumni, parents and friends to come to campus again and connect.
What is something that someone who graduates from USF may not know about the office of alumni engagement?
Personally, we are a small but mighty staff of six; because of this, we find our greatest strength through teamwork, collaboration, and communication. We have an open door to volunteer opportunities as well as affinity and identity groups that are catered to all alumni.
If you live thousands of miles away or identify with a specific group then there is a community for you. Events can vary from a happy hour gathering to an alumni career talk.
What's the importance of giving back to USF as a current student or recent alumnus?
We encourage our alumni to give back not only from a philanthropic perspective but also giving of one's time as a recent alumnus. This time can come from volunteering during move-in day to speaking with current students about their career, and even if you can't make in-person events, we host hybrid/virtual gatherings.
When you're present, you learn that there are new forms of communication to help you better connect with former friends, classmates, and future or recent alumni.
It's so important to nurture the community that shaped you but also give back, to leave it better than when you came. It's a win-win for everyone.