Equipped to Lead and Succeed
For Aimee Yamagami, Duty Runs In the Family
She was battalion commander of USF's ROTC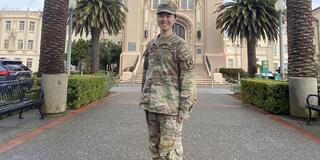 She is a fourth-generation military officer and the first female officer in her family, which has a military history that stretches back to the most decorated infantry unit in U.S. military annals, the all-Japanese 442nd Infantry Regiment in World War II.
Aimee Yamagami '23 says she's able to continue the family tradition because she joined the Reserve Officer Training Corps (ROTC) at USF.
"Growing up and listening to my father's military story, I thought I might like to join the military one day," she said. "I just didn't know how."
Yamagami learned how when she arrived at USF as a first-year student and went to a ROTC meet-up during orientation. "I learned it would allow me to go into the military officer's life and also enjoy my college life," she said.
That balance has been important to the kinesiology major, who minored in gerontology and child and youth studies. She played intramural soccer while at USF, too.
Aimee Yamagami had a very different experience than her father, Don Yamagami, who attended West Point Military Academy, he said. He went on to become an intelligence officer.
"If I had it to do over, I probably would have done it this way, with ROTC," he said, explaining that ROTC prepared Aimee well to be an officer but also allowed her to enjoy the college experience. "The ROTC program at USF is outstanding."
The Yamagami family military history begins with Aimee's great-grandfather, who was held in the Japanese internment camps in Manzanar, California, during World War II. Volunteers from the camps were permitted to join the U.S. Army, and he enlisted and became a member of the 442nd Infantry Regiment. He was sent to the front lines in Europe.
"He was very quiet about it," Don Yamagami recalled. "My father, his son, was born in the internment camps, and after college my father joined the Air Force and became an officer."
For Aimee Yamagami, ROTC has expanded her world and prepared her to follow in the footsteps of her father, grandfather, and great-grandfather, she said. Last fall, she served as ROTC battalion commander, the highest rank, and oversaw USF's 63 cadets.
"I think in many ways my leadership skills and my public speaking skills have improved because of ROTC, and because of everything I've learned at USF," she said. "I'm more confident in myself as well."
Last year, she went to Fort Knox, Kentucky, for 45 days of officer training, where she made friends with people from other schools. From there, she went to Fort Hood, Texas, and shadowed several officers for three weeks to learn more about the daily work of an Army officer.
When she graduates in May, Aimee Yamagami will be a second lieutenant in the Army. After commencement, she will attend quartermaster's school, which is training to be a logistician, for several months in Fort Lee, Virginia, before being deployed.
"I feel like a trailblazer and like I'm finding my own path and having a different experience than the rest of my family," she said. "It's really an exciting adventure for me, and I take pride in being able to join the Yamagami military officers."