Giving
Gift Establishes Innovative Speaker Series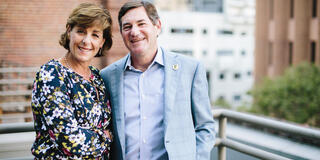 Investment expert Jeff Silk '87 and his wife Naomi have pledged a transformational gift to the University of San Francisco that will bring international thought leaders to campus for a speaker series on business, finance, and global issues.
The Silk Speaker Series will provide enrichment opportunities for students, alumni, and faculty, and it will broaden the reputation of USF as a leader in business ideas and innovation.
"We're shining a spotlight on USF," Jeff Silk says. "We'd like to see Nobel Prize winners, corporate leaders, and innovators — as well as global finance chiefs — speak as part of the series."
Former Secretary of State Condoleezza Rice, Nobel Prize-winning economist Robert Merton, and Apple co-founder Steve Wozniak will talk presidential politics, the economy, and technology at USF this spring as part of the new Silk Speaker Series.
Dean Elizabeth Davis of the School of Management said the Silk Speaker Series will have a major impact at the university and the School of Management.
"We are grateful for the generosity of Jeff and Naomi Silk," says Dean Davis. "This gift will enable the school to increase our engagement with our students, faculty, and alumni — allowing us to feature innovative thought leaders on the business landscape currently and in the years to come."
A Legacy Family at USF
Silk is an investment professional. He and Naomi have three children, and their eldest son, Ashton, is a junior at USF.
"I'm an alumnus of USF, and I have a son there," Jeff says, explaining their support for the university. "I walk on the campus, and I'm exceptionally proud to be part of USF. Hopefully, one day, I'll have a chance to take my grandchild there."
The Silks met in high school, and for the 30 plus years that Jeff has worked as an investment professional, Naomi has packed him a brown-bag lunch each day. Naomi, who graduated from Arizona State University, volunteers supporting services for the elderly and the homeless, as well as preschool education for working families.
They work as team, it's clear, and they have a strong commitment to family, education, and giving back.
The Silks say the Jewish tradition of tzedakah, or giving to charity, is important to them. Jeff's commitment to philanthropy extends to his service on the Board of Trustees at USF, as well as the board of the Ronald McDonald House at Stanford and the board of Junípero Serra High School in San Mateo.
"For us, education is essential, and giving back is so important," says Jeff.
Both Jeff and Naomi come from working families. His mother worked as a secretary to raise him and his sister, while putting herself through college and graduate school.
Naomi is a first-generation American, whose mother was a Holocaust survivor and whose father fought in the Israeli War of Independence. Her parents met in San Francisco, started a business, and raised their family in the city.
"My parents instilled hard work in me," Naomi says, and Jeff echoes that sentiment.
"At a very young age, my mother taught me about the importance of hard work and learning, and that's had a huge influence on the success of my career which has allowed our family to give to the University of San Francisco."
Shining a Spotlight on USF
Jeff, who has a business degree from USF, decided to establish the Silk Speaker Series at the university because he values how his USF experience has helped prepare him for his investment career.
USF emphasized the concepts of building breadth and depth, as well as the importance of "compounding human capital," he says.
The pledge supports the work of the School of Management. Jeff Silk expects that several speakers a year will come to campus, enhancing what students are learning, giving them a better understanding of the world, and helping them with their future careers.
The speaker series, which is expected to launch in the coming year, also supports something he learned decades ago on the Hilltop.
"The desire to always want to learn more," he says, "that was instilled in me at USF."
This gift was made in support of Changing the World from Here: Campaign for the University of San Francisco.