Giving
Dr. Belinda Hernandez-Arriaga Encourages Us to Own Our Story
Dr. Belinda Hernandez-Arriaga is a third-generation Mexican-American from Edna, Texas, a rural town in the southern part of the state. These deep familial roots helped Dr. Hernandez-Arriaga understand and own her story much later in life.
"Both of my parents went to segregated schools, and their goal was to completely assimilate," she said. "They didn't question the status quo and ignored their Mexican culture and the historical context."
Her parents continued that path when their children were born. Growing up, no one in her family celebrated their culture. Instead, she was brought up to move through life as if her cultural roots did not exist.
"We didn't speak Spanish, listen to mariachi, dance folklorico, celebrate posadas or Dia de Los Muertos," Dr. Hernandez-Arriaga said. "We ignored our culture, and I wasn't sure why."
Today, Dr. Hernandez-Arriaga is a faculty coordinator and full-time professor in the Masters in Counseling MFT program at USF's San Jose Campus. As the founder and chief executive director of Ayudando Latinos A Soñar (ALAS) — which means Helping Latinos to Dream — she supports the rich Mexican traditions for families on the Coast. The nonprofit's mission is to develop youth leaders and honor the cultural strengths of their families. She shared her story as the keynote speaker for the Latinas in Leadership conference at the University of San Francisco.
The Beginning of the Transformation
Throughout high school, Dr. Hernandez-Arriaga followed her parents' path of assimilation and channeled her questions into her studies. She was a top student, hoping to fill an unexplained void. But she knew something was amiss. Reflecting on her journey, she sees that she once let others tell her story.
"I began to ask myself why I can't be proud of who I am?" she said.
In college, she took hold of her own story. Arriving at San Antonio's St. Mary's University, a three-hour drive from her hometown, Dr. Hernandez-Arriaga's world shifted.
"It was a city completely immersed in Mexican culture", she said. "It was all very moving, but I thought how do I come back to that?"
She eventually found her entryway. In college, music was the language that allowed her to soar and come alive. She would go out and listen to mariachi music, or Selena, and dance. 
"Every time I was around my culture, my soul was rejuvenated," she said. "[So], I let myself see who I was and celebrate who I was. It [was] the beginning of reclaiming my identity."
Be the Change You Wish to See
Dr. Hernandez-Arriaga created ALAS as a grassroots organization in 2011, and now it's a 501(c)(3) non-profit organization. Partnering with parents, community leaders, teachers and youth, the organization has created robust programs that include Ballet Folklorico Tonantzin, Mariachi Media Luna, Mexitli and Misma Luna. The programs are built on community support, involvement, and relationships.
"We care about each family and honor the immigrant journey that many have traveled to bring a wealth of leadership and cultural wealth to our community," Dr. Hernandez-Arriaga said.
 Her support for the community goes beyond her work at ALAS. She has traveled to the U.S. border with USF graduate students to support migrant families at the Catholic Charities center in McAllen, Texas. As the keynote for the 5th annual Latinas in Leadership conference at USF, she empowered Latinx to break the cycle and own their stories.
Dr. Hernandez-Arriaga said, "it lies in your corazon; your heart carries your story and history. [And] that flows through you."
She shared three pillars of advice to reclaim and truly own your story.
Own your story — this means finding and understanding your story. Once you do, that is when the real work begins: the work to make conscious choices of how to be in the world and celebrate you.
Practice gratitude — toward yourself, your family, and your journey. Be grateful for your journey and those of your ancestors because they have made you who you are. And that gives you the power to have empathy for the imperfections.
Find your comadre circle — build a circle that will give you animo, esperanza, and help you be your best self.
Looking at the crowd, she ended her keynote with a challenge.
"Struggle makes us strong," she said. "Reclaim who you are."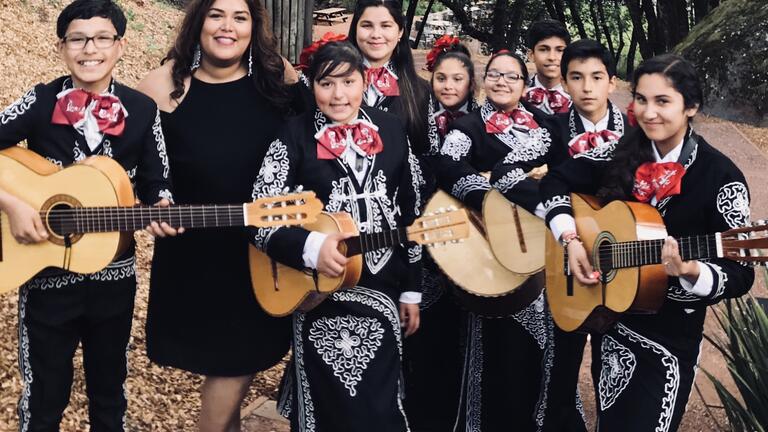 Dr. Belinda Hernandez-Arriaga, EdD, is a USF professor of counseling and a licensed social worker with 18 years of experience working in community mental health, with a specialization in child trauma and Latino Mental Health.