Alumni
2023 Alumni Love Stories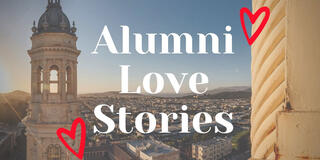 Students come to USF for a world-class Jesuit education, but many leave with more than a degree. Here are the stories of several alumni who found true love on the hilltop.
Ganbileg Bor '12, MS '13 and Sahar Bala '11
Image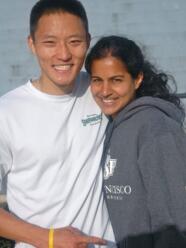 Ganbi and I (Sahar Bala, BS International Studies '11) met on the first day of USF's cross country practice in August 2008. We quickly became friends through the program, finding we had so much in common outside of running and in our shared values despite our very different ethnicities and backgrounds. Ganbi was born in Mongolia and I'm an American born Pakistani-American.
Well, Ganbi had a big crush on me all freshman year, and then we started dating sophomore year. We have so many fond memories of supporting each other through track meets, lounging around campus, studying in the atrium during finals, attending MSA club events together, and sharing meals in the Cafeteria. Our favorite memory together is probably an evening at the beginning of our courtship where we met at the top of the Lone Mountain stairs to enjoy the foggy church view — our relationship was new but not official yet. I told an unexpecting Ganbi that he had one week to take me on a fancy date and ask me to officially be his girlfriend!
We were married in 2015 and many of our wedding attendees were our close teammates from our cross country and track program with whom we're still friends. We moved to Seattle in 2019 and recently welcomed our first child, baby girl Zaya, whose intercultural name means "Destiny" in Mongolian and "Hope" in Arabic/Urdu.
Merrill Amos '14 and Leah Amos (Belcher) '14
Image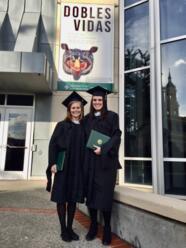 We met while we were both grad students in the inaugural class of the Master's in Museum Studies Program. It was a small cohort of 20 or so students, so we all spent lots of time together. I was seeing someone else at the time, but the more time I got to spend with Leah, the more I came to realize she was simply someone with whom I could be completely myself.
After our first year in the program, we were paired together on a summer internship working on a Mexican folk art exhibit at the Thacher Gallery. Then, after gaining a reputation for working SO WELL together, we were also recruited as a dynamic duo to curate the Lone Mountain Heritage Room (aka the Harry Potter room) for the Development Office. We fell in love over lunches in Japantown, Mexican folk art, and old photos of the San Francisco College for Women.
We've been together ever since, moved to Boston after graduating, and got married in 2019. We live in upstate New York now, and love to come back to San Francisco as often as we can! On our last trip in 2018 we went back to the Lone Mountain Heritage Room and it was wonderful to be able to visit a space that is so representative of our time together at USF. What did all this teach us about love? That it's always worth waiting for, and that it's always worth saving old college photographs.
Matthew R. McKenzie '05 and Katie Hoffman '04
Image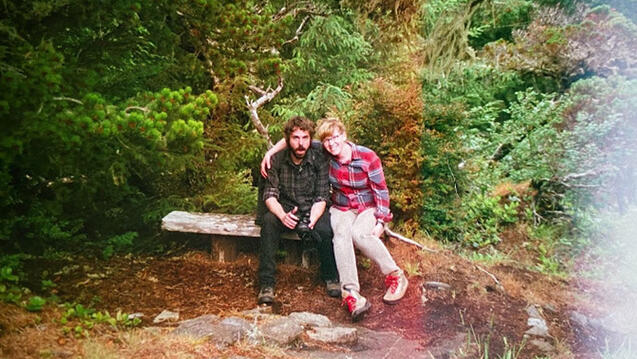 Matthew and Katie met on move-in weekend during their freshman year in 2001. Katie was waiting for her family to attend a mass at St. Ignatius and Matthew walked by. He had been up all night drinking coffee - too excited to sleep! They sat together on the cement table top outside of Gleeson Hall and began a close friendship. During their time at USF, Matthew and Katie were both English majors and although they really liked each other, they were just close friends. The best times they had together were walking through the city and talking, visiting Lands End, and walking through Golden Gate Park. They started dating after graduating USF and soon married in 2012 at the Sunnyside Conservatory with many of their USF friends in attendance. Katie and Matthew lived in Pacifica for ten years before relocating to Portland, OR. Their two children were born at the hospital down the street from USF in 2017 and 2020. Their daughter was really excited to visit St. Ignatius church and the campus where "mommy and daddy met and fell in love."
Larry Kloenhamer JD '80 and Janet Kloenhamer '77
Image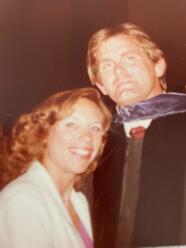 Larry was a second year law student and I was a first year. A Southern California surfer, he was one of those students who enjoyed hanging out on the back patio benches to soak up the afternoon sunshine. As a first year student I spent my free time in the law library, preferring a window seat overlooking the patio. We came to know each other through a passing wave and a nod.
Toward the end of the spring semester of 1979, we ended up going on a few dates before Larry left to spend the summer clerking in Anchorage, Alaska. I visited him in Alaska, but after he returned, we decided to stop dating. After a few weeks of not speaking to each other, we decided to try to be friends, and met up that evening at Pat O'Shea's where he proposed. The next day we shopped for an engagement ring and got married over Thanksgiving weekend.
Our daughter is a proud graduate of USF, as was her grandmother, her parents and great uncle. Our connection to USF is long and deep and, hopefully, will be sustained through future generations.
Roberto Montoya '04, MBA '10 and Nicki Montoya '04, MBA '10
Image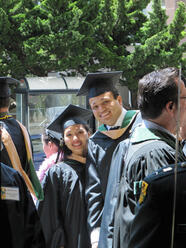 Nicki and I met in early 2004 when we were both undergraduate student employees in the ITS department. In 2003, I was recruited into ITS. I was the new employee and Nicki had been in the telecom/network team as a student employee for a few years. She was assigned to train me and get me up to speed. While spending hours together exploring campus as part of our jobs, we started to appreciate each other and look forward to additional assignments. Personality-wise we were very different with different upbringings but we were always happy together. She was much more adventurous and even got me to try skydiving which was terrifying for me. We were spending so much time together "as friends" but in reality we were both falling for each other and we were slow to admit it to ourselves. We finally started formally dating towards the end of 2004.
After graduation both Nicki and I found employment at USF and continued our education by pursuing MBAs together as part of the same cohort. We were lucky to be able to travel together as part of the MBA immersion program and made some lifelong memories. In 2014 I finally popped the question and we were happily married at SI Church the following year. Throughout this relationship we learned that even though we had different upbringings and communication styles we had similar values that allowed our love to flourish. Our relationship will always be connected to USF. Nicki still works at USF and I'm lucky to pass by almost every day and think about all the experiences we had together. We're currently season ticket holders for the basketball teams and enjoy bringing our young daughter to the games. We'll look forward to telling her more about our USF experience.
Rachel Barros '14 and Sean Flynn '14
Image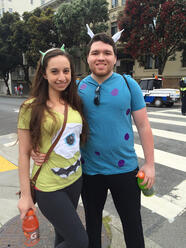 My wife (Rachel Barros, class of 2014) and I (Sean Flynn, class of 2014) met during our freshman year in Hayes Healy. I hate to admit it, but I had a huge crush on her early on while she took awhile to realize that it might be a good idea to go on a date!
We finally went on our first date at the beginning of our sophomore year. We shared an inhuman amount of sushi and I tried to pay smoothly by saying that my debit card earned airline miles (she had the same card, and it did not). Soon we were basically inseparable -- going on random dates every Thursday for sushi in Japantown and ice skating at Yerba Buena. We also had a running joke where I'd put her on the spot during campus tours by asking her questions about her USF experience. I worked as a tour guide and she was a little less outgoing. We both decided to go to graduate school in Boston and moved out of the Bay Area together to continue our story. We got engaged in 2018 at Battery Spencer and married in the Presidio in June of 2022 after a few COVID delays. We've happily settled into our careers in the Los Angeles area with a small but opinionated Siberian Husky named Zero.
Catherine Mondoy-Lin '10 and Danny Lin '10
Image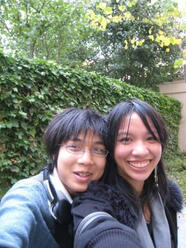 I'm Catherine Lin, then Catherine Mondoy when I graduated from USF in 2010. I met a fellow student in Ethics 101 in the Harney Building, and thought he was cute after I watched him participate during the lecture. But to talk to him I had to physically chase him down the stairwell because he bolted after class. That student was Danny Lin, also 2010, who would become my husband.
I am keeping it short because I am busy with the baby girl we had just a few months ago. I am so happy and blessed that I met my husband and the love of my life at USF!