Alumni
2022 Alumni Love Stories
Part One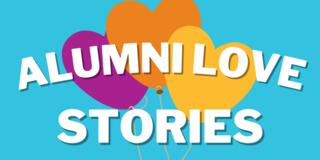 We asked our alumni to share their stories of how they met and fell in love at USF. Here is part one of a two-part series of how their love began, blossomed, and triumphed.
Michael Donahue '96 and Jennifer Donahue '96
We met freshman year during welcome week. I had a boyfriend at the time, but I instantly liked Mike and his fun personality. There was one night during welcome week, he offered to walk me back, and it was really nice. We started as friends, and it wasn't until the very end of freshman year we started dating. 
Mike played baseball at USF, so our first date was a Giants game. He remembers, "Jen took out a scorecard, and I was like 'omg this girl, she's got my heartstrings.' I think we were taking public transit when I asked her out on our second date. Our second date was at an A's game. Our first two dates were games and the rest was history."
Image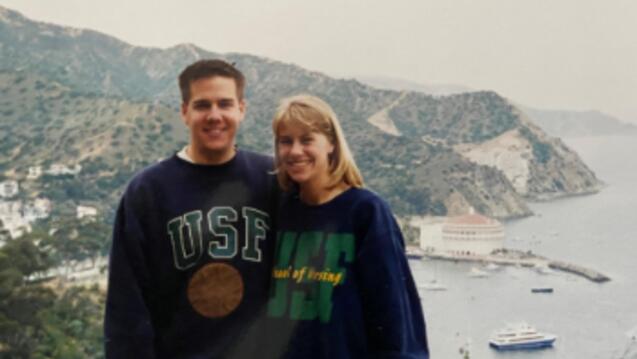 We dated for three and a half years at USF, then we graduated, I passed my boards, took a job in Southern California, and at that point, Mike and his roommates were like "what do we do now?" So they found a place in Burbank, CA. He got a job at a rental car company, and I worked as a nurse. He always told me, "I will buy you a ring before I buy a car." Silicon Valley's job market started to boom, so Mike moved back for more potential opportunities. 
"I bought a car and the ring at the same time" Mike reflected, "as a 22-year-old, I pulled out money on an ATM for a car, and whatever was on the remainder of the receipt was the fund for the ring. I proposed in the Marin headlands, and she was crying. We were married on the campus by Fr. Schlegel, in St. Ignatius. You could only get married in the church if you were alumni. It was nice to get married where we met."
We've been married for over 23 years and have three kids together. USF was a great place to start because we shared the same morals and this was where we met all of our friends. Being in that college atmosphere accentuated the good times and eventually showed everything we had in common. USF was the place that started our relationship and has been part of our life and journey.  
-Michael and Jennifer Donahue
Monica Chinchilla '08 and Jonathan Chinchilla '08
My husband Jonathan Chinchilla and I (now Monica Chinchilla, formerly Monica Murillo) met and fell in love at USF. We entered in 2004 and worked at Crossroads Café, where we first met. We were friends throughout college. 
As a freshman, Jonathan said he wasn't going to date around. He was waiting for "the one" he would marry at 22. I was shocked and would often ask how he planned to get married so soon when he didn't even have a girlfriend. He was such a hard worker, full of integrity and he really did stick by his word and wasn't dating around.
Image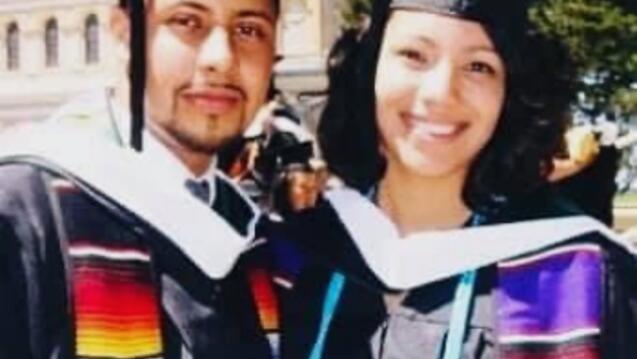 For the first three years of college, we weren't attracted to each other as I guess we both dressed and looked really shabby. When I returned from six months abroad at the end of junior year, both of our eyes opened. I started realizing, "Jonathan is really handsome, why hadn't I seen it? He's a great friend and now all of a sudden I have feelings for him." And he was thinking "Wow, Monica is really pretty, but I can't like her, she's my friend." But how we started to see each other turned out to be the best thing that could have happened to us. We fell in love and got married in 2008, shortly after graduating at the age of 22!
 Thirteen years, two kids, and many adventures later, we are still in love. I am in San Francisco raising our girls and I'm actually back at USF studying law. It goes to show, never make fun of a friend who is waiting for the one, you might be it. 
-Monica Chinchilla
Jim Johnson '71 and Louise Ottoboni '71 
We met at the freshman picnic in Lindley Meadow at Golden Gate Park on September 9, 1967. We took the Muni back to campus when it got cold and walked back to Phelan Hall (the boys' dorm) and to Hayes Healy Hall (one of the girls' dorms). On Monday, we ate dinner at the same table and went for a walk in the neighborhood. Every night that first week of classes we ate dinner together and went on a walk together. We evidently found each other to be rather acceptable since we have continued to keep each other company for the last 54 plus years.
Image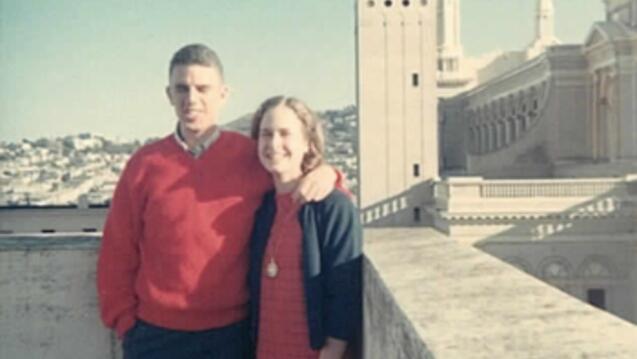 We both lived in the dorms for all four years at USF. I never got up early enough to eat breakfast but we always ate dinner together and studied in the library until it closed. 
For several years Jim enjoyed spending time in the lounge of Hayes Healy whenever there was a "candle-passing" ceremony. This happened when a young lady announced that she was engaged and he knew many people assumed it would be us one day. By the end of our junior year, it was us. 
As we prepared for our wedding, we had some trouble finding a priest. We both had worked for Fr. John Fischer S.J., who was the chair of the Math Department, and decided to ask him if he would like to have an important part in our wedding; he almost jumped through the ceiling with joy. On June 5, 1971, the Saturday after our graduation, we were married in Cloverdale, CA.
Since then, we have raised four children who have all married and have given us seven grandchildren. Jim taught math for 44 years and I volunteered for many jobs that were needed in the process of raising our children and within the Church. In retirement, we continue to volunteer with the Church -- especially since for the last 14 years, we are not only a married couple but also a deacon couple. 
-Louise Ottoboni
Courtney W. Jones MBA '98 and David E. Bonacci '91
I met Dave Bonacci in San Francisco through mutual friends after I graduated from the MBA program. David and his whole family went to USF for their undergraduate degrees. 
I was volunteering with the MBA alumni society, and we would put together these luncheons on California Street. He was an active participant at these events and in the community. One day, we went to a party at Bimbo's called Monte Carlo night. There was a prize to go to the actual Monte Carlo, and I won it!
Image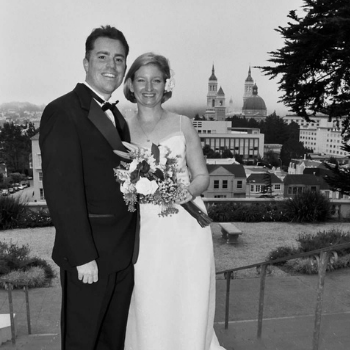 I took a friend and went to Monte Carlo; before I left I gave Dave my teddy bear and asked him to look after him while I was gone. When I was in London, on one leg of the trip, I checked my email. There was a long email from Dave, featuring a story about what my teddy bear had been up to while I was away.
In the email there were photos of my teddy bear going to tea, painting, becoming friends with Frank Sinatra while wearing a tux, and finally a photo of teddy looking for me at Monte Carlo. 
When you receive something like that, it makes you question, "Is this crazy? Or just funny?"
It was unique and there was a lot of creativity in it. It made me laugh so much, and I knew then I wanted to get to know him better. That's when we started to get serious. 
When Dave proposed, it was a surprise actually. He had an elaborate scheme developed. I was invited to go up to Elk, California, with some friends. When we drove up to the house, he said they were not coming. When we walked in the door there were decorations, champagne, flowers, and I knew then what was going to happen. 
We got married at Notre Dame Church on Church Street, had our reception at Lone Mountain in the Handlery Room and Bon Appetit did an amazing job with the catering. USF was a shared experience of connection and remains a focal part of that connection in our marriage.
Through this life with David we adopted two children, they are 10 and 12 years old, and it's been an amazing experience. You just don't know where life is going to take you. 
-Courtney Jones
We hoped you enjoyed part one of our alumni love stories. Check out part two of our alumni love stories »