San Francisco Advantage
USF Hospitality Management Major Increases Awareness With High School Students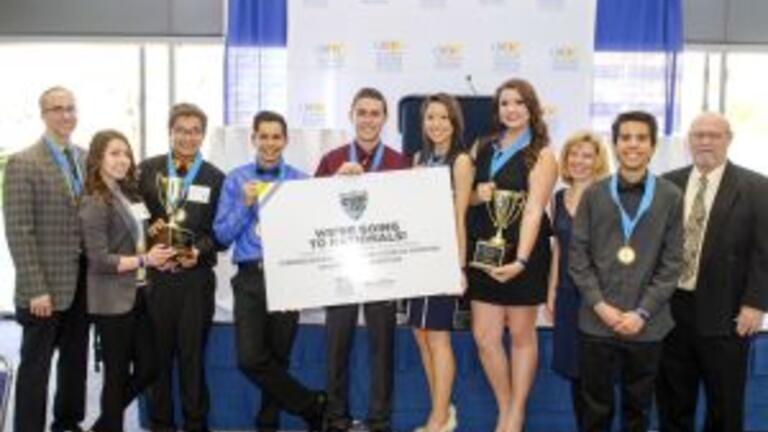 This year, for the first time, the Department of Hospitality Management (HM) sponsored an information table at the 12th Annual California ProStart Cup competition, a high-school program with the California Restaurant Association Educational Foundation. This was a two-day competition held on March 16 & 17 at the Sacramento Convention Center that was attended by more than 200 California high school students.
The goal of HM being present is to further increase awareness of the Hospitality Management major among qualified, prospective high school students.
The California ProStart Cup competition was divided into two events: culinary and management. Winning teams from each competition were awarded first-, second- and third-place trophies. First-place winning teams will advance to compete in the 2014 National ProStart Invitational May 3-5 in Minneapolis, Minn.
As a sponsor of the event, HM was able to have a student information table front and center. K.O. Odsather, Associate Director, manned the table and was available to speak to students about the University of San Francisco (USF) and obtaining a business degree with a major in Hospitality Management. This event draws very talented high school students from across California who represent the future of the state's restaurant and foodservice industry, which made USF's visibility incredibly important and served as an excellent outlet to create awareness of the major in HM. K.O. shared "the California ProStart Cup competition was an outstanding event! It was a great opportunity to introduce students to a 4-year Hospitality Management program in San Francisco that is targeted to students interested in owning and operating, as well as those interested in pursuing entrepreneurial endeavors in hospitality."
According to estimates by the Bureau of Labor Statistics, about 17.8 million people were employed in Hospitality and Tourism occupations in 2010, and employment is expected to grow to around 19.6 million by 2020, leaving a looming gap in the number of well-trained individuals in the hospitality field. ProStart is a nationwide, two-year program for high school students. ProStart brings together schools and industry leaders to increase the number of qualified job candidates in the hospitality industry. Through the ProStart curriculum, students are well-equipped, motivated and empowered to pursue a college-level education in their field, as well as to enter the workforce.
HM is expanding its efforts to increase its visibility among high school students in California who are interested in the hospitality industry. At the table, K.O. spoke directly with students about what sets USF and HM apart, such as small class sizes, a well-structured internship requirement of 800-hours in the industry, customized advising for each student, and numerous options for involvement in student organizations.
In addition to growing the Bay Area market (30% of HM majors and minors come from the Bay Area), HM is also focused on attracting more students from across the state. "Our intention in attending this event is to make students from all parts of the state know who we are when considering a higher education institution" said David Jones, Chair of the Department. "We are very committed to our three pillars of excellence in teaching and research that help distinguish us from other hospitality management programs."
Dr. Jones concludes by stating "and since one-third of HM alumni who work in the industry work in food and beverage positions, it is very special to support the efforts of the California Restaurant Association in advancing the education of students at all levels."