1950's
'58
Gerald Souza has completed 20 years as a member of the restoration crew of the USS Red Oak Victory, the last existing ship of the 747 vessels built at the Richmond Permanente (Kaiser) Shipyards during World War II.
'59
Robert Carlson retired in 1991. He worked seasonally for the first 12 years after retirement performing AARP tax counseling for the elderly. Over the next 10 years, he worked part-time for a wealth management firm preparing tax returns. Since 2013, he has been working part-time for another firm reviewing tax returns for clients.
1960's
'61
Stanley Panickaveetil has created the website individualsector.org, which helps motivate individuals to realize their inherent potential.
'62
Hal Urban MA '66, EdD '78 had his seventh book, Grandpa's School of Life, published on July 6.
'65
Charlotte Brandt attended a mini-reunion of 22 members of the nursing class of 1965 in Napa in October, where Karen Leahy Leonardini '65 hosted lunch at her family's Whitehall Lane Winery.
Russell Magnaghi published Italians in Alabama, the first thorough history of the subject, after almost 30 years of research.
'67
Joseph Haggerty II is a physician who volunteered at USF for thirty years, taking care of the school's Division I teams. His eldest son Matthew earned his MD from Creighton Medical School in 1994, while his youngest son Joseph Haggerty III earned his MD from Creighton this past June.
Richard Krieg Jr. retired as professor of anatomy and neurobiology at Virginia Commonwealth University School of Medicine after 43 years.
Ruth Neilan and Robert J. Neilan celebrated their 50th wedding anniversary with their daughter, son-in-law, teenage grandson, and granddaughter on a Pride of America cruise of Hawaii.
'68
Nancy McGaraghan and husband Pat McGaraghan JD '69 celebrated their 50th wedding anniversary at home with their family of 20, composed of sons, daughters-in-law, and 10 grandchildren. Rev. Jerry Coleman officiated the ceremony in which they renewed their vows. They cherish many wonderful memories from their USF days.
Bowman Olds MA '75 works in the Joint All-Hazards Operations Center responsible for monitoring and responding to all manmade and natural disasters impacting health care facilities, such as hospitals, clinics, dialysis centers, and nursing homes.
Tom Vargas retired after teaching for 39 years with the Fremont Unified School District at Mission San Jose and Washington high schools. He is happily married to Judy and has two daughters, Kathleen '08 and Emily. His first grandchild, a boy, was born last September. He travels a lot with his wife and they recently returned from a 17-day safari in Kenya and Tanzania, where they fell in love with Africa, its people, and the land.
Jay Wilson MSOD '99 celebrated his 50-year anniversary with his wife Mary. They have three sons and were blessed with 10 grandchildren. Living in Dana Point, California for the last 10 years, Jay enjoys golf, traveling, and vintage cars.
'69
Dennis Freeman and wife Claudia now have three grandchildren. They live in Novato, California, where Dennis works with the Knights of Columbus and several veterans groups. He has recently taken up trap shooting. Dennis and Claudia are season-ticket holders for Dons basketball, and he also supports the USF track team.
John Torpey celebrated 40 successful years in the financial services field last year.
Harry Young has been nominated again for a Daytime Emmy as part of the sound team for NBC's Days of Our Lives. Last year, his team won that same award.
1970's
'70
Sarah Belletto will celebrate 46 years of marriage to Jerry Belletto '68 this month. He is retired, but Sarah works as a criminal and juvenile defense attorney. They have two sons, Ben, 41, and Sam '05, 37, two granddaughters, and two grandsons. Jerry started an olive oil business and spends much of his time tending olive trees on their land in Novato, California.
Peter Devine MA '72, MA '99, MA '07 received the Charles T. Murphy Teacher of the Year Award for his 45 years at St. Ignatius College Prep. He was honored at the Tony Awards by his former student Darren Criss and was a finalist for the Kennedy Center Inspirational Teaching Award.
Bryan Foster JD '74 received the Kaufman Campbell Award for Judicial Excellence in May from the San Bernardino Bar Association. It is the highest award the bar association gives to judges.
'71
Carolyn Rosenblatt JD '78 is enjoying life as a senior citizen, still working and still using both of her USF degrees. Combining nursing with law, she and her husband, Mikol Davis, give professional advice to those with aging loved ones. Carolyn and Mikol have been married for 36 years. They work together at AgingParents.com and AgingInvestor.com. Carolyn is also a triathlete, and finished first in her 18th event this June at the Monte Rio Sprint Triathlon.
'72
Michael Prucker anticipates retiring next year as chief operating officer of the National Committee to Preserve Social Security and Medicare. He came to the nonprofit advocacy organization after working for 23 years in the House of Representatives. A co-founder of the only wildlife rehabilitation organization in the District of Columbia, he and his wife Ross Brown recently spent a month in Antarctica.
'73
Jesus Francisco Ruiz is celebrating 50 years since his graduation from St. Mary's College High School.
'74
James Geiger MS '76 is a member of the medical advisory panel at doTERRA International and has published his latest article, "Anesthesia Implications of the Use of Essential Oils in Alzheimer's Dementia," in the International Journal of Anesthetics and Anesthesiology.
Tere (Therese) Hash retired and joined her husband's law firm after more than 30 years as a judicial staff attorney with state district courts in Montana. Now she works part-time and focuses on mediation and water rights.
Julia Shumelda lives in the Bay Area and is an executive consultant specializing in values-based leadership development for global companies. Using principles of applied neuroscience, she leads executive retreats internationally, taking the C-suite through a process that allows them to reconnect with their core values and humanity.
'75
Linda Gratt retired in April after a 43-year nursing career. She spent the last 24 years at Stanford Hospital. Gratt plans to travel and volunteer, as well as keep her RN license and oncology certification through the Oncology Nursing Society.
John Peck teaches fine arts at Stanford University.
'77
Robert Dunn self-published his novel Pretty City Murder after giving up on literary agents. His search for an agent turned into a full-time job, with 300 queries and 100 rejections in formatted emails with no advice. His book is available at Amazon.com.
Frank Hunt is beginning his 10th year coaching the Aragon High School cross-country team in San Mateo, California, and 19th year as a cross-country and track and field distance coach. Hunt started coaching after a 37-year career at Bank of America.
'78
John Sheehan was ordained as a permanent deacon in service to the Diocese of Sacramento at the Cathedral of the Blessed Sacrament on June 30, 2018. He has been employed as a budget analyst at the IRS for most of his 39 years at the agency. He and his wife Karen live in Lincoln, California.
'79
Lawrence Au MPA '93 visited Cuba as part of the People to People Group. On this cultural and educational tour, which included trips to the seminary, churches, countryside and Havana. What attracted Au the most was the Mother Teresa Children's Home, founded by Mother Teresa when she visited the country.
William K. Wesley was the 2016–17 Rotarian of the Year of the Fairfield-Suisun Rotary Club in California. He authored the book The Four Factors of Happiness — Open In Case Of Emergency, based on his keynote speech at the Northern California Rotary Convention in 2016.
1980's
'80
Laurie Anne Ferguson was named dean of the new college of nursing and health at Loyola University, New Orleans in January.
'81
Matt Allio has spent the last school year in Jinan, China, teaching English, conducting teacher trainings, and providing parent education for Chinese teachers and parents at Spotlight International School. He will assume the position of head of Trinity School in Menlo Park, California when he returns.
Anita Gildea-Philips' sons, Patrick '07 and Sean '16, are both getting married this year.
Suzanne Tang (Fong) has returned to USF as a professor with 37 years of nursing experience. She teaches at the Orange County Campus.
'84
Mike Ruyle (teaching certificate) has worked for 28 years as a teacher, coach, and principal in both Catholic and public schools in California and Montana. Now he serves as a presenter and author for Marzano Research, an educational think tank, where he has led professional sessions in 33 states, Guam, and China. He also serves as educational director for the Hanna Boys' Center in Sonoma.
'85
Steven Bosso joined USF's IT Services department after working for more than 32 years in information technology at Chevron.
'86
Caroline King-Saperstein reminisced about her days at USF when her daughter went on campus tours in Northern California.
'87
Rich Knowles retired after 40 years in banking. He volunteers for the USS Potomac Association, which preserves Franklin D. Roosevelt's "Floating White House" moored in Jack London Square in Oakland.
'88
Suzi Byrd retired from IBM in 2002 and moved to the Palm Springs/Palm Desert area to start a second career in residential real estate.
1990's
'90
Virginia Tomasian has retired from the State of California and resides in Clovis, California where she spends her time practicing music. She moved to be close to her father who passed away on Valentine's Day last year. With her two daughters grown up and pursuing degrees, she enjoys the slower pace of living at her lovely home.
Ralph Womack accepted a position as executive director of the San Joaquin County Bar Association in February. He has a passion for running and cycling, and he reflects fondly on his USF days and is proud of his connection to the institution.
'92
Maggie de Vera MA '94 relocated the offices of her nonprofit organization, Recognize Our Youth As Leaders (ROYAL) Inc., and is in the final stages of her holistic clinical psychology program.
Rocio Garcia-Reyes is deputy general counsel for SEIU Local 721 in Los Angeles.
Tokuro Yamashiro moved to Ireland.
'95
Heather Hackman recently joined Aimmune Therapeutics as a senior manager of product and portfolio management. The company develops desensitization treatments to protect people with food allergies from the potentially life-threatening consequences of accidental exposure. Aimmune's first product is an oral treatment for peanut allergy.
'97
Jermaine Galloway was a basketball player at USF from 1993–96. After working as a police officer for 18 years, Galloway started Tall Cop Says Stop. He is now a speaker and trainer on drug- and alcohol-related issues. The Tall Cop currently trains over 50,000 people annually, including university officials, law enforcement, and counselors.
James Parke graduated summa cum laude as a recovered drop-out, completed a master's in business, and raised two sons. Now a retired executive, he lives in San Francisco. His sons are sixth-generation Californians and he can't imagine living anywhere else.
Esker-D Ligon is a nurse practitioner. She has published a book, Dirty Sidewalks & Beautiful People: A Collection of Quotes and Reflections From My Work in San Francisco's Tenderloin, that chronicles the joys and difficulties involved in working at a community health center.
'99
Jennifer Bayley is director of internal communications for Spectrum, the country's second-largest cable operator. She and her family live in Westchester County, New York.
Tiffany Blakeney earned a master's degree in data science from Northwestern University in Chicago and started a new role as a data scientist for Cisco Systems. Her husband, Marc, and two sons, Lance and Ashton, are proud of her accomplishments.
Ahia Hartfield-Dyels has written a book about what God taught her about her scars, which were the result of a car accident in December 2003.
2000's
'00
Will Kiss MA '02 is in his 11th season with the NFL's Oakland Raiders, serving as senior director of media relations. Kiss has spent nearly two decades in athletics administration, including stints at the West Coast Conference and Stanford. His wife, Katie Patterson Kiss '01, MA '02 is currently the principal of St. Paul's School in San Francisco.
Deirdre McCrohan has worked as a reporter for The Ark, a newspaper in Tiburon, for 30 years. Before that, she worked in corporate communications. She has won awards in both of her careers, and this year The Ark was named the best small weekly newspaper in the U.S. McCrohan and her colleagues are delighted to receive this honor.
Laura Reid is working in a dual-diagnosis community mental health agency in semi-rural St. Helens, Oregon. Laura is working with the Oregon Institute of Creative Research on the work of Jean-Luc Marion and W.R. Bion. She continues to do crisis intervention and grief counseling. She lives in Portland, Oregon with her husband and children.
'01
Luis Quinonez transitioned from working as chief of staff in the California State Assembly to managing eBay's western U.S. government affairs.
'03
Mario Echeverria has obtained two master's degrees in education and will be founding KIPP Corazón Academy Middle School to provide his community with access to quality education.
'04
Mary Abler moved to New Orleans, where she is the manager of the MLK Branch Library in the Lower 9th Ward. She lives with her partner, Brendan Rogers.
April Maddy graduated from Harvard Graduate School of Education with a degree in mind, brain, and education. This summer, she reconnected with USF alumni in Hong Kong and elsewhere as she vacationed around the world.
David Zimmerle published an essay, 'Meditations in a Surf Emergency,' in The Surfer's Journal to kick off summer 2018.
Image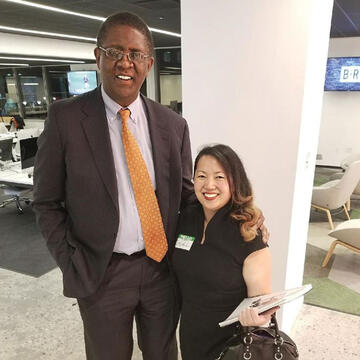 @crystaliizeme: Meetings, networking, @usfca alumni events, hanging out with NBA legend Bill Cartwright '79, MSOD '98, listening to Senator Bill Bradley speak.
LAURA NELSON '08 #USFCAALUMNI
'06
Mary Creasman is the new CEO for the California League of Conservation Voters.
'08
Mark Kilroy is project manager for Mortenson/Clark joint venture and is managing the construction schedule for the Chase Center and mixed-use office and retail development for the Golden State Warriors. Construction of the arena is scheduled to be complete in August 2019.
Vanessa Reynoso MA '13 became a licensed marriage and family therapist in July 2018.
Amanda Van West works as a marketing specialist at LaneOne, a joint venture between Azoff MSG Entertainment and Live Nation Entertainment.
Robin Wearley, a former flight attendant, founded ADAPTS.org, a business that makes portable emergency transfer slings to evacuate people with disabilities from disasters. The product was awarded The Changing Lives Award at Naidex 44, Europe's largest disability trade show, out of 260 products.
'09
Danielle DeNatale has been working at Washington Hospital in Fremont, California for the last eight years as a registered nurse. She recently got married in San Jose.
Anika Steig married Gordon Wilson in Healdsburg, California on June 16, 2018. They live in North Beach with their dog, Cora.
2010's
'10
Derek Stefan has joined ForceBrands, a leading consumer products recruiting firm from New York City. Based in Santa Rosa, he is helping expand the firm's business on the West Coast.
'11
Stephen Cramer MSOD '13, Cloverdale, California police chief, has survived throat cancer six times since 2011. He returned after three surgeries and three rounds of chemotherapy, and is getting used to his tracheoesophageal voice prosthesis (TEP) implant. He is the first police chief in history to work with a TEP.
Scott J. Kalter joined the Klinedinst Santa Ana office as an associate. He will work with the firm's business and commercial litigation, product liability, and retail and premises liability practice groups. Kalter earned his JD from UC Hastings in 2014.
When she was an undergraduate, Marla Lucas founded a program for undergraduate pre-med students at USF that allows them to volunteer at UC San Francisco's student homeless clinic. After getting her master's to become a physician assistant, Lucas returned to San Francisco and works as a primary care provider at One Medical Group.
'12
Katherine Filice will have her first solo show at the Gilroy Center for the Arts in Gilroy, California. The exhibit, titled The Secrets We Keep, features a selection of her pen-and-ink drawings.
Joann Martinez works as an advocate and social worker, counseling victims of domestic violence, sexual assault, child abuse/neglect, and human trafficking.
Image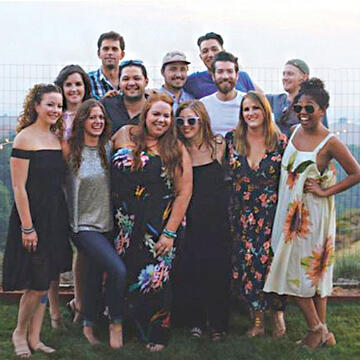 @jazzminbree: Years later and not much has changed. #vinkwedding
JAZZMIN HOLMES '13 #USFCAALUMNI
'13
Reed Fehrjoined Idean design, a leading global user experience agency recently acquired by Capgemini. Fehr ran global delivery programs and produced cutting-edge design work with companies like Google, Ericsson, and World Rugby.
'14
Lorraine Bower enlisted in the U.S. Army Reserves as an ammunition specialist after graduating from USF. Now she attends graduate school at the Maxwell School of Citizenship and Public Affairs at Syracuse University.
Meagan Cuthill, a politics and media studies graduate, is pursuing a career in news and has been working at FOX 12 Oregon, the most-watched station in Portland, since last January as a digital producer. She loves her work and considers her USF education instrumental to her success. Last May, her department was chosen Best Digital Presence by the Associated Press Television and Radio Association.
Sean Flynn got engaged to Rachel Barros '14 at the Golden Gate Bridge in January. Both of them had moved to Boston to become physician assistants, but now they are back in California, with jobs in the LA area.
'15
Abby Concha is embarking on a journey to her PhD in philosophy by beginning with an MA in philosophy at The New School in New York.
Matthew Kirner joined the team at The Legion music recording studio in San Rafael, California, where he works remotely as the studio's creative director. In July, he moved down to North Hollywood, California, and has started working with songwriter Harold Lilly and his independent music/media label Hardcover as creative director.
Matt Nazario-Miller earned his MEd in student development administration from Seattle University after earning his undergraduate degree from USF. While at Seattle University, he worked as an assistant resident director in housing and residence life, spent a summer as a resident director at Rhode Island School of Design, and returned to work full-time as a social media marketing specialist.
Joaquin Razo joined St. Helena Chamber of Commerce as their vice president, working to build St. Helena into a robust international destination. Razo is excited to continue his education in the Jesuit tradition with an MA in organizational leadership at Gonzaga University.
Jankavey Seng was promoted to social services agency program manager in Alameda County after graduating from USF. This summer, he began his master's in public affairs at the Goldman School of Public Policy at UC Berkeley.
Brittany Silveira participated in the Golden State Warriors Championship Parade as the ride-along with Klay Thompson and Zaza Pachulia, and won the Elevate All-Star, an award from the team recognizing staff members of the organization with an all-expenses-paid road trip game.
'16
Megan Busch is engaged to her longtime partner, Tim. She will be getting married in May 2019 in San Diego.
Nathalie Moreira-Ramirez was promoted to senior admissions counselor, multicultural recruitment, at St. Mary's College of California. She plans to assist the efforts of St. Mary's to be an inclusive community.
Richard Ross secured a position at the largest human capital management corporation in the United States, Automatic Data Processing. After about three years with the company, he became one of its top sales representatives. He was awarded with a paid trip to Jamaica.
Faron Stalker is a Peace Corps volunteer in Colombia. She lives in a small village and teaches English at a local school and to adults in the community, as well as co-directs the Girls Leading Our World program. Upon completing her service in March 2019, she plans to attend law school.
'17
Sameer Bhutani has crowdfunded a product he invented called PowerPod Case, a silicone case that adds wireless charging to Apple AirPods. He has also started a company, Ordinary Mango.
Jacqueline Lewis was hired as a health sciences and behavioral research assistant by the nationally ranked Children's Hospital Los Angeles. She works on HIV studies among LGBT youth of color. She plans to apply to graduate school next year.
Stefano Rakigjija worked in his family's commodities trading business in La Jolla, California after graduating from USF. After six months, he got a position at Morgan Stanley as a financial adviser associate. Now, he is studying to get his Series 7 license.
Miriam Uribe moved to New York shortly after graduation. She was a worker's rights organizer with Worker's Justice Project, a Brooklyn-based nonprofit focused on supporting low-wage immigrant workers. Recently, she transitioned to a new position as a consumer justice paralegal with the Community Development Project at Urban Justice Center.
'18
Gabriel Flynn moved from the San Francisco Bay Area to the Big Apple to work for Adobe in their New York City office. Flynn works on Adobe's data management platform to help some of the world's leading brands publish advertisements with better targeting and accuracy.
Guillermo Talamantes is pursuing a master's in environmental economics at the University of London and would love to network with fellow Dons in the environmental industry to see what can be done in Northern California. Talamantes also volunteers at the Institute for Biodiversity and the Environment at William Jessup University, where he is pursuing a master's in leadership.
1970's
'73
Lincoln Smith is an author and the owner of Local4Publishing.com and ArtistArmor.com. He developed the websites with his collaborators as protected spaces for creative people to share and market their work, and collaborate with other artists, agents, and producers.
'78
Peggy Hora, president and co-founder of Justice Speakers Institute, a resource on national and international justice issues, spoke at the World Forum Against Drugs in May in Gothenburg, Sweden. She discussed the process of addiction recovery when it is initiated by the criminal justice system as well as its benefits and outcomes.
'79
Elva Anson won first place at the Northern California Publishers and Authors annual book awards in nonfiction for her sixth book Wondering Around God. It won second place for best cover and book design.
1980's
'81
Jayne Kelly Nordstrom is retired after 37 years and lives in the country. She expects to relocate to Italy next year.
'82
Tim Tietjen and his fellow attorneys from the San Francisco-based law firm Rouda, Feder, Tietjen & McGuinn have secured a $47.5 million settlement on behalf of a child who was seriously injured by a tree that crashed on his tent in San Mateo County Memorial Park.
'84
Brian J. Purtill is dean of Empire College School of Law in Santa Rosa, California. Besides his duties as dean, he will continue his mediation practice at the Arbitration and Mediation Center, Santa Rosa.
Br. Michael Segvich completed his educational career with a year as principal of St. William Grammar School in Chicago. It was his 25th year as principal, having spent the previous 24 years as a high school principal in Salinas, California; Chicago; and Bloomfield Hills, Michigan.
'85
John Covell MBA '96 retired in September after 22 years of federal civil service, most recently with the Federal Aviation Administration's Air Traffic Organization. Covell sold his home in Alexandria, Virginia, and has moved to Augusta, Maine. He volunteers as a mediator for the Maine Attorney General's Consumer Protection Division, assisting Maine consumers and businesses to resolve disputes without litigation.
'86
Sherrie Seliber Friedman joined the board of Court Appointed Special Advocates (CASA) of San Mateo County. She continues to represent parents and children in juvenile court in San Mateo County.
Brian Soublet was featured in the article "DMV officials: Self-driving car regulations will continue to evolve," published in the San Francisco Chronicle, for his work in developing California's regulations governing testing and deployment of driverless cars.
'87
Theresa Shotwell became a professor at Florida A&M University in 1993 in Tallahassee, Florida. She retired as a full professor in 2011. Since then, she has written and published six books under the pseudonym Taj Shotwell. She enjoys writing stories, poetry, song lyrics, and screen and stage plays.
'88
Gonzalo "Sal" Torres has joined the USF School of Law board of governors. He retired from the city council of Daly City where he spent 20 years as councilman and served five terms as mayor. He leads the Americas Commercial Transactions' legal team at Equinix, Inc.
'89
Mark Pope received the Thomas Jefferson Award from the University of Missouri. Pope served as chair of the department of counseling and family therapy for 10 years and is a former president of the American Counseling Association, National Career Development Association, Association for LGBT Issues in Counseling, and Society for the Psychology of Sexual Orientation and Gender Diversity.
1990's
'92
Scott Edward Cole has published his first book, Fallout, the true story of his first class action in 1994, brought about by Unocal's intentional 16-day release of hundreds of tons of dangerous toxins. Cole broke the cover-up to the press and partnered with the community to file a lawsuit.
'93
Amer Moorhead JD '93 was named chief legal officer of Tradeshift, a late stage private company based in San Francisco. Previously in leadership roles at Ariba, SAP, and Couchbase, Moorhead will oversee the global legal and compliance function at Tradeshift, whose investors include Goldman, Santander, HSBC, and other blue-chip firms.
'95
Leonard Enniss started a nonprofit to help the urban poor grow organic produce. Last summer, the nonprofit gave more than 2,000 mostly heirloom plants to residents of Arizona's Central Valley and the Navajo nation. This year, it has given gardening soil, planting pots, heirloom seeds, and plants to elderly folks, urban poor families, and local food banks.
'96
Catherine Greenspan and her sister, Elizabeth, co-founded Two Sisters Writing and Publishing and recently published their 10th book. They also launched their mastermind community of PowerJournal.life to help people live their best lives one journal entry at a time.
'98
Justin Fleetwood became president of St. Joseph High School in Metuchen, New Jersey in July 2018.
'99
Gregory Knittel has been teaching the History of Asia course, with an emphasis on China, Japan, and Korea, at De Anza College in Cupertino, California.
2000's
'01
Kris Limaye helped found the Philips in-house executive search team, which handles over 90 percent of all global executive hires. Limaye plays a key role in the end-to-end search process for leadership positions of Philips.
'03
Jeremiah Johnson was appointed an immigration judge of the San Francisco Immigration Court.
'04
Felix Maldifassi leads the commercial initiatives of Hootsuite in Mexico and Latin America. Hootsuite is the most-used social media platform in the world.
'05
Carol Langlois moved to educational technology after spending more than 20 years in higher education, and became the vice president of Hackbright Academy, the first all-women coding school in San Francisco that trains women for software engineering.
Nikki Myres is support manager and life coach with Choice Educational Consulting, a college consulting agency, in northern California, focused on assisting all students seeking admittance to the college of their choice.
'08
Karen Abesamis MBA '09 has become a partner at Morgan Lewis, the firm she went to straight out of law school at USF.
Annette Poliwka is launching an online interview series in May to inspire more women to get outdoors.
'09
E. Chelsky is a teacher at the Oakland Military Institute College Preparatory Academy.
2010's
'10
Cali Gilbert published her ninth bestselling book, It's Simply Filmmaking, in May and launched her own production company, Tower 15 Productions, to support other creatives.
Image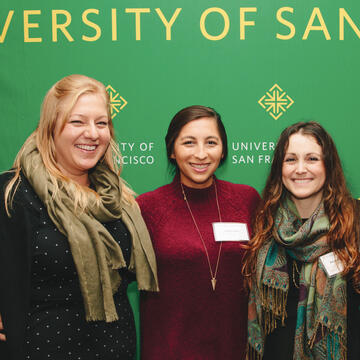 @amandaguslani: @usfca annual Women in Leadership and Philanthropy Symposium. One of my favorite days of the year where I get to be inspired by women who are innovative, compassionate, and living out USF's mission to change the world from here.
AMANDA GUSLANI MPA '13 #USFCAALUMNI
'11
Eric Ensign was appointed to the board of directors for Ensign Cancer Research Foundation, a nonprofit that funds cancer research and is one of the top 10 giving foundations in Nevada. Ensign volunteers as the director of marketing, director of development, and portfolio manager.
Patricia Feeney Gallagher has joined Catholic Charities as chief development officer, responsible for leading their development and fundraising program.
Richard Keegan is a full-time instructor in the undergraduate nursing program at Sacramento State. Keegan continues to work with the homeless through a local clinic and is active in their immediate care clinic as well.
Rudolf Leška joined the Štaidl Leška Advokáti firm, a copyright boutique with offices in Prague and Bratislava, as partner.
'12
Sian Taylor Gowan directed and produced Surviving International Boulevard: Domestic Child Sex Trafficking, a short educational documentary raising awareness to help kids and teens in the Bay Area. It was screened by festivals across the U.S. and internationally, including the United Nations Association Film Festival and the Social Justice Film Festival.
'13
Timothy Douglas currently teaches a dual immersion kindergarten class in East Oakland. Douglas has been a proud East Bay resident since 2010. This is the first year he will mentor a student teacher, which brings back fond memories of his days at USF.
Jeni Frudden and Katie Padilla '14 are celebrating their first year at Frudden & Padilla Family Law. Jeni and Katie were both named 2018 Super Lawyers Rising Stars.
Sara Johnson was promoted to director of athletics at International High School in San Francisco.
'14
Laney Morgado is the owner and founder of LM Disability Consulting, a Bay Area disability access consulting firm. It helps organizations comply with accessibility laws and regulations, as well as identify ways to maximize access and inclusion for people with disabilities.
Danté Taylor joined Allen, Glaessner, Hazelwood & Werth, LLP as an associate attorney.
Image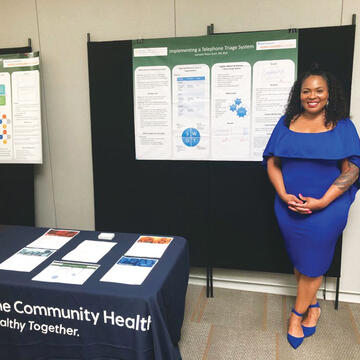 @TheCurvyFitGirl: Just completed my Master in Nursing Clinical Nurse Leader program @USFCA @OneCommonHealth Moving on to complete my Doctor in Nursing Practice Population Health Leadership.
JOANYETT MAYS-SCOTT '18, DNP '20 #USFCAALUMNI
'16
Cinthya Flores moved to Guatemala to work with a group of indigenous weavers to support them in business development and in creating a marketable U.S. line of textile products. Flores launched a U.S. brand to promote their products, Utz Threads.
Travis Gorsch went from coast to coast this summer when he moved to Raleigh, North Carolina to pursue an opportunity with Primesport. He left the Bay Area after three-and-a-half years.
Sally Hirsch launched an app and web portal designed to support students and teachers in international baccalaureate schools. Her doctorate prepared her well to persevere in the EdTech world, especially when working in a new country.
Scott Roos spent a year in Lake Tahoe as the dean of students at a boarding school, and recently moved back to San Francisco to take an associate dean position at the Hult International Business School.
'17
Anne Weltner is seeking new opportunities and wishes to stay in touch and network with alumni.
'18
Annalise Stromsta moved to Chicago to work as the senior manager of digital communications at Bright Pink, a national nonprofit focused on the prevention of breast and ovarian cancer. She is proud to bring her USF education in ethics, digital communication, and critical thinking to such important work.
Lina Zidan is studying for the bar exam.