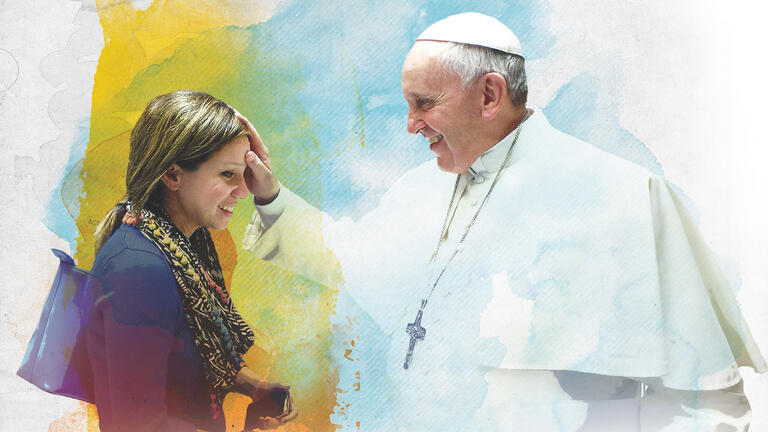 Global Perspective
The People's Pope
Covering Pope Francis as a Vatican reporter
For almost five years, I was one of the lucky ones. I left my flat on Via Gregorio VII strada in Rome each morning and walked to St. Peter's Square. During those years, the square was like a second home to me.
I was a Vatican news correspondent for the independent news agency Rome Reports, from May 2011 to January 2016. Wherever the pope went, I followed. I had uncommon access to Christianity's most influential governing body. I also had a front row seat to history.
I covered Pope Benedict XVI for two years, and was there when he resigned. It was the first time a pope had stepped down in 600 years. Even us insiders never imagined the 85-year-old pope, who cited advancing age and poor health, would make such a decision. When Pope Francis was elected, most reporters, like the public, didn't know him. Jorge Mario Bergoglio was not a so-called 'papabili,' or papal frontrunner. But he was the first pope from the Americas, the first non-European pope since 731 and, perhaps most remarkably, the first Jesuit — a semi-autonomous congregation of priests known for establishing schools and colleges (like USF) around the world since St. Ignatius of Loyola founded the order in 1540.
If we wondered whether so many firsts would carry over into how the church was run, we received our answer a month into Pope Francis' papacy. He planned to live in the Vatican's unpretentious guesthouse, he told us, instead of the papal palace. It was unheard of.
The first Jesuit pope marches to the beat of his own drum. He leaves prepared speeches aside and ad libs. He sets his own protocols and has an uncanny ability to communicate a message without uttering a word. His smile emits joy, and his approachability resonates with Catholics and atheists alike. He is known for cracking jokes and for a boundless energy that belies his 80 years and leaves decades-younger reporters out of breath. He ends his private meetings with heads of state and everyday families with a humble request: "Please pray for me."
Slums: An Impromptu Visit
Many moments stand out from my days covering the Vatican. But one still manages to move my heart.
Pope Francis was on his way to celebrate Mass in a parish four miles from the Vatican. With a full security entourage, a three-car convoy, and members of the media in tow, he asked his driver to pull over. He had seen a shantytown from his window and wanted to visit. About two dozen immigrant families, mostly from Latin America and Eastern Europe, lived there in homes patched together from scavenged bricks, plywood, plastic, and metals. The narrow passages between the hovels were mostly dust and trash. When the pope entered, the residents stopped in their tracks. Then about 50 people ran to meet him, as if to prove to themselves he was flesh and blood.
He posed for selfies and hugged toddlers. Then he asked the group to pray with him. Cell phone cameras were set down, smiles turned to reverence and joy to devotion. Everyone huddled around him in a circle and bowed their heads. The pope began: "Our Father, who art in heaven … " The group joined him.
It was only 10 minutes, but it set him apart in my mind. He was completely comfortable with the people he met there. In fact, he had a reputation for visits like this in his native Argentina, I later learned.
The next day, I returned to that shantytown to interview some of the immigrants. One man couldn't stop smiling; another was on the verge of tears. When I asked the second why he was so moved, he said he was convinced that the pope's humble heart had led him to their humble settlement. Another man told me of a friend in the encampment who'd just been diagnosed with cancer and didn't have money for treatment. He couldn't have asked for a better sign, he said, to show that his friend wasn't alone on her painful journey.
A Blessing From the Pope
I covered the pope's visit to the slum as a reporter of course, but as a Catholic and a USF alumna, I found it touched me personally. It was a reminder of my days at USF, where serving others and social justice were ever present — from chasing articles about how fair trade helps impoverished communities for the San Francisco Foghorn to peacefully protesting against the training of international military personnel at Fort Benning, Georgia (formerly the School of the Americas) with University Ministry.
Those immigrants lived so close and yet so far from the celestial ceilings of the Sistine Chapel. But at that moment, the pope chose to be with them, to just be with them: the marginalized, the poor, the excluded. With that visit, the pope showed them they are part of society and that they matter to the church and to him. And he reminded us all that in a world in which we're all outsiders of one kind or another, those who live on the fringes are just as worthy of our time and respect. Seeing Jesuit values come to life in such a way was moving, even awe-inspiring.
Covering Pope Francis for three years, I witnessed many of his little and not-so-little acts of humility and kindness. Yet he continually surprised me. Perhaps I should have expected the unexpected then when I came face-to-face with the pontiff in October 2015, while I was covering the Synod of Bishops on the Family — a meeting of church leaders to reflect on how the church can better serve families.
While rereading my notes in a quiet Vatican corridor between meetings, I noticed people passing quickly and mumbling. I looked up to see Pope Francis walking 10 feet from me.
I wanted to approach him. But I hesitated. Who was I to barge into his space? Besides, his bodyguards were beside him.
Then our eyes met and he smiled. That was all I needed. I went to him and asked to be blessed. His bodyguards didn't stop me. He invited me close, then reached out and touched my forehead and made the sign of the cross. I bowed my head and thanked him.
Looking up, I realized he too had a request. "Please," he asked, "remember to pray for me."
And ever since that day, I have.