Research
Take 5
Are firearms a public health threat? Five questions with USF's Erin Grinshteyn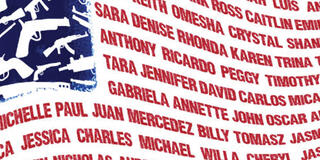 By the time a gunman killed 17 students at Marjory Stoneman Douglas High School in Parkland, Florida in February, there'd already been six school shootings in the first 45 days of this year. Because of the violence, USF's Erin Grinshteyn, who studies firearm deaths, has been busy. CNN, the Washington Post, and other media outlets have quoted the assistant professor of public health in their search for explanations. Grinshteyn spoke to USF Magazine about her research and what she's learned.
1. You research firearm deaths?
Yes, part of my research focuses on people's fear of being victims of violent crimes. Related to that, I study firearm victimization.
2. In the magazine The Week, you said firearms are "killing us rather than protecting us." How so?
My research shows that the U.S. suffers disproportionately from firearm homicides, suicides, and unintentional deaths compared to other high-income countries. Firearm homicide rates alone are 25 times higher than in other countries, including Germany, Finland, and the U.K.
My research, published in 2015, shows that 82 percent of all firearm deaths within 23 high-income countries occurred in the U.S.; 90 percent of all women killed by firearms were U.S. women; and 91 percent of children aged 0-14 years killed by guns were U.S. children.
3. Why does gun violence interest a public health professor?
In 2015, 36,252 people died from firearms in the U.S. — almost 100 people every day, on average. Public health focuses on population-level prevention of health issues, and what makes this a public health issue is that these deaths and injuries are preventable.
4. Why don't we know more about gun violence as a public health problem?
Research on firearm violence prevention is underfunded and that really limits our knowledge about the problem.
5. What ideas do you have to address the issue?
Increased communication about how to prevent gun deaths and injuries should be a priority in communities, and be specific to the issues they are dealing with. We need to look at who can purchase firearms, how easy it is to purchase them without a background check in some states, and what kinds of firearms are legal to purchase.