1950's
'57
Charley Colety moved to Nazareth House (a Catholic senior living community) and loves it.
Fernando Gumucio, a former USF trustee for 10 years, a commencement speaker, and a member of the university's president's club, remembers USF life, such as living at the Army barracks before moving to Phelan Hall when the university was an all-men's school, attending the wonderful basketball games when USF had a national championship team, going to Mass in the mornings at St. Ignatius Church, going for coffee to The Hole on Hayes Street, going up to Lone Mountain College (USF's all-women's sister school) to visit his dates, and going to Mel's Drive-In for pie and milk. Part of a united fun group, he still gets together with about 20 of his classmates twice a year.
'58
Michael Dennis Johnson is enjoying retired life and has turned 81.
1960's
'63
Paul H. Nathan retired from being a periodontist. His son, Paul Nathan Jr. '04, graduated from USF and is now a lawyer practicing in the city.
'66
Joanne Yvonne Martin was re-appointed by Governor Eric Holcomb to the executive board of the Indiana State Board of Health in January. Originally appointed by Governor Joe Kernan in 2003, she was re-appointed by Governors Mitch Daniels and Mike Pence. She's served with six different state health commissioners, including Dr. Jerome Adams, until he was appointed the U.S. surgeon general.
'68
Enrique Lopez-Contreras returned to California after retiring from California State University, Stanislaus, where he served as a faculty member for 16 years and as the chair of the Department of Modern Languages for seven years. He retired two years ago as professor emeritus of modern languages and is now studying to get the credential of court interpreter in California.
Richard F. Strawn II is celebrating this year with a 50-year USF reunion, and a 50th wedding anniversary. His solo CPA practice is still in full operation. By the time of the reunion, his fourth self-published book should be available.
1970's
'70
Ken Canfield and his wife Jan celebrated their 48th wedding anniversary and welcomed their eighth grandchild, Joshua Bee. Ken retired from his 36-year career at the IRS in 2007 and now runs his own part-time tax practice.
Timothy Louis Carvalho is volunteering with the California State Council Knights of Columbus. He has been a state deputy and now serves as a marshal in the fourth degree and local assembly leader. The knights work to serve the poor, elderly, and those affected by disasters such as hurricanes and wildfires.
Peter H. Deutsch begins his third year as a tour guide at AT&T Park. Prior to that, he worked for two years as the first tour guide of the city and county of San Francisco at Candlestick Park, where he gave over 900 tours to more than 18,000 people, and was mentioned in The Wall Street Journal. He continues to give walks through sfcityguides.org, for which he has given almost 2,000 tours.
'71
Jim Thomas Johnson retired after 37 years of service as a mathematics professor at Modesto Junior College. He has taught mathematics in colleges for 44 years. September marked his 10th anniversary of ordination as a permanent deacon for the Diocese of Stockton. On Sept. 9, he and his wife Louise Ottoboni '71 returned to Golden Gate Park to mark their 50th anniversary of meeting there.
Ann Bernadette O'Flaherty met Patrick at USF. They graduated together and have been married for 48 years. She has traveled and worked in California, Connecticut, Texas, and Virginia, as well as in Indonesia and Saudi Arabia. She earned her MSN in gerontology from University of Texas at Houston and has loved her nursing career. She and Patrick have three children, three grandchildren, and are now enjoying retired life in the Phoenix area.
Carolyn L. Rosenblatt JD '78 has published Hidden Truths About Retirement and Long Term Care: The Financial Advisors' Guide. It follows Working With Aging Clients, A Guide for Legal, Business and Financial Professionals, published by the American Bar Association in 2015. Carolyn is in her third career, working as a consultant on age-related issues after working as a nurse.
'73
Leonard Dreisbach retired after 30 years of practicing obstetrics and gynecology. He was recently elected as a commissioner on the hospital board of the Kennewick Public Hospital District. Leonard has been married for 28 years and has three children and four grandchildren.
Pete Simoncini was named the Oakdale Citizen of the Year by the Chamber of Commerce in Oakdale, California. Pete is a social studies teacher at Oakdale High School and is known as the Voice of Oakdale.
'74
Jan Kelley (Johnson) completed her first two years of college in the Midwest before taking some time off to travel and work at a dude ranch in Wyoming. Several years later, she moved to San Francisco hoping to be a "Flower Child," but was too late. Instead, Jan started working full-time during the day, and was delighted to discover she could take evening classes at USF to earn her bachelor's degree.
Mike Richards recently celebrated his 65th birthday with his friends and family. Besides working in the produce business, he is enjoying his role as a PA announcer for the Dons baseball and soccer teams.
'77
Deborah Skalko retired from Permanente Medical Group, Santa Clara, after working for 16 years as a certified registered nurse anesthetist. She now has time to travel and spend with her five grandchildren.
'79
Joseph L. Harrell has been enjoying a busy retirement since 2001. He now wonders when did he have the time to work.
Valerie Marie Schmalz has a new job as a director of the Office of Human Life & Dignity at the Archdiocese of San Francisco. She is excited to be working on policy initiatives such as immigration reform, the Respect Life program, housing, and religious liberty. She is married and has four sons.
Laurie Anne Ferguson was named the dean of the new College of Nursing and Health at Loyola University, New Orleans.
1980's
'80
John O'Meara has returned to USF as a professor of marketing in the School of Management, after working for many years in international advertising and brand management.
'81
Brigid Hannon (Dwyer) has been working in sales at multiple companies such as IBM, Epson, Apple, Kodak, and Adobe. Her daughter Clare is currently a sophomore at Cathedral Catholic High School and her husband Matt, a trauma surgeon with the U.S Navy, is on a fourth deployment, his third to Afghanistan.
'82
Janette McFarland treasures her USF diploma. She was an older student and it helped her get a job with a pension that now enables her to live independently. The soon-to-be 89-year-old still drives her car and plans to live to at least 100 years.
'83
Debra E. Jarmon is glad to announce the birth of her grandniece Kinsley, seven months after Debra's father passed away.
Katherine Todd has published her memoir Reaching for the Stars. She is retired and lives with her husband in University Village, a retirement community in Thousand Oaks.
'87
Jennifer Houston started her third career as a board-certified pharmacy technician at UC San Francisco in August, after successful careers in insurance underwriting and with the San Francisco SPCA, where she continues to volunteer. She graduated with honors from CCSF's pharmacy technician program in May 2017.
Janice A. Mark (Leung) DNP '17 serves as an adjunct faculty member at USF while also working as a staff registered nurse at Alta Bates Summit Medical Center. She recently published an article titled "The STEADI Toolkit: Incorporating a Fall Prevention Guideline Into the Primary Care Setting" in the journal Nurse Practitioner.
'88
Joanne Foster completed her master's in hospital informatics at the University of Southern Florida last year. She is currently an informatics nurse in the clinical laboratory at UC San Francisco, where she has been working since 2001.
Eric Ueland has been nominated by President Trump for under secretary of state for management, the third-ranking position at the State Department. If confirmed by the Senate, he'll oversee the budget and day-to-day operations of the entire international relations agency. Prior to his nomination, Ueland was the Republican staff director for the Senate Budget Committee and a member of the Trump transition team.
'89
Vincent Gilkey is a colonel in the U.S. Army, currently assigned to the United States European Command and stationed in Stuttgart, Germany.
Daniel Flores is the founder and CEO of Cambridge Junior College in Yuba City, California. He is an elected county supervisor.
Dave Yeske received the P. Kemp Fain Jr. Award, the lifetime achievement award of the financial planning profession, in October 2017.
1990's
'92
Maricar Floresca-Arsalane's daughter Sabrina Iman Arsalane '17 received a bachelor's degree in international studies from USF 25 years after Maricar graduated. Sabrina intends to go to law school in fall 2018, while Maricar has been working for San Mateo County Health System as a senior public health nurse for the last 24 years.
Shirley A. Kluver graduated from Western Governors' University in 2012 at age 60 with an MBA in health care management. She changed jobs from a regional director at one human services agency to the CEO of another in 2015.
'93
Rebekah Davis Reed serves as chief of space and occupational medicine at the NASA Johnson Space Center in Houston, Texas. She has an article forthcoming in the AMA Journal of Ethics, entitled "Personalizing Space Medicine: The Genetic Information Non-Discrimination Act Presentations (GINA) and Occupational Surveillance and Research at the National Aeronautics and Space Administration (NASA)."
'94
Derek S. Leighnor returned to the Hilltop as the executive director of the Fromm Institute for Lifelong Learning. He is excited to be back in San Francisco and at USF where he met his husband, Simon M. Flores '93. They are celebrating 26 years together this year.
'95
Diana Lynn Kaysen (Cabral-Higginbotham) is employed as a resident social services coordinator/activity director for Positive Investments, Inc. She developed Kindness Connections, a resident education program. Over 50 Stanislaus County organizations have conducted health and safety education presentations to benefit the low-income seniors and disabled residents at East Avenue Manor Apartments in Turlock, California.
'96
Kathleen M. Burke marks her 22nd year as a registered nurse at UC San Francisco Medical Center. Besides remaining at the bedside of patients, Kathleen has expanded her role as preceptor, charge nurse, and educator, and has led a hospital patient-safety committee. She currently lives in Oakland and works 12-hour shifts as a nurse in the emergency department at the Parnassus campus.
'98
John Edward Horstman is a fourth- and fifth-grade elementary school teacher in Massachusetts. He teaches in the Randolph Public Schools' Newcomer Program, a program designed to support beginning English language learners until they're ready to enter the mainstream. Prior to working in Randolph, he worked in the Revere Public Schools for two years as an ESL teacher. He moved to the Boston area more than 10 years ago.
Paul Lopez, an investment banker with a long career at various financial services firms, started 643 Maritime Advisors, LLC. The company focuses on the international shipping sector and has raised more than $6 billion. Paul has lived in New York since graduating from USF and is father to a handsome 10-year-old, Maxwell.
2000's
'01
Tasneem Esmael landed a job at the Henry Ford museum in Michigan after graduating with graphic design coursework. She was hired in sales and later switched to broker audit.
Ryan Schultz has become a partner at Lea/Schultz Law Firm in Wilmington, North Carolina.
'02
Janice T. Nguyen is celebrating the 10-year anniversary of Ha Long Pho Noodle House, which was established in 2008 in Honolulu as the modern spot for traditional pho.
'04
Daniel Alcala and his wife Wendy were blessed with a baby girl, Aliyah Maria Alcala, on Oct. 9, 2017. She is now sleeping through the night and enjoying time with her older siblings, Gabby, 14, Nathaniel, 9, and Brodie, 8.
Deanna Agmata DeHart changed jobs from USF's purchasing department to Facebook in Menlo Park, California. She moved to the Peninsula and got married to her best friend, Lawrence C. DeHart. The marriage was solemnized by USF's Donal Godfrey, S.J., in a beautiful wine cave in Napa Valley.
Katie Hoffman and Matthew McKenzie '05 welcomed baby Charlotte Frances on Sept. 18, 2017. They live in Pacifica with Molly the dog.
Venus Fatema Mahmoodi completed her PhD in clinical psychology at Palo Alto University in 2017. She also completed her pre-doctoral internship in New York City. She is now a postdoctoral fellow in reproductive mental health at Seleni Institute in New York City.
Linda Clarice Stansberry was awarded first place in investigative reporting by the California Newspaper Publishers Association two years in a row. Her work exposes deficiencies, neglect, and fiscal mismanagement in rural skilled-nursing facilities.
Image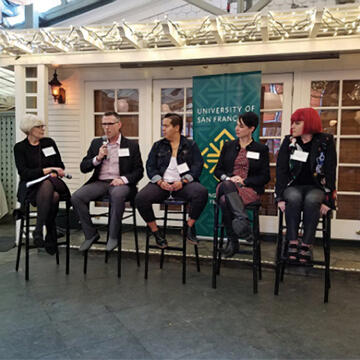 @visiblee: are doing great things by changing the world through social entrepreneurship. Here's four of 'em speaking about their success to alumni in Walnut Creek.
BOBBY LEE '07 #USFCAALUMNI
'05
Tyler Wierzbicki earned an associate's in cybersecurity at Sacramento City College in 2016. He is currently in his second year working towards a master's in cybersecurity at Naval Postgraduate School in Monterey as a recipient of the Scholarship For Service, funded by the Department of Defense and National Science Foundation.
'07
Nicole Rommero was hired as a deputy public defender in February 2017.
'08
Meredith Degyansky received a serving position at Marigold Kitchen, an eclectic restaurant in West Philadelphia. Studying at USF and working at EOS restaurant in Cole Valley during those years has led her to this social-skills-based position where she can remember what life is truly about: relationships and sharing food.
Danny Pham MS '11 was promoted as a department-wide project manager, building upon environmental science and management education. He is charged with modernizing the East Bay Municipal Utility District into a "Digital Utility of the Future."
Lacie Michelle Shimizu left Brazil after teaching at Escola Americana de Campinas for three years. Currently, she is a professor at Kanazawa Institute of Technology in Japan.
2010's
'10
Stephanie L. Haughey has joined Morgan, Lewis & Bockius LLP as a real estate attorney in the Boston office.
Sam Vinal filmed a feature-length documentary, I am Berta, about assassinated indigenous leader Berta Cáceres in Honduras. The assassination remains unpunished, and Honduras has been named one of the most dangerous countries in the world.
Image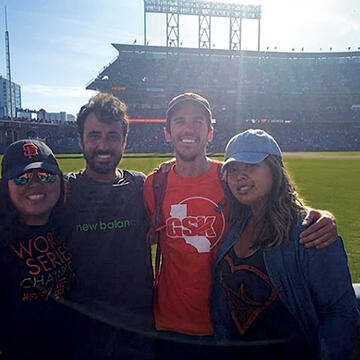 @gharriett: Take me out to the ball game with good people and good baseball.
GRACE HARRIETT MA '12 #USFCAALUMNI
'11
Alia Al-Sharif has completed her term as president of the Richmond District Democratic Club and has become a partner at San Francisco's Civic Edge Consulting.
Bryan Eugene VanLoh taught English in Japan after graduating. Since returning from Japan, he has been working as the adoptions manager for Peace of Mind Dog Rescue, which helps senior dogs and senior citizens. He adopted his dog Kenji who helps him at work every day. He loves his job, misses USF, and is a proud alumnus.
'12
Katherine Filice, CEO and executive creative director of Articulate Solutions, has been selected by Artrooms to exhibit her artwork at the prestigious International Contemporary Art Fair for Independent Artists at the Meliá House in London. Katherine was one of the 70 artists selected for this honor from over 1,100 applicants around the world.
Leanna Nicole Wilcox (Reyes) just finished her master's in counseling psychology at St. Mary's College of California.
Lexington Beckett Wochner co-founded a nonprofit education company called ORdaba, after spending a year teaching as part of the 2012 Teach for America cohort. ORdaba seeks to improve access to higher education materials and reduce the cost by creating a comprehensive database of all the open-source education materials that exist online.
Image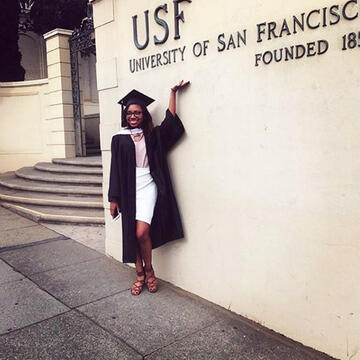 @susaphon3: Graduation day 12.15.17
SYDNEY POWELL '17 #USFCAALUMNI
'13
Kira Alexandra Barros began pursuing a doctorate in clinical psychology at the University of La Verne in Southern California in fall 2017.
Mira Collamore is in Boston attending Emerson College (which shares the same values as USF) for a second bachelor's in speech therapy assistance. She misses USF and San Francisco every day.
Monica Doblado MA '17 currently holds the position of program manager in the Honors College at USF, which is set to launch in fall 2018. Prior to her present position, she was hired as a program assistant in the theology and religious studies department at USF.
Adeline Solaiman is currently in Indonesia working as an equity analyst covering retail, poultry, and media for the Indonesian market. She can give free advice to anyone interested in playing stocks. She has not visited San Francisco since graduation and plans to do so soon.
'14
Andrea De Martini: My fiance and I met in nursing school at USF in 2013. Fast forward to last April when he proposed at the top of Lone Mountain (which is the same spot he asked me to be his girlfriend over almost 4 years ago). Our engagement pictures were taken at USF as well. Besides finding our soulmates, our passion for the nursing profession grew here. I am so blessed to have attended this school and it will always have a place in my [heart icon].
Gerardo Tapia Vera performed soccer tricks and skills on the sidewalk in front of his home, recorded himself doing it, and published them on Facebook, Instagram, and YouTube.
'15
Luke Adkins moved to Berlin, Germany at the beginning of 2018 to work for a travel tech company called GoEuro. He joined their performance marketing team to help drive new users to the website and app. Berlin's tech startup scene is booming and the city has a very similar feeling to San Francisco, except it is way colder there.
'16
Joanne Tran has moved home to Las Vegas where she works as a digital marketing coordinator for Vegas.com, a single-destination online travel agency. She chose to be in Las Vegas not only because of her passion for travel and entertainment, but also for the growing digital marketing industry.
1960's
'66
Joseph Paul Orth recently celebrated his 86th birthday and is enjoying retired life after teaching for 60 years. In 2004, he was awarded the Medal of Freedom by U.S. Senator George Allen.
1970's
'75
Jeanne Powell had one of her poems published in volume four of the Revolutionary Poets Brigade anthology, edited by SF poet laureate emeritus Jack Hirschman, in 2017.
'76
Peter J. Logan still practices law part-time at the Peter Logan Law Offices and especially enjoys representing policyholders in disputes with insurance companies. In his free time, Peter enjoys being active in the Rotary Club, being on the board of SF Shakespeare Festival, and playing in a rock band.
'78
Peggy Fulton Hora was named an honorary president of the International Therapeutic Jurisprudence Society, a worldwide nonprofit dedicated to advancing legal and interdisciplinary scholarship; identifying and promoting best professional practices; sponsoring conferences, workshops, and seminars; and hosting and participating in print, electronic, and social media platforms. A judicial award has been named for her by the society.
Stan G. Tosello volunteers at Junior Achievement South Florida as well as provides consulting services in the area of regulatory compliance to retail banks.
1980's
Image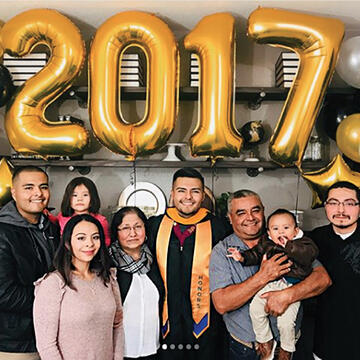 @abelmora: Couldn't have done it without my family's support! Do work that matters ... Vale la pena!
ABELARDO MORA '17 #USFCAALUMNI
'83
Anthony G. Ratto manages the Ratto Law Firm, PC, which he founded in 1984. The firm represents injured clients in workers compensation and personal injury cases. The 13-attorney firm has six offices throughout the greater Bay Area. Anthony's elder son, Andrew, graduated from USF's School of Law in 2016 and his son Alec is currently in his second year at the law school.
'85
David Matthews Kopperud and his wife Mary Kate were blessed with granddaughter Emilia and grandson Leo last year. They have another granddaughter on the way this year. David is chairperson of the California School Attendance Review Board. He and his team announced the availability of statewide chronic absenteeism data for the first time in California, providing a new understanding of absenteeism rates and enabling schools to see at a comprehensive level which students are missing school and are in danger of falling behind.
'86
Nancy Burt was named a partner at FMBK, LLP in Los Angeles, one of the largest family law firms in California.
Carol Mae Langford is glad to announce that her son Gregory Thomas Langford '14, JD '18 will graduate from USF School of Law in May. He is a "double Don," as he completed his undergraduate studies at USF. He recently wrote a great 28-page paper on ethics and sports law.
'89
Karyn Karnisse Ellis retired last year after 28 years of public service at the Department of Health Services of Los Angeles County.
Wayne Douglas Madden recovered from prostate cancer surgery and returned to volunteer at a public school near his home. He also teaches Sunday school at St. Patrick's Anglican Parish in Edmonton.
Darrell Schramm published Rainbow: A History of the Rose in California in August 2017. Since then, he has given talks to garden clubs, horticultural clubs, and rose societies. He serves on the board of two national organizations, Heritage Roses Group and The Friends of Vintage Roses. He also edits a quarterly journal, Rose Letter.
1990's
'92
Frank Lum: Did a lot of night-studying in "Lonely Mountain" for MBA '89-'92. No distractions for the easily distracted. Too many good memories to count. Great classmates/friends, beautiful location in a beautiful city, great bike riding in GG Park, Koret Center was brand new, and on and on.
Anne-Marie Taylor welcomed her first child, Sophie Elizabeth Lathrop, in August 2017 and was named executive director of Iowa Broadcast News Association earlier this year.
Sioux Thompson will retire from the Federal Reserve Board of Governors in May and go into private practice in organization development and executive coaching.
'94
Karen Benke published her fifth book, Rip the Page!: More Adventures in Creative Writing, in March. She leads small writing groups at The Writers' Nest, located in a converted lumber mill (circa, 1893) and has a new poem in the 2018 edition of West Marin Review, Vol. 8.
'96
Markus McMillin was recently hired by Starr Companies as an assistant vice president and a regional claims manager (marine division) in its San Francisco office.
2000's
'00
Hyder Raymond Raza is enjoying retirement and has taken up painting once again. Two of his works were displayed at the San Ramon Museum in Costa Rica last year, and he also had a show at the MAC Ice House in Berkeley Springs, West Virginia.
'01
David Loren Baker had the honor of being named the chief executive officer of Sacramento Children's Home, which has been dedicated to caring for the Sacramento region's most vulnerable children and families since 1867.
Cindy R. Charan is human resources director of San Francisco Public Utilities Commission.
Matthew Sieroty Town was named senior vice president and general counsel at Habit, Food Personalized, a company that aims at personalized nutrition. It's based in Oakland, California.
'02
Cary C. Dy Buncio is general manager of H&F Retail Concepts Inc., the exclusive distributors of various premium brands, namely Fred Perry, Adidas Y3, Balenciaga, Lanvin, Comme des Garçon, Laduree, and Pylones, in the Philippines.
Chris Habachy is a founding member and general partner of Charge Ventures, an early-stage NYC venture capital firm that started in 2015. Charge Ventures now has more than 30 investments, the vast majority being in New York and San Francisco.
'03
Leah Green was profiled in the Marin Independent Journal.
Monika Lynne Hudson was promoted to associate professor in March 2017. She also received the 2017/18 Fulbright Scholarship to Cali, Colombia for entrepreneurship research.
Thomas R. Watson was elevated to the partnership of Gordon Rees Scully Mansukhani, LLP. He maintains a national practice that focuses on representing clients in high-stakes complex commercial and intellectual property litigation.
'07
Rick Anthony Champion writes for open mic at the Sacred Grounds Café near USF. Some of his recent stories include: "Out of the Mouths of Babes" and "Preacher Man."
Bill Rearden was elected as the 2018 chairman for the special interest section of entrepreneurial and innovation of the Society of Actuaries.
Ritee Sponsler (Parikh) was promoted to manage a $100-million comprehensive capital campaign, which, among other endeavors, will fund a new Honolulu health center and administrative office to anchor the work of Planned Parenthood across the Hawaiian islands.
'08
Annette Poliwka was appointed zero waste commissioner by Mayor Jesse Arreguin in Berkeley.
Alfonso Rey has been promoted to chief revenue officer at Leanplum.
'09
E. Michael Chelsky is in his fifth year at Vallejo High School as a social sciences and career technical education teacher.
2010's
'10
Allan Graves is the CEO and founder of San Francisco Love Tours, Inc. whose vision is to share the love of the city and what it represents — from the adventurous gold rush, to the Civil Rights Movement, to the tech boom.
Yoko Smith (Koki) was saved by Lord Jesus Christ in 2009, while she was working on her doctoral dissertation. Now, she is happily married to a God-fearing man and blessed with two boys, aged 3 and 4. She is thankful that the Lord is using her to talk about Him to her university students in Okinawa, Japan.
'11
Cindy Marie Williams reached an executive level management position with the county of Sonoma and retired at the age of 54.
Image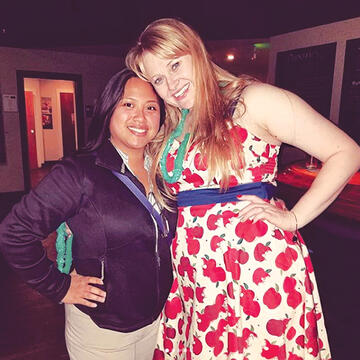 @michellelaguatan: Aloha Peck and Taylor! We had some great times and memories over 10 years. I'll miss you and best wishes on your next chapter living in Hawaii
MICHELLE LAGUATAN '08, MPA '12 #USFCAALUMNI
'12
Kathlyn Cassie T. Gaoiran has completed two years working as a triage registered nurse with Kootenai Clinic Family Medicine Residency in Coeur d'Alene, Idaho, after moving there from Clovis, California in 2015. In 2017, she married her beautiful soulmate, Crystal Vorhies. They will be celebrating their first wedding anniversary this June.
Phong-Chau Gia Nguyen was promoted to partner at her firm, Lieff Cabraser Heimann & Bernstein, in January 2018.
Samantha Perkins is a licensed marriage and family therapist. She attended the Sacramento campus and still works with her former supervisor and professor, Christine Tippett. She also works for a nonprofit that provides mental health to school students in Sacramento/Roseville and has now expanded to helping schools in the Bay Area and Southern California.
'13
Megan E. DeAngelo (Workman) loves teaching in two different places in Los Angeles County at the same time: out in the suburbs at a lifelong learning center of a college as well as in a city neighborhood learning center (PUENTE). She is also excited about starting her own community-based learning program called Englishing.
Derik Hilliard, who was part of a pro bono team of Morgan, Lewis & Bockius attorneys, worked for over a decade toward Governor Brown commuting the murder sentence of Kelly Ann Savage from life without parole to 25-to-life.
Philip John Laird accepted a position as a deputy general counsel with the California Business, Consumer Services and Housing Agency, and has officially put his roots down in Sacramento with his wife Hayley and cat Hotdog.
Michael Harlan White earned a PhD in clinical psychology from Liberty University in 2017.
'14
Lucy Tseng has started her own business in coaching athletes for life. She specializes in working with folks who are struggling to find their passions and stay motivated. She is accepting new clients and offering free consultation calls now.
'15
Alexina Cather has been recognized in New York for her work on food policy.
Angela Gala is happy to share her newest project musalley.com, an online museum platform created in May 2016 with the aim of sharing a love for museums while entertaining and inspiring an audience of 18- to 35-year-olds at the same time.
Jennifer Sta.ana has been selected to the 2018 Northern California Rising Stars list, an honor reserved for lawyers who exhibit excellence in practice. Only 2.5 percent of attorneys in Northern California receive this distinction.
'16
Carl Fung has been working as a project manager on a 15-month Cerner enterprise electronic health record system implementation project for the Chinese Hospital and associated clinics. This project transitions all legacy systems from each hospital department and clinic into a single enterprise-wide system to streamline clinical workflow, revenue cycle, and continuity of care.
Jessica Whitney Morgan has been promoted to an account manager for Gannett/USA Today.
Chelsie Lynn Thurmond landed her dream job in October when she was hired as a deputy public defender at the Mendocino County Office of the Public Defender. She recently had her very first trial, and the jury came back with a not guilty verdict.
'17
Sepideh Banava is a dental public health resident at UC San Francisco.
Jay Le Roux Dillon and wife Rossitza are proud to announce the birth of their son, Alexander James, born on Thanksgiving Day 2017 in San Francisco.
Olga Fedyukova went to the Labor and Delivery Resident Nurse Residency program at Kaiser Permanente after graduation. She loves to help laboring patients and be a part of their childbirth process.
Manuel Alejandro Perez served California community college students for more than eight years as dean of student services for American River College in Sacramento. In fall 2017, he moved to San Francisco to start a new role as an interim assistant vice president for equity and community inclusion and chief diversity officer at San Francisco State University.
Rahul Sharma is currently the dean of students at San Jose Conservation Corps & Charter School. He is working toward getting his administrative services credential.