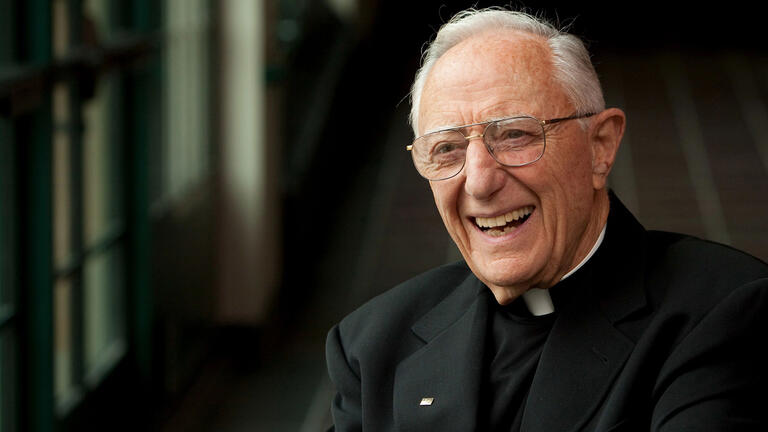 Faculty & Staff Achievements
Remembering John Lo Schiavo, S.J.
That's the way Lynn Duryee JD '79 described her cousin, former USF president John Lo Schiavo, S.J., during his funeral Mass on May 26.
"He had a piercing intellect and a wicked sense of humor and a compassionate heart, and all of these were laser focused on you when you were with him," the retired Marin County judge told mourners in St. Ignatius Church. "He had thousands of friends, way before Facebook."
Fr. Lo Schiavo died peacefully on May 15 at the Sacred Heart Jesuit Center in Los Gatos, Calif. He was 90.
Lo Schiavo's relationship with the University of San Francisco lasted an extraordinary 65 years. As president, he nearly doubled the size of the campus, overcame crippling financial difficulties, and sparked a national debate over morality and college athletics when he suspended men's basketball.
A son of Italian immigrants, and a son of San Francisco, Lo Schiavo was born in 1925 in the city's Richmond District. He deeply loved the city (but not its chilly fog), and anyone who lived here for very long knew his name.
"When you think of San Francisco you think of Fr. Lo Schiavo, and when you think of Fr. Lo you think of San Francisco," says Mary Hile-Nepfel '81, former USF women's basketball coach. "When it came time for me to get married, there was only one priest I wanted to perform the ceremony, and that was Fr. Lo."
He had an unusual knack for connecting with people, and like Hile-Nepfel, almost everyone called him "Father Lo."
"He almost defies description," says lifelong friend Louis Giraudo, chair emeritus of USF's Board of Trustees. "He was a bleeding-heart liberal with a conservative suit of armor. He had tough standards. He took care of so many people. He was a great priest, a great friend, and a great leader."
Lo Schiavo's long relationship with USF began in 1950 when he was hired to teach philosophy. Over the years, he was also dean of students, vice president for student affairs, a member of the board of trustees and then the chairman, and rector of the Jesuit community.
Image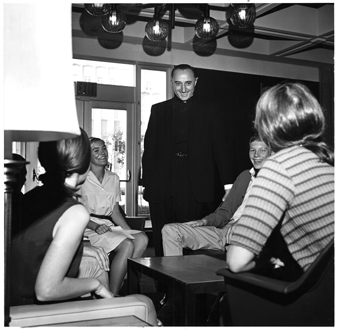 In 1977, when he was named USF's 25th president, he inherited a university in serious financial trouble. It was almost $2 million in debt, its endowment was only $4.6 million, and accounting practices were so terrible he couldn't get an accurate report of revenue and expenses. The money problems "seemed insurmountable," reported United Press International in 1978.
Lo Schiavo set to work. He mounted two aggressive and successful fundraising campaigns, including one for $26.8 million that broke all previous USF records. He paid off the debt, grew the tiny endowment eightfold to $38.7 million by the time he left office, and presented the board of trustees with a balanced budget every year of his presidency after 1980.
"John somehow always found the funds," said Stephen A. Privett, S.J., another former USF president, at the funeral. "Many of you, I'm sure, had your pockets picked," he added, smiling. "John was grace personified."
Fr. Lo's greatest legacy is arguably his 23-acre purchase of Lone Mountain in 1978, a marquee property in the heart of San Francisco that increased USF's size by 72 percent, to 55 acres from 32. It gave the university a striking visual identity and room to grow.
"I was bound and determined to not let this possibility pass us by," he told USF Magazine in 2009. "I didn't want my successors 50 years from now to think, 'Who was this jackass who passed up the opportunity to buy the most valuable piece of real estate in San Francisco?'"
Lone Mountain was USF's Louisiana Purchase, and these days, "The Hilltop" is synonymous with the university itself.
There were other significant improvements during Lo Schiavo's presidency: The School of Law added a new wing, and the 120,000-square-foot Koret Health and Recreation Center opened, featuring one of the largest indoor swimming pools in Northern California.
New academic programs made their debut, including hospitality management, Judaic studies, and sport management. The Center for the Pacific Rim (now the Center for Asia Pacific Studies) was established, as was the College of Professional Studies, which merged with the School of Business and Management in 2009 to become the School of Management.
No issue gained more attention during Fr. Lo Schiavo's presidency than his controversial decision to suspend men's basketball. The program had an illustrious history: three national titles, three Final Four appearances, and players like Bill Russell, K.C. Jones, and Bill Cartwright, who all went on to legendary careers in the National Basketball Association.
Lo Schiavo—himself a huge basketball fan and a former all-city player at St. Ignatius High School—was distressed by repeated NCAA rule violations, including alleged payments from boosters to some of the players for no-show jobs and test-taking by tutors instead of the athletes.
The president acknowledged that basketball had been a source of great pride for the university but said it was now creating the perception that USF was "hypocritical or naïve or inept or duplicitous, or perhaps some combination of all those."
Image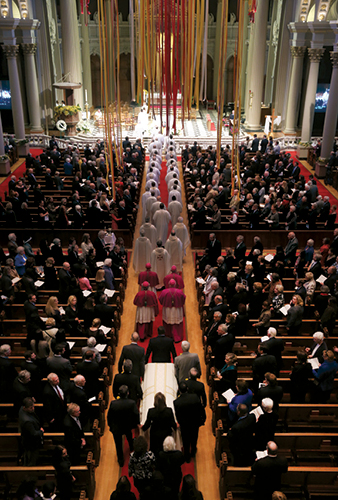 In his obituary, The New York Times called it a rare step: "Nationally, Father Lo Schiavo is best known for his decision in 1982 to forgo the revenue, publicity, and acclaim of the university's successful men's basketball program and instead stand up for institutional rectitude. His suspension of the program indefinitely was considered the first time a university had shut down a major sports program, without external pressure to do so, because of NCAA rules violations, some of which preceded his tenure."
Many called the decision courageous. Editorial writers across the nation applauded, and 90 percent of the letters USF received supported the president. But others disagreed, including some of the team's biggest fans.
"He was a president who had the integrity of the entire institution on his shoulders," said Bill Fusco, athletic director at the time, in an interview with the San Francisco Chronicle. "It was a decision that a lot of people didn't like, but a lot of people praised him, too, for taking a stand."
With new coaches on board and more stringent guidelines in place, USF restored the program in the 1985–86 season.
After serving as USF's president for 14 years, Lo Schiavo stepped down in 1991 and then accepted a job as university chancellor, working with alumni relations and fundraising.
To honor the pivotal role Fr. Lo played in creating today's USF, the university named its new science center after him when it opened in 2013: the John Lo Schiavo, S.J. Center for Science and Innovation.
"Our lives are better—happier, easier, more blessed—because of him," said Duryee. "He loved his work, and it's for that reason I hope the Lord gives him a job right away. I'm thinking he'll be perfect in admissions."