Photo of Jennielynn Holmes MPA '15 by Beth Schlanker, The Press Democrat
1960's
Image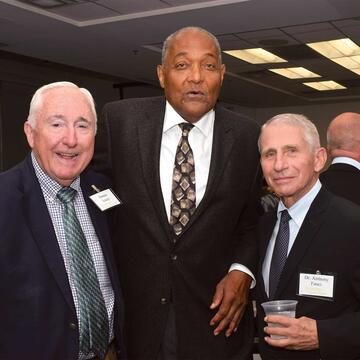 Dennis Lucey '63, left, and USF basketball Hall of Famer Oliver Johnson '65, center, joined Dr. Anthony Fauci at the annual fundraiser for the Ignatian Volunteer Corps (IVC) last fall in Bethesda, Maryland. Dr. Fauci and his wife, Dr. Christine Grady, were honored at the event, which was co-chaired by Lucey and Johnson. IVC gives men and women over the age of 50 the opportunity to volunteer and serve others, working with community partner organizations.
'64
'64 Gary Robert Nelson published his sixth novel, The Speed Dating Murders: A Love Story. The story revolves around an assistant basketball coach and how he finds the perfect partner — and how they work to solve a murder.
'66
'66 Richard R. Masluk is a captain in the U.S. Air Force and a retired commercial pilot.
'67
'67 Michael P. Collins MS '71 recently retired as the chief of general thoracic surgery at Intermountain Medical Center in Murray, Utah. He still teaches at the University of Utah School of Medicine and Rocky Vista University School of Osteopathic Medicine in Ivens, Utah. He and his wife, Shirley Ann Holt Collins, live in Murray City, Utah.
Francis Anthony Doherty, a retired pilot with Delta Air Lines, published an essay, "Do I Die Today," in the Journal of Creative Nonfiction. In the essay, he remembers the fear of flights over the Ho Chi Minh trail during the Vietnam War. He is also working on a memoir.
Nancy Nau Sullivan writes, "I'm a Lone Mountain graduate, class of '67, with an ongoing mystery series called Saving Tuna Street, a novel (The Last Cadillac), and a memoir." She began writing in high school and wrote at USF for the school newspapers. Later, she worked as an editorial assistant at magazines in New York and as a print journalist throughout the Midwest.
'69
'69 Dennis D. Freeman writes that after 50 years in taxation, he prepared his last tax return in October. In his retirement, Dennis and his wife, Claudia, hope to travel and will continue being season ticket holders for Dons basketball. Besides spending time with his children and grandchildren, Dennis continues his involvement with the Knights of Columbus and enjoys trap shooting and going to the gym.
Douglas K. Lau and Patti Lau can be seen at many of California's Columbia State Historic Park interpretive events, reliving the 1850s Gold Rush Era. Since retiring as an administrator from Columbia College in 2010, Douglas has been active as a park docent and is raising bonsai trees as a hobby.
John J. Torpey, who worked in financial services, writes that he is recovering from a stroke.
1970's
Image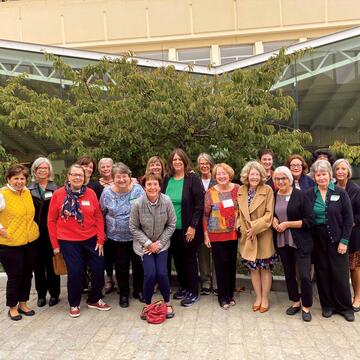 During CelebrateUSF, 1972 nursing alumni celebrated their 50-year reunion. Eighteen alumni joined this celebration in person and 23 more joined virtually by sending their stories. "It was a day of celebration, memories, cherished friendships, and reflection. And as we all left, there was a shared feeling of deep gratitude, joy, and promise for USF's SONHP," said Maureen O'Hara '72.
'70
'70 Kenneth Waldron, a retired forensic psychologist working in family law, published The Road to Marital Success is Unpaved: Seven Skills for Making Marriage Work this year. A second book, Planning a Sensible Divorce: Avoid the Toxic Dance of a Messy Divorce, is also expected to be published this year.
'71
'71 Mark K. Lyon, who also uses the pen name Mark Turck, published his fourth book, The Young Ghost Hunter's Handbook.
'72
'72 Judith Ann Maligie writes, "Very proud to have graduated from the University of San Francisco in 1972 with my BSN in nursing. I have worked for the last 50 years in nursing in many different settings and have enjoyed also practicing as a family nurse practitioner and teaching nursing to undergraduate and graduate nursing students."
'73
'73 Donald Williams was elected mayor of Calistoga in Napa County in November 2022 and took office in January.
1980's
'84
'84 David Paulides MA '95, a former San Jose police officer, is an author and filmmaker who writes about missing people in the United States in a book series called Missing 411. 
'89
'89 Gregory Sempadian completed his fifth season with the four-time WNBA champion Seattle Storm after being promoted to manager of fan experience and ticket sales. "I still come back home to the Hilltop and travel to the WCC Tournament in Las Vegas to support the USF women's basketball team!"
1990's
'93
'93 Nora E. Vargas is chair of the San Diego County Board of Supervisors. She is the first Latina, first fronteriza, first immigrant, and first woman of color to serve on the San Diego County Board of Supervisors in its 172-year history. She recently traveled to Mexico City for the signing of a binational agreement to advance the Otay Mesa East Port of Entry in San Diego. Vargas says it will be the newest gateway to the soon-to-be fourth-largest economy in the world.
'96
'96 Joe Cariffe writes, "I have a new book called Central Station. It's a crime novel set in San Francisco, where else?!"
Michelle Londono says her firm, ProActive Network Consulting, is celebrating 25 years as San Francisco's IT provider.


'99
'99 Diamond A. Machicado
worked as an entrepreneur in the entertainment, real estate, and fashion industries for more than a decade before going to work in higher education. "I'm a proud product of Jesuit education, father, friend, colleague, and proud to be part of the USF Don family," Machicado writes.
2000's
Image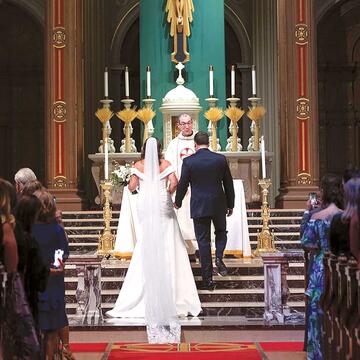 Kelly Klaas '03 married Boby Medic at St. Ignatius Church on Sept. 9, saying  "it was that much more special because of my connection to USF and the parish."
'02
'02 Francis Paul Custodio writes, "We have an indie movie, Lumpia With a Vengeance, which was shown in select theaters all over the country. This movie has several USF alumni: Dennis Custodio '03, JJ Casas '09, Carlo Ricafort '02, and current student Angelo Custodio '23. The movie also stars Danny Trejo of Machete."
Emily Jane Giometti, a special trial attorney for the office of chief counsel at the Internal Revenue Service, lives in Cincinnati with her husband, Steve Smith, and their two children. She litigates the government's largest tax disputes. Her debut novel – On Earth as it Is on Television – will be published (under the pen name Emily Jane) in June.
'03
'03 Sherry L. Fletcher is supervising senior investigator for San Francisco's Department of Police Accountability.
Christopher A. Major, founder of the Novato Chess Club, writes, "I was recently ordained as a deacon by Archbishop Salvatore Corleone in the Archdiocese of San Francisco and assigned to Saint Isabella's parish in San Rafael. I'm also honored to have been acknowledged for our work in building unity and peace through chess by the Oakland Catholic Voice."'
2010's
'10
'10 Sean Brian Topping earned the Abbott World Marathon Majors Six Star in London, England, by completing the Chicago, Berlin, Boston, New York City, Tokyo, and London marathons.
'12
'12 Grace L. Allen writes that she is "working my dream job as an oncology clinical nurse educator after working eight years as a bedside oncology nurse and obtaining an MSN in nursing education and leadership from Vanguard University (class of 2020). Currently serving as president of the Orange County chapter of the Oncology Nursing Society. I recently joined the USF mentorship program and am looking forward to giving back to the USF community."
'14
'14 Felicia Michelle Williams, a senior analyst with Symetra Life Insurance Company, married Alex Williams on Oct. 8, 2022, in Federal Way, Washington. They were joined by several fellow USF alumni in the celebration.
Image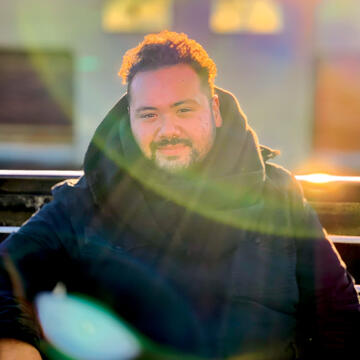 Victor Valle '15 runs a creative marketing agency called Siempre in the Los Angeles area. It is his third company. His first, a music blog called We Move Against The Tides, was featured in the San Francisco Foghorn in 2013 when he was a student.
'15
'15 Celina Maria Baldizon-Chavez MAT '16 writes, "I got married to my high-school sweetheart on our 10-year anniversary! We celebrated our big day with an intimate ceremony at the San Francisco Botanical Gardens."
Ashley Deck, a nursing alumna, has been working in San Francisco as a psych nurse with adults and children with chronic and serious mental illness. She also opened a medspa in West Portal called Ivy En Rose. Services include IV hydration and vitamin shots.
Victoria Terheyden is president of the 5 Buckets Foundation, a San Francisco nonprofit that provides financial literacy education with a focus on people at the start of their personal finance journey. The foundation works with corporations, schools, and community groups across the country to give people the financial knowledge to build successful futures.
'16
'16 Desmond E. Gill, a reimbursement specialist trainer at Genentech Inc., writes, "Greetings from a '16 alum! I wanted to send a quick thank you to all the wonderful and dedicated professors for the guidance and education I received while at USF. For the past five years I have been working full time for Genentech whilst also obtaining my MPH from UC Berkeley over the last year. USF has undoubtedly helped me to make my professional and academic dreams come true."
Nathalie Lissett Moreira-Ramirez works for the USF School of Education as an admission and outreach coordinator, working in graduate recruitment.
'17
'17 Shannon Leigh Sullivan-Moore was promoted to manager of email and digital marketing for Pottery Barn Kids at Williams-Sonoma, Inc. and now oversees the brand marketing strategy across email, SMS, and digital marketing channels.
'18
'18 Eric Jose Randall, a kinesiology major, has owned a gym in San Francisco called Route Fitness for three years. "Thanks to God, I survived and even thrived through the pandemic. I am also currently a graduate student at San Francisco State University in the kinesiology department," he says.
2020's
'20
'20 Cole Michael Adaskaveg is a financial adviser with Morgan Stanley.
Kellan Draeger, who works in sales operations at RedFlow Ltd., writes, "I've recently rejoined the renewable energy sector to help make a difference by contributing sustainable (and fully recyclable) and safe energy storage solutions for grid resilience and renewables integration. It's my way of promoting environmental stewardship and making a positive impact in the fight against climate crisis!"
'21
'21 Aliana Di Piazza is following in the footsteps of her mother and grandmother, both of whom were psychiatric nurses. Her first job after graduation was at the University of Southern California Verdugo Hills Hospital, where she was born.
'22
'22 Kelan Patrick Curran-Cros, who is an investment banking analyst for Jefferies Financial Group Inc., writes, "Loving post-grad life."
1960's
'67
'67 Joseph Paul Orth MA was recognized this year by Gov. Gavin Newsom for teaching for 60 years and educating 8,000 students in the Novato schools. Orth says his life's goal is this: "One house, one wife, one career."
1970's
Image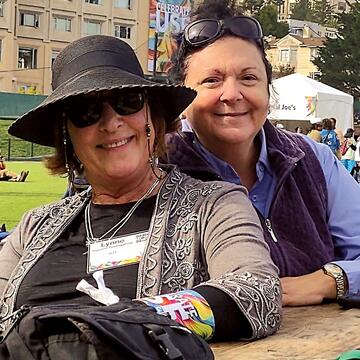 Lynne Ryerson Baumgartner BSN '77 (left), Andrea (Bautista) Duke BSN '77 (right), and Stephanie Eagle BA '77 (not pictured) attended CelebrateUSF last fall. Visiting USF and Lone Mountain brought back many memories from the 1970s. The women were housemates on Ninth Avenue from 1975–1979. Andrea is retired and lives in Modesto, and Lynne works at Adventist Health Mendocino Coast in Fort Bragg, California. Stephanie is a retired educator in the small community Cochiti Lake, New Mexico. Stephanie writes, "We friends are blessed to have kept in touch for almost five decades!"
'73
'73 Jorg Aadahl MBA writes, "My new book, Dear Editor & Beyond, is now available as an inexpensive paperback. It is a collection of my letters and writings about humanistic issues, equal rights, gun control, health care, family planning, racism and antisemitism, socialism, climate change, and governmental stupidity."
'75
'75 Jeanne Powel JD was hired as a writing consultant at the USF School of Law in 2022. In June that year, she read her poetry in the Litquake series at Yerba Buena Gardens, and she was later selected for a Rooted & Written residency at the Writers Grotto in San Francisco. At the end of 2022, she joined an author talk at San Francisco Village. She has four poetry books in print.
'79
'79 Eric N. Hamburg JD writes, "I have produced three films this year — Watergate: Blueprint for a Scandal (a CNN series); Nuclear, a documentary by Oliver Stone; and Darryl Jones: In the Blood, a documentary I directed about the bass player for Miles Davis, Sting, Madonna, and the Rolling Stones."
1980's
'85
'85 Mary Villalta Brooks MPA, a registered dietician in Merced, California, was recognized as a member for 50 years of the Academy of Nutrition and Dietetics, the world's largest organization of nutrition experts. She attended the 50-year membership celebration during the national convention in Orlando, Florida, last fall. The first in her family to graduate from college, Mary was the first registered dietitian at Los Banos Community Hospital (Memorial Hospital), beginning in 1972. She also worked at County Hospital of Merced and Mercy Hospital (Dignity Health) and as program director/ nutrition instructor of the Dietetic Technician/Assistant Program at Merced College.
'86
'86 William Glenn MA published a book, I Came Here Seeking a Person: One Gay Man's Spiritual Journey. He is a Bay Area psychotherapist, spiritual director, and community leader and is chair of the board of trustees of the Graduate Theological Union in Berkeley. 
'89
'89 Ann Naimark MA, a psycho-therapist since 1993, published the book A Touch of Light: Opening to the Love That Is You and all Creation.
Brenda Deen Schildgen MA was awarded the Society for Italian Historical Studies' Helen and Howard Marraro Prize for her book Dante and Violence: Domestic, Civil, Cosmic, published in 2021. She writes, "I am eternally grateful for the outstanding mentoring I received in the department of theology at USF, which essentially jump-started my career. The extraordinary learning I acquired from studying with Professors John Elliott, Hamilton Hess, and Fr. William Buckley as well as the steady mentoring of Fr. Paul Bernadicou has been foundational."
1990's
'90
'90 Joshua A. Bloom JD has opened a mediation practice, Joshua Bloom Mediation, focusing on environmental, natural resource, and complex multi-party disputes.
'92
'92 Scott Edward Cole JD formed Cole & Van Note (rebranded firm from Scott Cole & Associates) in 1992. The firm is growing and is now prosecuting data breach class actions in more than a dozen states across the nation.
'93
'93 Harry T. Tagomori EdD is a lecturer in management and administration at the University of Hawaii.
'97
'97 Amy Rebecca Marsh EdD has published The Dire Deeds, an urban fantasy novel, and Sexological Hypnosis: Overview, History, & Techniques, a reference book.
'98
'98 Margaret Elysia Garcia-Couoh MA, an author and editor, writes, "Happy to announce publication of my short story collection, Graft."
2000's
Image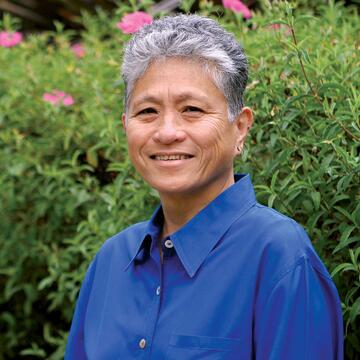 Rhonda Ramirez EdD '06 recently retired after 24 years at Samuel Merritt University's family nurse practitioner department in Oakland, California, where she was director of the program. She continues to practice as a family nurse practitioner once a week at Oakland's Native American Health Center, where she works with students from Samuel Merritt University.
'04
'04 Molly Patricia Brizgys JD writes, "I recently won a case in the Ninth Circuit in a published opinion on the constitutionality of juvenile life without parole sentences in Arizona. I have been litigating this issue for almost 10 years."
'06
'06 Susan Y. Lee JD was appointed to secretary of state of Maryland in January. She was a state representative in Maryland from 2002 through 2014, when she was elected to the state senate, serving until this year. She is the first Asian American to hold the position of secretary of state.
'08
'08 James Michael Nachtwey MS writes, "Kai Robert Nachtwey was born in February 2022 at Saint John's Health Center in Santa Monica!"
2010's
'10
'10 Hamaseh Kianfar EdD, MA '19 is a licensed mental health practitioner with Marin County Behavioral Health and Recovery Services and is an adjunct faculty member in USF's Marriage and Family Therapy program.
Brian D. Sherman MS is senior vice president and chief people officer of Delta Dental of California. He joined Delta Dental in 2018 as vice president of people.
'11
'11 Allen Kuo JD is deputy general counsel of Pivot Bio, Inc., a company focused on reshaping the way agriculture applies nitrogen to crops. Kuo leads a department of nine legal professionals and also serves as the company's corporate secretary.
'12
'12 Alan Wong MA writes, "I never imagined that I would be able to go from a past student to being entrusted as president of the City College of San Francisco Board of Trustees. Thank you to my colleagues and the community for having faith in me to lead and provide direction for the future of our college. My entire family attended City College and we are fully invested in its success."
'15
'15 Chris Brown MPA has been the Chicago Public Library commissioner since 2021, overseeing 81 locations and spearheading collaboration with neighborhood safety groups, city departments, and outside partners to establish safe spaces for youth.
Jennielynn Holmes MPA is the new CEO of Catholic Charities of the Diocese of Santa Rosa. She has been with the organization for more than 14 years. The organization recently opened the Caritas Center, a 128-unit housing project in Santa Rosa.
'19
'19 Daniel S. Boord JD is an attorney on the trial team at the Veen Firm, P.C. in San Francisco.
2020's
'22
'22 Gabrielle Le MA writes, "After graduating in May, I was able to take a break before starting my new job as an alumni adviser at Alpha Public Schools in San Jose. This was wonderful news for me because I was able to move back to my hometown and advise students of color from low-income communities!"