Lead Photo: USF Hall of Famers K.C. Jones '56 and James Hardy '79 died in December 2020. Jones played in the Dons' 1955-56 title runs and in the NBA. Hardy also played in the NBA.
1950's
'50
Sr. Pat Shaffer LMA RSCJ lives at Oakwood Retirement Home on the campus of Sacred Heart Prep School in Atherton, California. "We have at least 55 RSCJ here in a very active community. None of us have picked up the C-Virus! I am looking forward to the next reunion at USF so that I can visit there and cross paths with so many of you alums. I have always enjoyed the reunions at USF/Lone Mountain. Much, much love, prayer, and gratitude."
Robert Spellmire writes, "Nothing new. Just aging along. As one gets older, time seems to fly by. For unascertained reasons, No. 94 seems to be dragging."
'57
Vincent Vargas has been retired for 20 years and writes, "Still six feet above ground, with a great family — five children, one deceased; five grandchildren; and two great-grandchildren. Enjoying life, hobbies, golf. Look forward to luncheon get-togethers with fellow 1957 classmates — hopefully after COVID-19."
'59
Robert Collins writes, "I am a retired physician, living near my two children and four grandchildren in a senior residential home. I practiced internal medicine and endocrinology in San Francisco and on the Peninsula and served as a medical director for several health care organizations. I learned to speak Spanish and served in the U.S. Peace Corps in Colombia. I traveled extensively through South America."
1960's
'60
Thomas Latham MA '72 writes, "After graduating from USF I went back to get my teaching, counseling, and administration credentials. I taught at Benjamin Franklin Middle School in San Francisco for about 10 years. I was asked to apply for a state-funded grant that to my surprise was funded. It provided for smaller class sizes, additional counseling, and more parent involvement."
Ann Weiss writes, "After graduating I worked at the former French Hospital and met my husband. We moved to San Jose, and I started a refresher nurse program. The next years I was at home with my family and occasionally substituted at offices and schools. I joined Kaiser Permanente for eight years as a health counselor to local businesses. I'm retired and am enjoying life with family and friends."
'62
William Gallagher retired from the city of Santa Rosa in 2003 as the parking programs coordinator. He was USF baseball's 1962 leading hitter and later went on to have a career playing senior softball until 2011.
'64
Mark W. Buell, of San Francisco, has been appointed by Gov. Newsom to the FAIR Plan Governing Committee. Buell was a partner at Buell & Company, a real estate development firm from 1994 to 2006 and is president of theSan Francisco Recreation and Park Commission, chair of the Marin Community Foundation Board of Directors, and a member of the University of San Francisco Board of Trustees.
'65
Philip Shecter writes, "After 51 plus years practicing law I am now close to retirement and living in Colorado. I am planning on writing a novel and working in the law-related field part-time."
'67
Richard Botteri retired after 30 years as a lawyer in Portland, Oregon. In 2006, he received a master's degree in history from the University of Oregon, with an emphasis on legal history. He writes that he is a cancer survivor and has a daughter.
Patricia Ferrando writes, "I had a fulfilling career in nursing for 30 years. I returned to school to become certified as a small group instructor working with children who had learning differences. That led to a rewarding six years at Charles Armstrong School in Belmont, California. I am retired and enjoying traveling and being involved in the lives of my three active grandsons."
Nancy Kaye is retired after working as a nurse in New York, California, and Washington, as well as 10 years with the overseas dependent school system in Japan, Germany, Ethiopia, and Spain. She also was an alcohol and drug counselor for 29 years.
Dan McGilloway CPA is retiring as a partner of McGilloway, Ray and Kaufman in Monterey, Salinas, and Hollister, California.
Patrick Pressentin writes, "I'm grateful to continue to practice law part-time, play over-65 soccer, and enjoy health with Margaret and our four children and six grandchildren. We're simplifying — we just sold our first real car, a 1968 green Volvo 122s purchased in Germany. We kept the memories of 53 years."
Image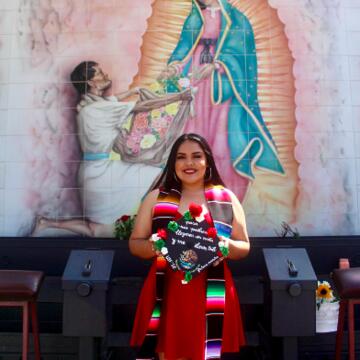 @USFCA: A proud graduate and future teacher, Ashley Perez '20 says she can't wait to see what life has in store for her.
ASHLEY PEREZ '20 #USFCAALUMNI
'68
Enrique Lopez-Contreras worked for 25 years at Simón Bolívar University in Venezuela, after receiving a PhD in Spanish at UC Santa Barbara, and retired as a professor and university president. Afterward, he taught at California State University, Stanislaus, and retired three years ago as professor emeritus of foreign languages.
Anthony Martinez writes, "I've had a very good life. USF and the Jesuits gave me a solid foundation from which I could move ahead and do whatever I wanted to do 'to serve and to lead.' I had two full careers, one as an officer in the U.S. Army and U.S. Army Reserves. I also taught for approximately 40 years at various universities, including USF's School of Management, and retired from San Francisco State."
Linda Lynn Phares writes that her "successes in order of importance since graduating from USF are: mother of Andy, Ted, and Jenny. Grandmother of Michael, Teresa, Anna, Joe, and Tommy." She earned a degree in physical therapy in 1969 and had a 44-year career working in child therapy.
Arthur Wilmore writes, "I played for USF men's basketball all four years, played for the All Army team from 1969 through 1971, and tried out for the 1972 Olympic team." He went on to become a teacher and coach at the high school and college levels and has been married 51 years to Julie. They have two children and two grandchildren.
'69
Lawrence Martin retired from State Farm Insurance Co. in 2010 after 25 years. "I live in Meridian, Idaho, with my bride, Anna Hudson Martin '70, celebrating 50 years of marriage in 2020. We have four children and 11 adorable grandchildren with whom we are blessed to spend a lot of time and continually praise the Lord for, as well as our many other blessings."
Fr. James (Dennis) McGilloway retired from St. Michael's Seminary in Spokane, Washington.
1970's
'70
Peter Deutsch has been a volunteer with the SFO travel information desk since 2001, in addition to working as a city tour guide. He is retired from the U.S. Postal Service and has been married for 40 years and has two daughters.
Barbara Menard works as a program manager for Catholic Charities in the San Diego Diocese. "I work in post-adoption services at Catholic Charities part time. I met my husband in 2013, and we were married on July 28, 2018."
Barry Meneghelli is a semi-retired scientist working part time in the cryogenics test laboratory at the Kennedy Space Center.
James Tevenan is a music and arts producer and classical music host at Spokane Public Radio.
'71
Stephen Guss is senior wine steward with Holmes Harbor Cellars in Washington. After living in Utah for 55 years, "I relocated to Whidbey Island, Washington, at the 'request' of my lovely wife, Beth Driscoll Guss '71, in 2005. I maintain my Securities and Exchange Commission license so that I can still serve a few selected clients with their investments. We are blessed to live in a wonderful place."
Maureen Jenkins retired from nursing after a 40-year career. "Married nearly 50 years! Four adult children and six grandchildren. Living everyday with gratitude!"
Devin McGilloway CPA merged his wealth management firm in Monterey, California, with Southport Capital of Atlanta, Georgia.
Carolyn Rosenblatt JD '78 writes, "I am a 'double Don!' I have had very satisfying careers in both nursing and law. In my 'encore career,' I work as a consultant at AgingParents.com and AgingInvestor.com. I help families with elders navigate the health care system and legal system and I mediate family disputes."
'72
Judith Lindemann is a retired nurse practitioner who is "looking forward to celebrating 50 years as a 1972 graduate of USF School of Nursing! Hope COVID-19 is under control and we can celebrate in person in the city by the bay, where I left my heart almost 50 years ago! Thank you USF! I have never underestimated the value of the education that I received from USF. I was always a step ahead of all my nursing peers due to the fantastic education that I received."
'73
Bill Fusco MA '95 was inducted into the National Association of Collegiate Directors of Athletics Hall of Fame. He served as director of athletics at USF, Dominican University, and Sonoma State University during his 37-year career as an athletics administrator.
Joanne Merjano writes, "I have retired after working for 20 years as a public health nurse for Marin County. I worked in various areas such as adult protective services, in-home supportive services, and with AIDS patients. During this time frame, I worked with several USF professors. I was a mentor for numerous students, too."
'74
Sr. Margaret McBride MPA '95 is vice president of the Arizona division of CommonSpirit Health/St. Joseph's Hospital, in charge of mission integration.
'75
Rayne (Anita) Beach writes, "I am retiring in September after 22 years working as a family nurse practitioner here in Montana. Two of our three daughters live nearby. Our middle, Carsyn, is a veterinarian here, and our youngest, Taylor, is an analyst for Denver Public Schools, working remotely. Our oldest daughter, Lauren, teaches middle school math and language arts at St. James Elementary in Madison, Wisconsin, where she lives.
Maureen Katherine Martin works in medical writing, research, and editing for the pharmaceutical industry and has a nursing degree. "Nursing gave me a chance to travel the country on short-term assignments and later work in Kenya. I find the people, places, and cultures of the world beautiful, educational, and unique. Now semi-retired, I entered a COVID vaccine study that has already received emergency approval. My motto, developed from USF, is 'stay curious.'"
Image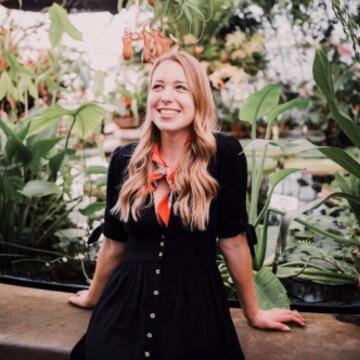 @USFCA: A recruiter at Tesla, Anastasia Ecin '19 inspires students on the job and on internship searches by holding workshops on resume improvement and job-interview skills.
ANASTASIA ECIN '19 #USFCAALUMNI
'76
Chris Elzi JD '79 has his own law practice in estate planning, business, and tax law in Petaluma.
Michael Ringer has been married for almost 40 years with four grown children and works as a gastroenterologist in Modesto, California.
'77
Cathy Allen is "recently retired after a 42-year career with Kaiser Permanente, 15 years as a labor and delivery nurse, and 27 years as an OB/GYN nurse practitioner. On to new adventures!"
David Cruz MA '79 retired from the Fresno Unified School District in 2015 after working as a teacher and counselor.
Frank Hunt is cross country coach and distance track coach at Aragon High School in San Mateo, after retiring from a 37-year banking career.
Chris Von Holt retired in 2005 from his job as a U.S. Secret Service agent, in charge of the San Jose office. "I now own Von Holt Wines. Ask for the USF alumni discount!"
'78
Katherine O'Donnell has lived in San Antonio, Texas, since 1994, and she is a family nurse practitioner at the University of Texas Health Science Center. She has four adult children and three dogs. "I love cycling and travel back to California once a year."
1980's
'80
Phillip Carter works as farm manager at Winters Fruit Tree in Winters, California.
Gale Kehres writes, "Having worked in various departments at the former Palm Drive Hospital in Sebastopol, California, and then in Sitka, Alaska, with a critical care medivac, I am now a school nurse in Yerington, Nevada, and teach high school students to be certified nursing assistants."
'81
Mark Quinsland is helping launch the Latin America division of a Bay Area startup, Neo4j. Until the COVID-19 clampdown on travel, he was traveling in Rio de Janeiro, São Paulo, Mexico, and Buenos Aires. He said he wishes he had studied Spanish and Portuguese instead of German at USF.
'82
Fredric Aronow MA '87 is a licensed marriage family therapist in Nevada City, California. "USF made my professional life possible. I love being a USF alumni!"
John Fassett, a nurse and midwife who lives in the Castro neighborhood of San Francisco, is one of four Sutter Health Nurse of the Year award winners. A pioneer male midwife 26 years ago, he has been a registered nurse for 40 years, and he has delivered more than 4,000 babies. "To me, you don't get to see many miracles on this Earth, and that's why childbirth is amazing," Fassett told the Bay Area Reporter. "It's an amazing opportunity to witness the delivery. There's nothing like it, even after 40 years. It's such an amazing event, such a miracle."
Susan Meagherwrites, "After many years in retail, I returned to school to get my master's degree in library science and am now a librarian, which I love."
Samuel Phillips JD '85 is celebrating 30 years with the Borton Petrini LLP law offices as managing partner in the San Jose and San Francisco offices. He "happily resides in Los Gatos with the love of his life, Nitzi Gildea-Phillips '81."
'84
Carlos Rivera works for the city of Rancho Palos Verdes as a TV producer (municipal television). "A few years back, I retired from Cox Communications, in a similar role. Working in the communications/media field has been a blessing. I would say that having a degree from USF and being a veteran has opened doors."
'85
Anthony Bartenetti lives in the East Bay with Katie (Harmon) Bartenetti, his wife of 29 years. "Our two oldest children graduated from Indiana and UCLA and our youngest is 14 and just about to start 8th grade. Hope to see some of you on the Hilltop for Dons games."
Celia Anna Feria left for Washington, D.C., the day after her graduation from USF to work in the Embassy of Brunei. Her work with foreign service continues. She is the Philippine ambassador to Portugal, which also includes Northern Africa. She was an active member of the Fil-Am club in USF.
Bruce McDonald writes, "Aloha from Maui, Hawaii! Interesting year to say the least as we all try and keep safe and sane. Truly blessed to be here on the islands as I guess if I'm gonna be stuck somewhere, I'm OK here on Maui. Through all the insanity, my beautiful wife and I celebrated our 30-year anniversary. Christina is a graduate of Dominican College."
'86
Siena Lemon Lindemann is assistant director of the Aging and Disability Resource Center in Austin, Texas, where she coordinates efforts to reduce social isolation during the COVID-19 pandemic for older adults, persons with disabilities, and caregivers. She also got married and moved from San Antonio to Hays County, Texas.
'87
Randolph Lopez retired in 2018 from a 50-year career in information technology. "My wife and I relocated to Lake Chapala, Mexico."
Janice Mark DNP '17 completed a two-year fellowship with the Centers for Disease Control and Prevention Injury Center with the older adult falls team, and now teaches in the USF undergraduate nursing program.
John Monterosso JD '90 is the presiding judge of the Riverside County Superior Court for 2021–2022.
David Petroff writes, "My wife, Kim Christiansen-Petroff '87, and I became grandparents this year!"
'88
Elisa Cleek was a guest of the architect Jorge Bustamante on the radio program Arquitectura y Urbanismo about her research on the history and meaning of the symbols of the national palace of El Salvador.
Leslie Lum is a special education teacher in the San Francisco Unified School District.
'89
Richard Beckman retired after 30 years working for the U.S. National Security Agency and 15 years of providing management consulting services. "My USF educational experience was both consequential and empowering!"
Terence Chuck is a counselor at City College of San Francisco.
Elaine Chyrklund is a clinical nurse in the intensive care nursery of UCSF Benioff Children's Hospital in the San Francisco.
Mattia Gilmartin MA '93 is executive director of the Nurses Improving Care for Healthsystem Elders program of New York University Rory Meyers College of Nursing and was selected to participate in the 2020–2021 class of health policy and aging fellows. The program aims to create a cadre of leaders who will ultimately improve the health care of older people.
Greg Sempadian completed his third season as a ticket sales and service account executive for the WNBA champion Seattle Storm.
1990's
'90
Barbara "Clairdee" Clardy is a San Francisco musician, recording artist, and activist who produced a musical call-to-action, "Stand Up." She is a professor of jazz voice at the San Francisco Conservatory of Music.
Virginia Tomasian writes, "I have been retired for five years from the State of California and am living in Clovis, California. My education at USF has provided me the tools to problem solve and apply management strategies to every challenge I face. I enjoy vocal musical performance and guitar in my spare time."
'91
Vebina Sethi is a consumer safety investigator with the U.S. Food and Drug Administration. "I would have never thought that our daughter, Kajal, would be following in my footsteps and attending USF 28 years later. It gives me great pride and joy to share old school memories with her as well as being a part of her new collegiate experience. The legacy continues."
'92
Alicia Schooler-Hugg MA '95 is retired as a nursing consultant, educator, and op-ed columnist. "Happily living among the vineyards in Napa Valley, writing a memoir and poetry."
Christina Tice is the maternal mortality review coordinator for Georgia.
'93
Silvia Harris-Payne EdD '00 is a business professor at San Francisco State University.
'94
Arcee Medalla Lacson MS '00 is completing a PhD in educational management at De La Salle Universities, Dasmariñas in Cavite, Philippines. She has three sons, two of whom are twins, and three grandchildren. She is chief operating officer at St. Jude College, Dasmariñas, Cavite.
Rachel Soffer is a nurse at the John Muir Health Center in Concord, California.
Leonard Weingarten is director of business development for the San Rafael Chamber of Commerce and a member of the Gellert Family Business Resource Center Advisory Board at USF.
'95
Maura Armsworthy is clinical supervisor for migration and refuge for Cleveland Catholic Charities.
Keith Merklin is a general manager for Live Oak Bank, headquartered in Wilmington, N.C.
Christopher Newnan writes, "I retired from the Air Force in 2019 as a lieutenant colonel in Colorado, after 20 years of aviation service. Then, I took a sweet gig with KBR Government Solutions, managing defense programs and construction in the Pacific."
Siobhan O'Byrne is a social science teacher at Presentation High School in San Jose.
Image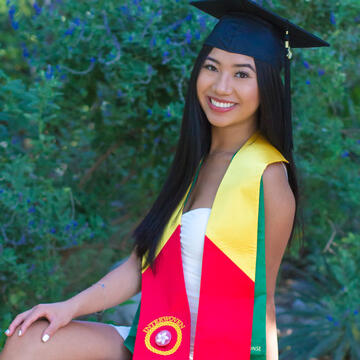 @Trini.Bikinis: School of Management graduate Trinna Hovan '20 of Southern California dives into her first small business by creating swimwear.
TRINNA HOVAN '20 #USFCAALUMNI
'96
Nerissa Ann Sardi is vice president of marketing and business development for Discogs, the largest global database, community, and marketplace of recorded music.
'97
Zachary Ewen is a paramedic in Alameda County, California.
'98
Patranya Bhoolsuwan founded a media consulting firm, Patranya Media LLC, in Las Vegas after spending more than 20 years working across the country as a TV news journalist. The three-time Emmy Award-winning reporter and anchor offers media training and small business consulting. She lives in Las Vegas with her husband and travels back to her native Thailand.
'99
David Gudelunas is dean of the College of Arts and Letters at the University of Tampa.
2000's
'00
Rolando Bonilla is chief strategy officer for Voler Strategic Advisors Inc. and is vice chair of the San Jose, California, planning commission.
'01
Danielle Hudson is executive administrator for the Beaverton School District in Oregon. She received a master's in education administration and a doctorate of education from Portland State University.
Linda Plager writes, "Finished a master's of science in nursing at Loyola New Orleans. 4.0 (not bad)!"
Denise Shaw writes, "For the last two and a half years, I have been the unit director for the pediatric medical-surgical and transitional care units at UCSF Benioff Children's Hospital, San Francisco. Previously, I was a bedside nurse on the pediatric oncology/hematology/bone marrow transplant units before transitioning to a leadership position."
'02
Jenelle Allen-Daniels is a 2020 finalist for the Achiever Award, part of the Silicon Valley Admin Awards.
Brian Durkee was appointed CEO of Numi Organic Tea in Oakland. He was president of the company from July 2018 through January 2021.
Janice Nguyen writes, "Aloha from Honolulu. I successfully sold my restaurant Ha Long Pho Noodle House in Honolulu, after founding it 11 years ago. I am taking a year sabbatical to care for my children and their education with distance learning as we grapple with COVID-19. Besides caring for my children, I am investing in purpose-driven companies."
'04
Daniel Alcala writes, "My wife, Wendy, and I, with our four children, are moving from Aptos, California, to Roseville, California."
Shannon McGilloway MA '08 is a counselor and teacher at the Presidio School in San Francisco.
'07
Rosemarie Dominia earned an MSN at Boston College and became a family nurse practitioner. "In 2019, I earned an integrative nurse coach certificate through the International Nurse Coach Association and opened my own coaching practice, Reaching New Depths Coaching."
'09
Maggie Mullen writes, "My book titled The Dialectical Behavior Therapy Skills Workbook for Psychosis will be published in 2021 by New Harbinger Press."
2010's
'11
Majel Baker writes, "I recently 'virtually' graduated with a PhD in counseling psychology from the University of Minnesota, Twin Cities. I wouldn't be here without the support of my USF psychology department faculty in undergrad. I'll be a postdoctoral researcher at University of Michigan in the Institute for Research on Women and Gender starting in fall 2020. I aim to continue researching and teaching."
Reo Jones MSN '17 writes, "I am a second-year PhD student at Oregon Health and Science University in Portland, Oregon. I work as a research assistant and specialize in epigenetic pathways and the impact of outdoor-based therapies on immune health."
Charles Mostow, writes, "I am a figurative sculptor working with sculptor Sabin Howard to create the National WWI Memorial in Washington, D.C. The project will be unveiled in the fall of 2023 in Pershing Park, a block away from the White House."
'12
Flora Kechedjian MS '15 is a nursing professional development specialist at Stanford Health Care in Palo Alto, working with nurses in hematology and oncology.
Fátima Duran Ramírez is manager of Acción Latina Cultural Arts and has been awarded a SOMArts curatorial residency in San Francisco along with her husband, Mauricio Ramírez, and boss, Josué Rojas. She co-curated a multidisciplinary intergenerational exhibit, "CARAVANA: Mobilizing Central American Art (1984–Present)," that invites Central American and other artists from across the country to explore the impact of mass migration and family separation.
'13
Mirabai Collamore graduated from Emerson College in Boston with a degree in speech language pathology assistance. She works for San Francisco Unified School District as a paraprofessional, helping students with their speech goals.
Vicente Patiño MAT '14 is marking his seventh year as a science teacher in the San Francisco Unified School District at Horace Mann School.
Chelsea Reidy has published a book, The Brightest Darkness: A Journey into Bipolar Disorder.
'13
Adeline Solaiman is working as a stock broker in the Indonesia stock market.
'14
Holly Ersek works as a registered nurse at UC Irvine Medical Center in Orange, California.
Barbara Smith sold the Salesforce consulting firm she co-founded, and now is part of a 500-employee global digital tech services firm with headquarters in Washington, D.C., and offices in San Francisco, Medellín, Karachi, Dubai, Bangalore, and London.
Gerardo Vera has launched a web development company in Salinas, California.
Jennifer Yu is the lead infection control nurse for the COVID-19 response at Laguna Honda Hospital and Rehabilitation Center in San Francisco. "I recently received a San Francisco Department of Public Health award for my team's work."
L. Y. Aaron Yungis an astrophysicist and is in the NASA Goddard Space Flight Center postdoctoral fellow class, working on projects related to the long-anticipated premium space observatory, the James Webb Space Telescope.
'15
Simon Cooper has a postdoctoral position at California Institute of Technology working in the field of natural product synthesis.
Anette Recinos writes, "I earned a master of science degree in integrated design, business, and technology from the University of Southern California."
'16
Yujun Jiang is a graphic designer, digital artist, web developer, data analyst, and researcher at Parsons School of Design in New York City.
'17
Pearci Bastiany III has been elected to the board of directors of the Fillmore Merchants and Neighborhood Collaborative in San Francisco.
Toni Okamoto published Plant-Based on a Budget and The Friendly Vegan cookbooks. Her work has been profiled by NBC News and Parade magazine, and she's a regular presence on local and national morning shows across the country, where she teaches viewers how to break their meat habit without breaking their budget.
James Vu is a student at Rush Medical College in Chicago. "I am joined by three other USF alumni who serendipitously ended up in my MD cohort. Go Dons!"
'18
Rachel Buehler works as a nurse on a progressive care unit at a Eureka, California, hospital, where she also supports other departments, including the emergency room.
Gabriel Flynn writes, "After graduating USF in 2018, I made the big move to NYC to start my new career as a technology consultant for Adobe. When I'm not working, I'm enjoying exploring the Big Apple and continuing my hobby of distance running."
'19
Emily Brazis works for Altair Global, a human resource management consulting firm. She enjoys her position as a global services consultant, assisting clients like Tesla, Uber, LinkedIn, and others when they need help relocating their employees to other work sites throughout the world. "I'm definitely putting my degree in international studies to work!"
2020's
'20
Amie Lu writes, "While we have yet to reunite for a proper commencement for the class of 2020, I was grateful to work with SF-based startup Oliver Space the summer after graduation. No matter the circumstance, I feel that it is always good to keep learning something new." She is now a brand ambassador for Gist in the Bay Area.
Kellie Manchester writes, "After graduating from USF in May 2020, I already miss being on campus! I enjoyed every second of college and eagerly wait for the day I can reunite with my peers, professors, and friends. My favorite memories were the late-night snack runs, bonding with my classmates in the XARTS lab while we worked on stressful design projects together, and finding new areas on campus to explore."
1960's
'66
Rosario Ungstad MA spent 29 years as a special education teacher in the Fremont Unified School District in Fremont, California, before retiring in 2006. She lives in Fairfield but plans on moving back to the Silicon Valley area next year. "I'm a mom to a lawyer in Milpitas, a journeyman electrician in SF, and an IT specialist in New York. Also, a loving grandma to a beautiful granddaughter and grandson."
'67
Donald Chisholm JD celebrates his 53rd year of law practice in Idaho in September. "Thanks to USF School of Law for a good legal education."
1970's
'70
Jayson Laumeister JD writes, "Great school, now with an international presence. I am and was blessed."
'71
Joseph Shahpar MBA writes, "Among many things I am currently involved with, I am busy writing fiction loosely based on my own life. It would include my memories of the days I lived in Phelan Hall [now Toler Hall] on the Hilltop campus. Of the days basketball was the game that made USF famous. Of the KUSF and Foghorn days. And of the days USF was highly influenced by the vibes of Haight Ashbury existentialism in the late 1960s."
'73
Rand Peebles JD writes, "I received a lifetime achievement award from the Idaho/Intermountain chapter of the Association of Corporate Counsel. I am retiring in January 2021 after 47 years of private and in-house corporate practice."
Image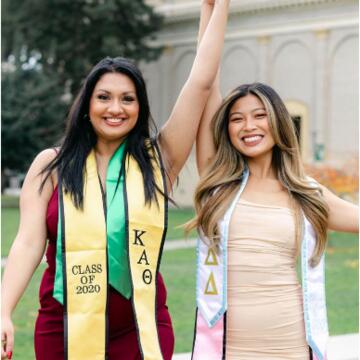 @USFCA: Megna Joshi '20 and Nicole Soerja '20, from two different pan­hellenic sororities, come together representing the graduating class of 2020!
MEGNA JOSHI '20 & NICOLE SOERJA '20 #USFCAALUMNI
'75
Lawrence Nissim MA retired as a teacher, coach, and counselor for the San Francisco Unified School District. He published a book in 2020 called A Collection of Nine Winning Favorites, an anthology of middle school stories for young readers.
Jeanne Powell JD is the author of three books of poems and a collection of essays. She facilitates a writing class for Mechanics' Institute Library in San Francisco.
'76
Patricia Burgess JD writes, "We recently moved from Boulder, Colorado, to Asheville, North Carolina, for milder weather and to be closer to our children and grandchildren. I'm involved with philanthropic groups, the Women's Foundation of Colorado, and Western North Carolina Women for Women."
Peter Logan JD writes, "I'm enjoying semi-retirement. The COVID-19 quarantine has put a damper on playing music, among other things, but life has a lot to offer."
'77
David Elliott MA in 2020 published a book, Two Souls and a Body: What Every Educated Person Knew to Be True and How the Educated Christian Developed Christianity in Hellenistic Times, Creating the Ideas of Free Will and Modern Psychology.
Diane Thurlow JD is a marriage counselor. "After law school, I trained to be a mediator and did small claims, family, neighbor, victim/offender reconciliation, divorce, and parent mediations. Then I got my MS in clinical counseling and have worked as a couples counselor for the past 19 years in Eugene, Oregon."
'79
Gary Gonzalez JD worked as a deputy public defender for San Francisco from 1980 to 1988 and moved to private practice from 1988 to 2015, when he retired. "I moved to San Francisco from Los Angeles in 1976 to attend law school at USF and have remained in SF ever since. My two children, Marisa and Ryan, were born and raised in SF."
1980's
'81
Peter Welch JD is a retired U.S. Navy captain serving as the chairman of the commissioning committee of the next USS Iowa SSN 797, which is a fast attack submarine being built at Electric Boat in Groton, Connecticut. It will be the first fast attack submarine specifically designed to accommodate women officers and crew.
'83
David Seward MBA is the chief financial officer of UC Hastings College of the Law, where he is responsible for implementing the long-range campus plan and the development of a multi-institutional "academic village" providing shared campus housing and academic functionality with partner institutions UCSF and UC Davis.
'85
Jim Bertoli JD is the supervising judge of the family law division of the Sonoma County Superior Court and is celebrating 20 years on the bench.
Alan Wilhelmy JD writes, "I continue to represent clients in the construction process, and after serving as an arbitrator on the American Arbitration Association Construction Industry Panel for 24 years, and also the large and complex case panel. I also now serve on the AAA Panel of Mediators."
Charlene A. Wrighton MA expanded her learning company, Zoo-phonics Inc., a multisensory language arts program in Sonora, California, during the pandemic shutdown to include Zoom workshops for children ages 2 months through first grade.
'86
Tom Matteoli EdD is co-owner and innkeeper at Sinclair Inn Bed & Breakfast in Jericho, Vermont.
Dorothy McCrea MA, EdD '04, of San Carlos, writes, "As a graduate of the ICEL program, I wanted to take this opportunity to honor and thank Sr. Mary Peter Travis OP, who was my doctoral adviser. After many years of service to the university, Mary Peter recently passed away, and I know that I am not the only member of this graduating class on whom she had an impact and significant influence. She was a remarkable person, and I thank her."
Pedro Oliveros JD is a deputy public defender with Marin County Public Defender's Office.
'87
Barbara Hochgesang MBA is a strategic planner and works in web platform engineering for Intel Corporation in Portland, Oregon.
'88
Sheila Hansen MA, EdD '92 is retired from the faculty at Cal State, Monterey Bay, and from Jefferson School District in Daly City. She was principal of Marjorie Tobias Elementary School and also was a special education teacher. Before that she taught grade school for five years in San Francisco.
Muhammad Hussain MA is a senior visiting faculty member at the Government College University in Lahore, Pakistan.
Christina Nelson JD is a partner with Greene Radovsky Maloney Share & Hennigh LLP in San Francisco.
'89
Patricia Boss MA is chief financial officer for the Sisters of St. Dominic in San Rafael, California.
Karyn Ellis MPA retired after 28 years from the Los Angeles County Department of Health Services.
Dirk Haro MBA writes, "Greetings from Berlin, Germany. Life has been treating me well, and I have launched a new startup called emformX, trying to digitize corporate banking. European USF alumni from my cohort are connecting a lot! Unfortunately, our annual meeting in Istanbul, scheduled for May, had to be canceled due to COVID-19. Looking forward to visiting my beloved San Francisco soon."
Mollie Tobias MA is a program manager for the city of San Jose, working in corporate and community engagement.
1990's
'91
Thelma Tucker MS retired as a product safety compliance investigator for the U.S. Consumer Product Safety Commission and is a writer in San Francisco.
'92
Caroline Brownstone MA is president of International Management and Marketing Associates in San Mateo.
The Rev. William S. Davis MA was appointed in January 2021 as associate director of public affairs and religious liberty for the Pacific Union Conference of Seventh-day Adventists. "My responsibilities include advocacy for human rights, immigration rights, and religious freedom rights for people of all and no faith. Through research, public presentations, and teaching, I help people who are victims of the abuse of their civil rights under the constitution in five states in the Pacific (California, Arizona, Hawaii, Nevada, and Utah)."
Enrique (Henry) Dominguez MA, EdD '04 writes, "After 31 years of high school teaching, I retired from Vallejo City Unified School District. I had the distinct honor of serving this community teaching English language development, Spanish, French, and physical and cultural anthropology. I will miss my colleagues and students, but am sure to be involved as a community member."
Christopher Skarakis MBA, the 14th employee at Google, is on the board of directors of Little Kids Rock.
Phil Stirling JD is a deputy district attorney with the Los Angeles County District Attorney's Office.
'93
Susan Dormanen MA is company manager for the Santa Cruz Shakespeare Company.
Sr. Mary Susanna Vasquez MA is a member of the leadership team for the Dominican Sisters in Fremont, California.
Gary Yep MBA/JD has been elected to his third term as mayor for the city of Kerman, California. He is also chairman of San Joaquin Valley Regional Early Action Planning Committee for Housing.
'94
Diane Bader MA is a retired teacher and music minister. "I have four children and eight grandchildren. I have written and self-published two books."
Linda Wyner JD writes, "I sold a business in January 2020 and relocated to Tucson, Arizona, just in time for shelter-in-place. My new business, Southern Arizona Gourmet Experiences, is in the works getting ready for the world to open up again."
'95
Gary Anderson JD is principal deputy city attorney in the Long Beach City Attorney's Office in Long Beach, California.
Steven Borg MA is chairman of the board at Holy Names University in Oakland, California, and vice chair at Oakland School for the Arts in Oakland.
John Omernik MBA, '01 MA is founder and president of The Little Spanish-English School in Eau Claire, Wisconsin.
Sharon West MBA writes, "After 22 years, I took an early retirement from Hewlett Packard Enterprise. I've enjoyed years developing, marketing, and selling enterprise information systems. The last couple of years, my focus has been emerging technology solutions and teaching business information systems, which has been incredibly rewarding. I'm looking forward to doing more in these areas!"
'96
Dina Brumfield MBA published a novel, Unbound, that is a family saga illustrating life in China during the tumultuous 1930s and 1970s. The story is set in Shanghai, known as the "Paris of the East," at the dawn of World War II. "My novel touches upon freedom, women's rights, and humanity."
'97
Holly Burkett MA is a leadership consultant and a principal with Evaluation Works, a consultancy in Davis, California. A speaker, coach, and facilitator, she is author of the book Learning for the Long Run: Seven Practices for Sustaining a Resilient Learning Organization.
Shaana Rahman JD writes, "After working in law firms as a trial lawyer for 10 years, I opened my own firm in San Francisco representing injured plaintiffs. My firm has represented the rights of bicyclists and pedestrians for over a decade. I opened a second office on California's Central Coast in Paso Robles where I own a farm and olive orchard."
Lori Shnall JD is deputy district attorney for the Alameda County District Attorney's Office.
Anisha Weber MBA is managing director of Logic20/20 and was recognized in the 2020 Most Influential Women in Bay Area Business by the San Francisco Business Times.
'99
Wulff Reinhold MPA is safety officer for the County of Mendocino, California, responsible for safety in 150 facilities and locations throughout the county, as well as the well-being of its more than 1,100 employees.
Stephanie Stone MPA is chief deputy director for the County of Los Angeles, California.
2000's
Image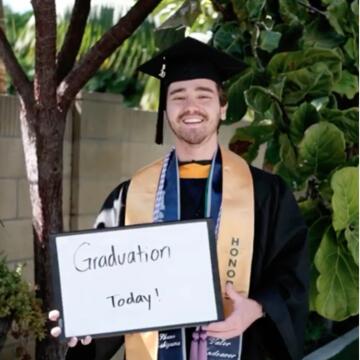 @USFCA: "Forever grateful" - Shane Yoshiyama '20
SHANE YOSHIYAMA '20 #USFCAALUMNI
'00
Michael Cantu MA is principal at St. Anthony School in Renton, Washington. "Currently in my 24th year as a Catholic school principal. I was ordained a permanent deacon for the Archdiocese of Seattle. I graduated from the USF Institute of Catholic Educational Leadership in 2000, a wonderful program!"
James Stanford MBA is chief operating officer at Tilt Five, an augmented reality gaming company in Silicon Valley.
'01
Cristobal Cantos MBA is a professor of corporate finance and private equity at the Universidad Pontificia Comillas in Spain. "My BS degree is in engineering, but after graduating from USF, where I took the best finance courses I can ever remember (which literally changed my life), I've dedicated most of my professional life to private equity back home in Spain."
Stacey Cook EdD is director of undergraduate affairs for the College of Engineering at UC Davis.
Toshi Kawaguchi JD is senior corporate counsel for Tanium Inc.
'04
Fr. John Huber EdD is director of faith formation and professional development for the Basilian Fathers in Toronto, Canada.
Ruby Mason MPA, of Palo Alto, is retired from Stanford University as a pre-med adviser. "I am 94 years old. I enjoy reading about the events at USF, although I cannot readily attend."
'05
Sarah Fairchild JD works as a civil rights attorney on behalf of individuals with disabilities in San Jose, California. She also works with families who have children with disabilities to build an inclusive "pocket neighborhood" in Santa Cruz, California. She is an active member of Common Roots Farm, an organic farm.
'06
Devin Robinson JD joined the Vancouver, Washington, firm Caron, Colven, Robison & Shafton, and he will continue serving plaintiffs in personal injury, asbestos, and product liability cases, and insurance disputes in Washington, Oregon, and California courts.
'07
Jillian Lontayao MA is administrative associate for land, buildings, and real estate at Stanford University. She has two children, Baylor and Justin.
Gita Matlock MNA is an equine-guided life coach and co-founder of the nonprofit Herd Spirit in Nevada City, California.
'08
Jason Higa MS writes, "I'm in my fifth year of being a professor at the University of Hawaii."
Nicholas Ilacqua MS works at the UC Davis School of Veterinary Medicine as a development manager and software architect.
Anna McDonald EdD is an educational therapist at Sacred Heart Preparatory in San Francisco. This is her eighth year there, and she spent the last five years as the academic dean and is happy to return to her roots in the learning support program.
Annette Poliwka MS writes that she "is a life coach for women who love life and also nature!" She climbed Mt. Whitney, the highest peak in the lower 48 states.
K.T. Waxman DNP has been named the editor-in-chief of Nursing Administration Quarterly, a peer-reviewed journal that provides nursing administrators with information on the management of nursing services in all health care settings.
'09
Jessica Armijo MA writes, "I am an employment attorney who conducts neutral, third-party investigations for workplaces, universities, and school districts. After advising employers and educational institutions about best practices, including spending years as an employment litigator, I wanted to dedicate my practice to conducting Title IX investigations and training, and workplace investigations and training."
Michael Manoukian MA works for Hopkins & Carley as a member of the firm's labor and employment law team. "I focus my practice on advising and representing employers with their human resources and employment law issues. I'd love to connect with fellow Dons. Go Dons!"
2010's
'10
Keri Casler MA is K-3 innovation lab teacher and the K-8 tech integration specialist at Woodland School in Portola Valley. She resides in San Francisco.
'11
Craig Montuori MPA writes, "I'm working to beat COVID-19 and aid economic recovery through leading the C19 Coalition, while moving forward with life. My new wife and I bought a house in New Jersey and are looking forward to hosting any MPA friends who pass through the New York City area once things get back to normal."
Herman Semes Jr. MS is vice president and director of the Micronesia Policy and Project Management Services Inc., a registered consulting firm in the Federated States of Micronesia.
'12
Alan Wong MA writes, "I just wanted to reach out to my USF family! In 2020, I was elected to the City College of San Francisco Board of Trustees. I'm serving City College because I was born and raised in San Francisco, and my entire family attended City College. When my dad was laid off, City College gave him the training for a career that supported my family for two decades. My mom took ESL classes that gave her confidence to talk to family members. For myself, classes that I took for free at City College with a low-income tuition waiver as a teenager gave me the boost to graduate from UCSD when I was just 19."
'13
Tony Collodora MBA was promoted to director at AMD and joined the board of directors for the Austin Outlaws women's tackle football team. He and his family live in Austin, Texas.
'14
Natalie Norton MA writes, "Graduating from USF fueled my passion for social justice. In my current role with Rise Against Hunger, I work to create transformational change, lifting the communities we serve by providing food security and additional tools to create resilience."
Berna Villanueva MPH writes, "I'm in my graduating year in medical school at the University of Arizona College of Medicine Tucson. On my way to being a medical doctor."
'15
Tyree Robinson MA, EdD '18 is a community relations specialist and elementary adviser for San Francisco Unified School District. "During my dissertation phase, in early 2018, I suffered numerous family deaths. Rather than be defeated by sadness and anxiety, I worked even harder to graduate by my deadline of May 2018. Prior to graduation, I was a co-instructor at USF in the School of Education, as well as a published author, having written chapters in textbooks and chapters in personal books of my educational journey."
Sarah Maia Conde Sulzbach MA writes, "I just completed my 18th year as an educator in SFUSD. Prior to the pandemic, I elected to take a sabbatical for the 2020–2021 school year. I'm grateful to have the gift of time this year to focus on self-care and think about the role I can play in climate justice and the elections."
'16
Stan Constantino MA is assistant dean for enrollment, student affairs, and diversity for the University of the Pacific in Stockton, California.
Ellen Weaver MS writes, "As part of the case management department at Kaiser Vallejo (California), I serve the Kaiser Foundation Rehabilitation Center as a liaison intake coordinator."
'17
Dana Bostic MS is an assistant professor of lab sciences at the University of Kansas Medical Center in Kansas City, Kansas.
Bridget Love EdD partnered with Emerald Templeton EdD '18, Onda Johnson EdD '18, Lisa Price DNP 15, Stacy Ault EdD '17, and Linda Garrett EdD '18 on a book, Elevating Marginalized Voices in Academe: Lessons for a New Generation of Scholars. "Through this text, we share stories that are often left out. This is a timely opportunity to showcase work crafted by us and about our experiences in academe that encourage and empower social movements."
'18
Aysenur Hacioglu MA, writes, "After my graduation, I worked for a nonprofit in San Francisco, helping foster youth learn independent living skills. After a year full of good memories, I moved back to my country, Turkey. Currently I work for an international organization called Economic Cooperation Organization Educational Institute, which aims to increase economic cooperation via education in the region. It's been an amazing and challenging journey to emphasize the importance of education."
'19
Antonio Carrejo JD is policy counsel for Consumer Reports, where he advocates for a fair and transparent financial system.
Courtnay Caufield DNP is chief nurse executive for Kaiser Permanente, and she has published an article in Nurse Leader about the importance of partnerships with patients and their families for improving care.
Alexandra Reeves JD published an article on California Proposition 19 in the California Continuing Education of the Bar.
2020's
'20
Peter Romero MSN is an ICU registered nurse for the Cleveland Clinic. "As a new graduate from USF, I am starting to see my education will open many doors and will allow me to make a difference out there in the world. And this is just the beginning of my new and exciting nursing career. With my MSN from USF, the sky's the limit."