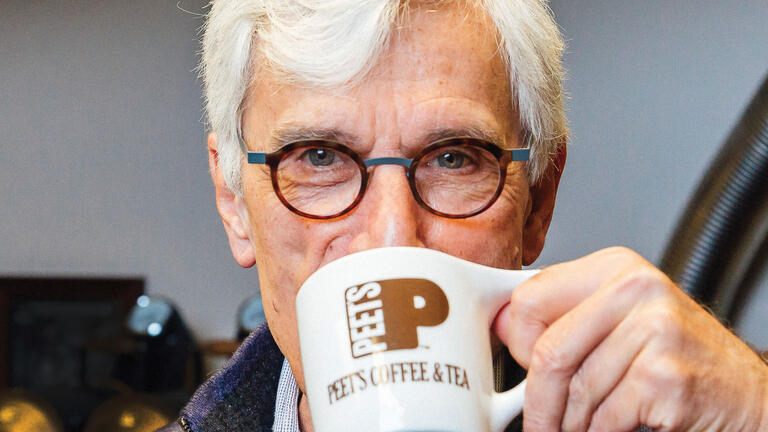 Coffee Kings
For the first time, we learn the story of two former USF students who became coffee pioneers
The story of big coffee — Starbucks and Peet's — and its connection to USF is the story of a 60-year friendship that began with two sophomores standing in line for their dorm assignments at the front desk of what is now Toler Hall.
Image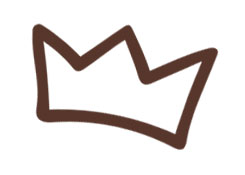 Turns out neither Jerry Baldwin nor Gordon Bowker had signed up for housing, and the residence hall was full. They turned to each other, and Baldwin said, "Want to go find an apartment?" A lifelong friendship was born. Today, they still laugh about the apartment on Hayes Street where they lived, and where Baldwin learned to cook meatloaf.
In those days in the early 1960s, neither imagined they would one day strike gold with the creation of Starbucks. It would be a decade later, when they were both living in Seattle, that they would scrape together $10,000 and open the first Starbucks store at 2000 Western Avenue, just north of Pike Place Market, with their partner Zev Siegl.
"The idea of coffee came up," says Baldwin. "We all drank coffee, but it wasn't good coffee back then. We liked the idea of roasting coffee, so we decided to pursue it. We trusted each other."
Hopes & Dreams
But in fall of 1961, they were 19-year-olds at USF. Baldwin, an English major, took classes in philosophy, English, and speech. Ethics came later, he said, and provided an important foundation at USF. Bowker was a political science major.
"The valuable part of that time was our maturation," says Baldwin. "Learning how to think. Logic was required, and philosophy was required, too. We were also meeting different people with different ideas. It was broadening."
Image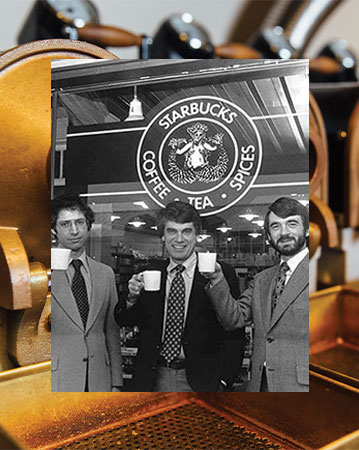 Bowker agrees. "We had hopes and dreams, and we used to hang out when we could afford it at a restaurant in the Financial District called Henry's Fashion. We used to go there and talk about the things that interested us."
In those days, "USF billed the city of San Francisco as its second campus," Bowker says. "It certainly was for me."
Bowker became the editor of the San Francisco Foghorn student newspaper after taking a year off to travel in Rome. In 1965, he sent two fellow students, a reporter and a photographer, to the second march on Selma, where Martin Luther King Jr. led thousands in a procession to the Edmund Pettus Bridge.
"Our years at USF were spent mostly around the written word, with Gordon at the Foghorn, and I was copy editor at the Gaviota, the Ignatian literary magazine," Baldwin says.
They were restless, too. They took time off to travel and to work, and Baldwin, who lost his student deferment because he was working more hours at IBM than going to school, was drafted. Although he wasn't sent to Vietnam, he spent the next two years teaching English at Fort Ord near Salinas.
By the time he got out of the Army in 1967, Baldwin was looking for work and didn't return to college. Bowker left USF eight units shy of graduation. He, too, was looking for work.
Accidental Entrepreneurs
Baldwin and Bowker found themselves together again, this time in Seattle, Bowker's hometown. After he got out of the Army, Baldwin got a job at Boeing. Bowker worked as a writer and editor at Seattle magazine. They were friends with Siegl, who was teaching school in the Seattle area. All three were looking for something else, however.
"We became accidental entrepreneurs," Baldwin says. He and Bowker began exploring business ideas. They wrote screenplays, started a film company, and created an eight-part film series on music titled "Black, White, and Blue."
The word 'entrepreneur' wasn't in common use at that time," says Baldwin, "but that's what we were."
Bowker, who loved the espressos and cappuccinos he drank in Rome and who traveled to British Columbia from Seattle to buy the dark-roasted coffee beans he coveted, inspired his friends to consider the coffee business.
They sent Siegl off to research coffee roasters, and on a road trip to the Bay Area he found Alfred Peet, who had a coffee roastery and shop on Vine Street, in an area that became known by 1971 as the "gourmet ghetto" in north Berkeley. There, a restaurant called Chez Panisse had opened and was creating California cuisine, and the Peet's coffee bar was packed with customers.
Image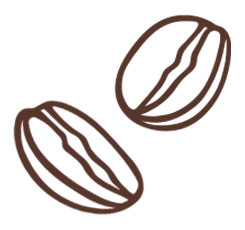 It felt like the three partners might be onto something. "When Zev met Alfred Peet, he called me and said, 'I found the guy,' " says Bowker.
Peet, a Dutch former prisoner of war, had come from a family of coffee roasters in Europe. He agreed to teach Baldwin, Bowker, and Siegl about the coffee trade — and to sell his beans to them to start Starbucks.
In 1971, the three partners opened the first Starbucks, which sold only fresh-roasted coffee beans, although they gave away small free samples of coffee as a way to entice customers to buy the beans. A second location soon followed, and the company started to grow.
The name "Starbuck" was the name of the first mate of the Pequod, the whaling ship in Moby Dick. It was a nod to Baldwin and Bowker's film company, which they called Pequod.
For a short time, Peet supplied beans to Starbucks. "Then, Alfred told us we were getting too big, and helped us find a new roaster," says Bowker.
Buying Peet's
Thirteen years after starting Starbucks, when the company was going strong, Baldwin and Bowker bought Peet's for $3.8 million in 1984. Their mentor, Alfred Peet, came out of retirement to work with them, and the company grew. Baldwin was president of Peet's from 1984 to 1994, and Bowker served on the board of Peet's for more than a decade.
Image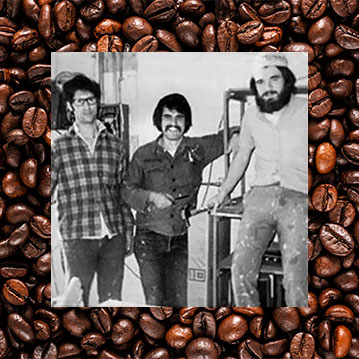 They both credit Peet, who passed away in 2007, as being the godfather of strong coffee, brewed from dark-roasted Arabica beans. "None of this would have happened if he hadn't established his first store on Vine Street in Berkeley," Bowker says. "He has been described as the big bang of coffee, and that's not an overstatement. He changed everything, and the rest of us just followed along."
Siegl had already left Starbucks in 1980, and Baldwin and Bowker had bought his shares in the company. They decided to sell Starbucks for $3.8 million in 1987 to a group of investors led by Howard Schultz, who wanted to grow the cafe culture of the company. "It was not the company we know today," says Bowker of their early days at Starbucks. "It's grown into a much larger enterprise, a worldwide brand and company."
After Baldwin and Bowker sold Starbucks, the company changed its branding to include a mermaid logo with a green background — it had previously been a brown background. Contrary to popular belief on the Hilltop, the green was chosen by the new owners and is not an homage to USF green, Baldwin says.
But Baldwin and Bowker say they are happy to tell the story of their beginnings at USF. It's a story they haven't shared in detail before.
"I'm fascinated this story is coming to life after so long," says Bowker.
Lifelong Friends
Image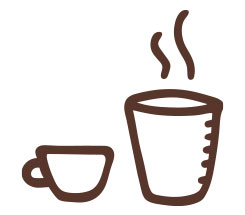 Peet's Coffee and Tea Company went public in 2001 but then was purchased privately in 2012 by Joh. A Benckiser, a German investment group, for $977.6 million. Starbucks went on to become a multinational company under the leadership of Schultz and current president and CEO, Kevin Johnson, who spoke at USF in October 2019. Starbucks is the largest coffeehouse company in the world with more than 30,000 stores.
Baldwin and Bowker still have their entrepreneurial streaks. Baldwin went on to make zinfandel and petite syrah for some years in Sonoma, and he still grows grapes. Bowker founded Red Hook Brewery in Seattle.
They remain coffee loyalists, however. Both make it in a French press, eschewing paper filters and drinking it without sugar or milk. Baldwin, a member of the Peet's board of directors, still enjoys roasting beans and "cupping" coffee — or leading coffee tastings — at Peet's headquarters in Emeryville.
Baldwin has taken on Alfred Peet's legacy of mentorship, and he works with roasters and coffee bean enthusiasts worldwide. "I learn from them, too," he says.
Mainly, Baldwin and Bowker talk about how grateful they are for their friendship. They still talk by phone weekly, plus texts and emails, and they regularly get together in San Francisco for dinner, sometimes with another old roommate, Scott McElwain, now retired, who went on to have a long career teaching government at USF.
"The friendship is the most important thing," says Bowker. "The fact that we've been able to work together for such a long, long time is important, but my lifelong friendship with Jerry is one of the most important things in my life. Meeting Jerry that day was probably the luckiest day of my life,"
The friendship is the most important thing," says Bowker. "The fact that we've been able to work together for such a long, long time is important, but my lifelong friendship with Jerry is one of the most important things in my life. Meeting Jerry that day was probably the luckiest day of my life."