Lead Photo: Mi'Jan Celie Tho-Biaz MA '03, EDD '13 has a fellowship sponsored by the John F. Kennedy Center for the Performing Arts in Washington, D.C. She is an oral historian and documentarian.
1950's
'50
Robert J. Spellmire is 93 and "I am still driving, I live alone in a big house, don't need a walker, go to church, and give to USF what I can, when I can."
'52
Bill Henneberry MA '61 was recognized as a former football coach at Sacred Heart Cathedral Preparatory high school in San Francisco, where the new practice field at the school is named for him.
'55
Clem Korte retired in the Dallas area.
'57
Edward John Phelan practiced law until retirement, after graduating from USF and Loyola Law School. He serves as a pastoral volunteer at a county jail in New Hampshire and also visits patients at a nearby hospital.
'59
Tony V. Basques MA '70 says he always enjoys USF Magazine. He is retired from teaching at Mills High School, College of San Mateo, and Cañada College.
1960's
'62
Kathleen Anne Farrell is trying to make the most of life by playing golf, volunteering, enjoying her grandchildren, and traveling, after the passing of her husband, Walt, a year ago. She and Diane Ginotti Martin cruised the Mississippi in February and traveled to the Holy Land with the Knights of the Holy Sepulchre in September. "I can't believe it's been almost 60 years since we were studying on the Hilltop."
Hal Urban MA '66, EdD '78 published a book, Grandpa's School of Life: 7 Great Lessons on Being a Good Person, with lessons on kindness, grit, integrity, wellness, and finances.
'65
Peter W. Comerford and his wife, Mary Ellen, moved from California to Nevada and are volunteering at their new parish, St. Ann's in Dayton. Pete is a Knights of Columbus district deputy, and they both are lectors and eucharistic ministers.
'66
Brian Mannix is a retired Johnson & Johnson executive. He lives in Angels Camp, California, and is on the board of the Mark Twain Medical Center.
James Francis Novak returned to the Bay Area with his wife, Marilynn, after 53 years in Oregon, where he practiced medicine for 44 years. They moved to Cloverdale, California, in the heart of the Alexander Valley wine country. He moved to enjoy the sunshine and never shovel snow again. They also wanted to be closer to their children, who both attended USF for graduate studies.
Image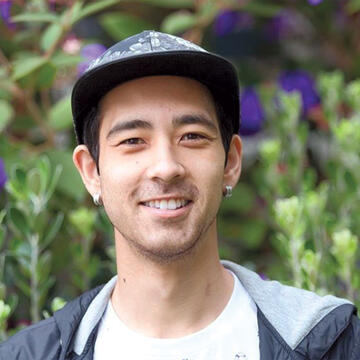 @usfcaupa: Alum Nick Large presented information from his 2018 capstone at the Stonewall 50: Defining LGBTQ Site Preservation event at Columbia in NYC! #USFCAalumni
NICK LARGE '14, MPA '18 #USFCAALUMNI
Don Partierworked for 45 years in Napa Valley wine brand development and is featured in a new book, Tasting the Good Life, co-authored by USF anthropology professors Sharon Gmelch and George Gmlech on the history of tourism in the Napa Valley.
'67
Michael Patrick Collins MS '71 is chief of general thoracic surgery at Intermountain Medical Center in Salt Lake City. He also has a clinical professorship at the University of Utah School of Medicine and participates in the cardiothoracic surgery residency training program. After almost 40 years of practice, he is getting ready to retire. He and his wife, Shirley Ann, live in a suburb of Salt Lake.
Peter Franklin retired from TransAmerica Pyramid as director of counterterrorism and is the managing director for risk assessment and physical security at Tal Global, an Israeli-owned international consultancy. He devotes his personal time to managing charity cycling events in support of breast cancer, diabetes, and Lou Gehrig's disease research.
Joan Lee Moghadam majored in Spanish with minors in French and philosophy while at USF. She went on to learn the IBM systems Cobol and System 360 and started her career at Southern Pacific, where she helped design and install an accounts receivables system. She later worked at the Federal Reserve.
Andrew William Moyce retired from an ear, nose, and throat practice in Oakland and completed a five-year term as foundation board chair of the Hospital de la Familia, which supports a hospital in rural Guatemala. This caps his 25-year history of volunteer surgical missions to hospitals in Mexico, Latin America, and the Philippines.
'68
Bowman Olds MA '74 has completed a three-year tour with the Washington, D.C., health department working in the Homeland Security Emergency Management Agency's Joint All-Hazards Operations Center.
'69
Mario Louis Beltramo Jr. and Linda (La Torre) Beltramo '69 celebrated their 50th wedding anniversary on June 22.
Steven Bennett holds a PhD in entomology from UC Davis and is a retired colonel with the Army Medical Service Corps. He worked as a pest management consultant from 1996 to 2004. He is married to Shirley Ann Rieko Bennett and they have three children, Nathan, Julie, and Michelle, and four grandchildren.
Ernesto Reyes Jayme writes of his fond memories of USF with Mike Griesmeyer '71. They both graduated with degrees in physics.
1970's
'70
Barbara Jeanne Menard married James Ogilvie in July 2018 and they celebrated their first wedding anniversary in San Francisco. They also visited USF President Paul J. Fitzgerald, S.J., at the university.
'71
Maureen Murphy Jenkins welcomed a new grandson. This makes five grandchildren for the Jenkins family.
'73
John Joseph Donohue has missed only one Lowell High School (San Francisco) varsity baseball game in 37 years. He taught 25 years there and was varsity coach for 33 years, with 735 wins and 14 city/section titles. He was honored by the San Francisco Prep Hall of Fame, the California Coaches Hall of Fame, and was named the American Baseball Coaches Association Coach of the Year.
Lynn J. Murray is back home in the Bay Area after living and working in Taiwan for about 20 years as executive director of the American Chamber of Commerce in Taipei and vice president of Jardine Fleming/JPMorgan Bank.
Dwight Wilburn Phillips retired from law practice after 42 years primarily with the firm Phifer, Phillips & White, P.C. He visits the Bay Area to visit his daughter, who lives in Redwood City.
Denise Anne Salisbury retired in 2005 and has trips planned to South America. She traveled from San Diego to Hong Kong with USF buddies Robin Wilner-Mullin and Pat Mullin '72 and also visited India and Australia with her children, Samantha and Kevin. She had a fabulous trip to Yosemite with her first-year Hayes-Healy roommate, Sherrie Cotter '74.
'74
Chris Dailey Grazzini recently retired to Arizona after a 43-year career, with 20 years spent as the COO/CNO of Contra Costa Regional Medical Center in Martinez, California, and the last 10 years managing mobile health programs for John Muir Health. Chris has been married for 29 years to Steve and has two sons, Dan (27) and Matt (25). She says she feels blessed to have received a wonderful education.
Claire McCaffery Griffin was nominated by President Donald J. Trump for a position on the National Humanities Council and has been approved by the U.S. Senate.
'75
Diana Louise Gard retired from 44 years of nursing, including 30 years in critical care. She's enjoying her time with grandkids and took a trip to Montana and Wyoming national parks with some of them this summer. Her husband, Mike Gard, works as a real estate appraiser, besides playing various sports with the grandkids.
'76
Akhil Bakshi's latest book, Arctic to Antarctic, is an account of the author's Pangea One World Expedition, a 32,000-kilometer, four-month tour of the Americas. Starting at Prudhoe Bay, on the Arctic Ocean at the northern end of Alaska, he traveled over land and sea to Cape Horn, the southernmost tip of the Americas.
Karen Brattesani is honored to serve as president of the U.S. Women's Curling Association, after many years of being involved in the sport. The group encourages women and youth in curling. She retired from research consulting work and lives with her husband, Doug Potter, in Seattle.
'77
David A. Price spent 30 years in the U.S. Army and had a second career as a police sergeant in Anderson, California.
'78
Robert Richard Ackerman Jr. co-founded DataTribe, an investment service based in Columbia, Maryland, to partner with technology experts from the U.S. intelligence community to start disruptive cybersecurity companies.
Albert Peche and his wife, Sandy, moved to River Islands in Lathrop, California, after 18 years in Alameda, California, and a combined 35 years in the Bay Area. He started working at Merrill Lynch in San Francisco in August 1978, just three months after graduating from USF, and spent his career in the securities industry.
'79
Tom Harrington leads the global commute programs for more than 9,500 employees at Intuit, having been recently promoted from senior program manager to staff program manager. As an active member of the Association for Commuter Transportation, Intuit won the Employer Excellence in Transportation Demand Management award in 2018.
1980's
'80
Robert George Patten is a proud, longtime member of the American Civil Liberties Union. "Social justice remains paramount in my life."
'81
Louis R. Barella is proud to announce that his son Nicholas Barella '18 graduated from USF with a bachelor's degree in architecture and community design and a minor in architectural engineering.
Anita (Nitzi) Gildea-Phillips and Samuel Phillips '82, JD '85 celebrated the weddings of both of their sons, who both attended USF. Patrick Phillips '07 married Corey DeShazo in August 2018 at the Palace of Fine Arts. Sean Phillips '15 married Tess Mueting '07 in Morro Bay, California, in October 2018.
Image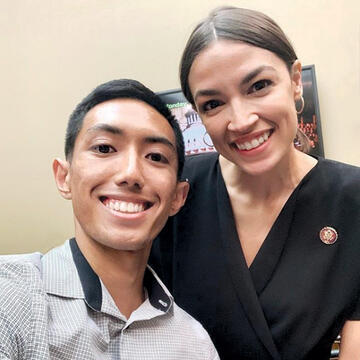 @kyrie_sismaet: Everyone kept telling me to say hi to @ocasio2018 for them — so I did. #USFCAalumni
KYRIE SISMAET '22 #USFCAALUMNI
Richard Hedderman is a poet, author, and museum educator in Milwaukee. His new book of poems, Choosing a Stone, will be published next spring by Finishing Line Press.
'82
Michael Maurice Mendoza retired after a 33-year career in the safety and loss control profession with his business, MM Safety Consulting Services. He assisted Bay Area businesses in meeting business and safety challenges. Now he manages the family-owned MiLo Real Estate Investments Inc., launched in October 2006.
Russell A. Snow has retired as chief of police of Fowler, California, and moved to Aumsville, Oregon. He serves on the Aumsville Planning Commission and Emergency/Disaster Planning Committee.
'83
John J. Benane retired from the Los Angeles City Attorney's Office after 28 years and is working as an investigator for the California Department of Forestry and Fire Protection.
Herman Gustave Petzold III has resumed the practice of law after retiring in 2009. He'd love to hear from classmates.
Norman Piatti earned a PhD from Middlesex University London in 2017. His research title is "The Tibetan Diaspora and the Politics of Belonging in the Twin Cities [Minneapolis-St. Paul, Minnesota, USA]." He is a professor in the department of human services at Concordia University in St. Paul, Minnesota.
'85
Bruce Edward McDonald works as a broker in Maui, marketing condos in Korea's tallest building, the Lotte World Tower, to buyers in Hawaii.
'86
Anne Alvarez joined Compass real estate brokerage in San Francisco in July 2019.
Carlos Alvarez was recognized by his San Francisco peers as a Super Lawyer 2019 in business litigation.
Elaine Dixon lives in North Lake Tahoe, California, working as a graphic designer and has been raising her family for the past 26 years. Her son Garrett is a junior at Oregon State University majoring in mechanical engineering. Daughter Holly is a freshman at Oregon State University and is a food science major. Elaine was the ad designer for Tahoe Quarterly for over a decade and for the past year has been the ad designer for Big Sky Journal.
Tom Doszkocs MBA '90 and Marissa Doszkocs '90 are celebrating their 30th wedding anniversary after meeting at the former Campion Hall in 1988.
Lauzanne Oshiro is working for the State of Hawaii Judiciary Honolulu District Court Traffic Violations Bureau as a court clerk.
'87
Carolyn Schneider Cannard completed an MSN in nursing education and is working in her dream job as the critical care clinical educator at a busy regional hospital in Washington.
'88
Steve Michael Abreu, founder and CEO of Newfi, celebrated five years in business. Newfi is a single family residential mortgage national lender based in the Bay Area.
Suzi Byrd sells residential real estate in the Palm Springs area and loves living in the desert.
Julie McNiel is a professional artist working for California's prison system. After a career teaching college art and working as an independent artist, she was contracted in 2014 to work in California's only maximum security prison, Pelican Bay, to teach the visual arts through the William James Association's Prison Arts Project.
Anthony Frederick Plaza is celebrating 30 years in the almond shelling business in Modesto, California, working as general manager for 10 years with Westside Hulling and for the past 20 years as general manager for Salida Hulling Association. With his wife, Vicky, he has four children, Becky, Jennifer, Brian, and Elizabeth, and six grandchildren.
'89
Elaine T. Chyrklund moved her youngest son, Tim, into Hayes-Healy ("The same dorm I lived in!") in August. "The USF tradition continues!"
Mark Vincent Urban is president and CEO of Monte Carlo Fan Company, based in New Jersey. "USF taught me persistence. USF taught me to stay focused while being charitable."
Maria Socorro Escario Yu is in Cebu, Philippines, managing the Sta. Barbara Suites Hotel and developing a farm project to plant dwarf coconut trees to make sugar. Her goal is to develop projects for the community that produce products from natural resources and also provide jobs.
1990's
'90
Cora Amelia Marshall retired in 2016 after 42 years in business as a vice president of contract administration in the Bay Area. "I'm currently involved in self care, which is the best form of retirement."
'91
Cristina McKinnon retired as a special agent after more than 27 years of service in the federal government. She is now the owner of AR Workshop in Torrance, California, a franchise business specializing in do-it-yourself wood sign workshops and events. She is married to Milton McKinnon, a captain with the Hermosa Beach Police Department and has an 11-year-old daughter, Mel.
'92
Petter Andrup helped move his daughter from Norway to USF to start college in August. She is "following in the footsteps of a long line of Andrups — her father, her aunt, and her older sister. Go, Dons!"
Mikee Gildea recently embarked on a new career, changing from civil litigation to criminal prosecution as a deputy district attorney in Contra Costa County, where she finds her USF psychology degree useful. She has two kids in college, with Maggie studying engineering at Case Western Reserve University and Jackie majoring in political science at Cal Poly, San Luis Obispo. "No empty nest, though," she reports, with son Finn at home.
Image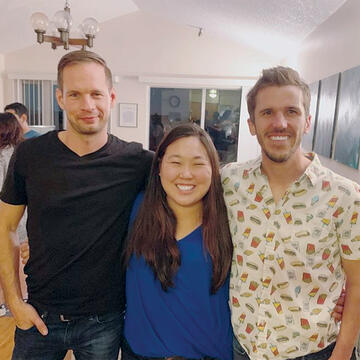 @gharriett: Just a few #usfcaalumni & #SHaREalum reunited as roommates. We're the old kids on the inner Richmond block. #USFCAalumni
GRACE HARRIETT MA '12 #USFCAALUMNI
'93
Knut S. Kvindesland has settled in his native Norway, having worked in the U.S., Bahamas, Canada, and Switzerland. The bulk of his career has been with Norway-based Equinor, an oil and gas exploration company. He is married with three kids, and his son is studying in the U.S.
Rebekah Davis Reed continues to serve as the chief of the Space and Occupational Medicine Branch at the NASA Johnson Space Center. She is also pursuing an LLM in health law at the University of Houston Law Center. She recently published an article on health care price transparency in the Journal of Health Care Finance.
'94
Christine Murphy Avila came to USF after her father, Richard Murphy, met Henry Sanbach '61 at a Memorial Day picnic in a park in Morristown, New Jersey, and Sanbach recommended the family look at USF as part of their college tour. But that's not the end of the story. Murphy siblings Suzanne Murphy Malich '96 and Brian R. Murphy '01 also attended USF.
Arcee Medalla Lacson MS '01 is completing a PhD in educational management at De La Salle Universities Dasmariñas in Cavite, Philippines. She moved to the Philippines in August 2012 and is married to Ramon Romero. They have three sons, including twins, and three grandchildren.
'95
Diana Lynn Kaysen has developed and facilitates the Refreshed Hope women's mental health education, encouragement, and support group for New Life Christian Center in Turlock, California. Diana is also a volunteer character coach for Turlock Chaplaincy Inc. and Turlock Unified School District.
'98
Maryellen Patricia Mullin MA '04 married Albert Fong at St. Ignatius Church on Dec. 30, 2018. Albert Grosskopf, S.J., and the Rev. William F. Cyr presided.
Donna-Marie Palakiko PhD, APRN, RN is transitioning from working with native Hawaiian communities for the past 17 years into her role as assistant professor at the University of Hawaii at Manoa's School of Nursing and Dental Hygiene.
Lucie M. Pelleriti has been teaching high school English for 19 years. "Teaching has definitely been an adventure. I've also spent time teaching in Ghana and South Africa. It's been such a satisfying experience to be able to be a small part of my students' lives."
'99
Kourtney Ferrua was recently named Oregon Elementary Principal of the Year. As a National Distinguished Principal, she attended an awards ceremony in Washington, D.C.
2000's
'00
Dierdre McCormick has retired and lives in North Carolina.
'01
Merve Lapus has been promoted to vice president for the nonprofit organization Common Sense. He will lead the education outreach team and establish national and community organizations that target services to economically disadvantaged and linguistically, racially, and ethnically diverse communities.
'02
Paul Applegate started a social enterprise that promotes oral hygiene globally. He and Nuala Halligan Applegate '06 were married in October 2015 at St. Ignatius Church and hope to baptize their new baby there.
'03
Mi'Jan Celie Tho-Biaz MA, EdD '13 was chosen for a yearlong fellowship sponsored by the John F. Kennedy Center for the Performing Arts in Washington, D.C. Founder of the New Mexico Women of Color Nonprofit Leadership Initiative, she is an oral historian and documentarian.
James Sorensen Foster has been promoted to country director for International Justice Mission (IJM). IJM is a faith-based NGO dedicated to protecting the poor from violence. He leads a team of Ugandan investigators, lawyers, and social workers to combat violence against women and children in Uganda.
'04
Anne "Anika" Jackson has recently joined Evvemi, a platform that matches consumers with hair professionals, as vice president of marketing.
David Rocha was appointed by Gov. Gavin Newsom to the California Board of Fire Services. He has been the Alameda County fire chief since January 2014.
'06
Jesse Feldberg saw the world premiere of his first play at the Hollywood Fringe Festival in July. Silver Bullet is a film noir-inspired drama in which a businesswoman seeks to control the investigation of the death of her best friend's husband.
'07
Taruna Chhabra married Shubham Garg on April 28, 2018. "Celebrating one year of marriage!" And celebrating eight years as part of the loyalty team at Albertsons Companies.
Caitlin Flemming co-authored the book Travel Home, which showcases the interplay between travel and design, revealing how we can take inspiration from the beauty we experience in the world and bring it into our everyday lives.
Whitney Joanna Kellaher moved from the Smithsonian's Freer and Sackler galleries to the Smithsonian National Museum of Natural History in April. She works in the advancement office in donor relations.
Matthew Kennedy started a six-year MD-integrated oral and maxillofacial surgery residency at Louisiana State University Health Science Center in Shreveport, Louisiana. This comes after graduating from dental school at Creighton University in 2012 and practicing restorative dentistry for the past seven years. "The Kennedy family is beginning a new adventure. I wouldn't be embarking on this incredible experience without the one I received at USF."
Jonnie Knoble earned a master's degree in secondary education and an administrative license to become a principal in Utah. He and his wife have a boy (Luke) and two girls (Kenzie and Jade). "I'm honored to be part of the USF family and appreciate all the lessons I learned as a Don to help me become a better husband, father, and teacher."
Jeannine Marie Laubner MAT '09 became an entrepreneur in 2016 when she left her job with the Abu Dhabi Ministry of Education to join the Finnish preschool franchise Kipina Kids, which has expanded into 13 countries.
Krist Mejia is an interactive designer for the San Francisco Health Plan's in-house ad agency and married her partner of eight years. "I proudly continue to live by USF's mission, helping low-income San Francisco residents get the health care they need."
Adam Nicholas Paul has taught English for five years in Ethiopia, China, and Russia. He also self-published three books, including an account of his bicycle trip from California to Washington, D.C., following graduation from USF called Ridin' N' Coastin' Coast to Coast.
'08
Julianne Henderson MFA '18 returned to USF as a fellow in 2019 to teach creative writing to undergraduates, and she also taught USF 101 to first-year undergrads. Most recently, she and her partner, Megan Pohlman, were engaged — 10 years after they first met at USF.
'09
Christina Marie Brogden JD '13 says the class of 2009 celebrated its 10-year reunion since graduating from USF. "A group of fellow Dons made a college reunion trip out of it and had a blast touring USF, seeing all of the improvements at USF, visiting our old dorms and classrooms, and visiting our old stomping grounds! USF brought us together and created lifetime friendships that we are forever grateful for."
2010's
'10
Nes Martin Morales graduated from dental school in 2018 and has been practicing in Daly City.
'11
Kelsey Cullen founded KCPR in 2017. The female-led public relations and strategy firm focuses on venture capital and startup companies based in San Francisco and Silicon Valley.
Aldo Martinez moved from the Bay Area to Southern California to work for Ultimate Software in 2014, after working for the City of San Jose since 2012. He began as an account manager and was promoted to people success manager in April 2018.
'13
Dani Dorroh graduated in June 2018 with an MS in communication disorders and sciences from the University of Oregon. In July, she completed a clinical fellowship at Salem Hospital in Salem, Oregon, and is now a certified licensed speech-language pathologist. "I will always be grateful for the character, experiences, and knowledge that I gained at USF."
Daniel Gomez MPA '15 completed a doctorate of education in organizational change and leadership at University of Southern California Rossier School of Education. His dissertation is titled "Transparency and Accountability in Local Government: An Evaluation Study."
Yuliana Ramirez is the mother of a beautiful, smart, and energetic 4-year-old named Arianna. After graduating from USF, Yuliana pursued a career in law enforcement, and she is a correctional deputy with the Santa Clara County Sheriff's Office.
'14
Germain Bahri is leading the commercial team of a digital bank. "We are now at the epicenter of revolutionizing the world of finance/banking, and I think it is worth sharing with all USF graduates who consider a career in finance, that tech and innovation (and fun) can also be found in financial services."
Ariel Ling has had a big 2019. In a two-month period, she was promoted at the Hershey Company, was engaged to her long-term boyfriend, and relocated to Texas for work.
Gerardo Vera is now a white belt with yellow stripe in taekwondo and will soon earn his yellow belt.
Matt F. Wujek married Alex Masterson in June in Ukiah, California. While so many friends and loved ones outside of USF are to be thanked for their union, USF's XARTS was where it all started. They are forever grateful for the community they joined on late woodshop nights, which brought them together.
'15
Danielle Rae Blech is "changing the world as a healer" having earned a master of science in oriental medicine this fall.
Daniel O. Buraimo got a new job working for Cisco AppD. "So excited!"
Aicea Yalcin started a position on the customer advocacy and retention team at Affirm Inc. in San Francisco.
'16
Chloe Reid Campbell moved to England in 2018 to begin a master's program at the University of Manchester and establish a new life. "Now, in 2019, the day after I turned 25, I am preparing to begin the process of naturalization in England with a bright future in museums or English heritage sites."
Caitlin Franscell has joined CMW Media in San Diego as an account executive. She is part of the public relations department working with CBD and health and wellness brands.
Jaafar Lakkis finished a master's degree in Paris and works at a startup in France called Brigad. It's a platform that connects auto entrepreneurs with restaurants and hotels. "It is a dream come true to me."
Margarita Munoz-Tep is exploring her creativity through modern piñata making and creating Latinx-inspired jewelry. She was married in April at Star of the Sea Church near USF.
Todd Godwin Perumal started working at Dictionary.com as a senior web analyst.
Benjamin Caleb Wong self-published a short story on Amazon Kindle about working as a contractor in Afghanistan.
'17
John Alexander LaGue co-founded a company called Community Phone that offers simple cell phone plans.
Adriana Levandowski graduated from the BPP University London with a British law degree and is now pursuing a law degree at the University of Denver Sturm College of Law.
Louisa Viana has been working at fintech startup Brex since January. She began her career after graduating in December 2017. She thanks USF for making her resume stand out.
Image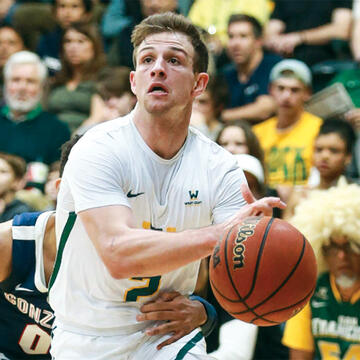 @USFDonsMBB: USF basketball star Frankie Ferrari is headed to Spain to play for club Basquet Manresa. Go, Dons!
FRANKIE FERRARI '19 #USFCAALUMNI
'18
Rashad Abdallah has spent the past year as a judicial administration fellow in the Capital Fellows Program at the Los Angeles Superior Court. In the fall, he began studies at the University of Michigan Law School.
Sarah Benewith is pursuing a master's degree in international migration and public policy at the London School of Economics and Political Science.
Andy Chan moved to Southern California to pursue a master's in social work at California State University, Long Beach, and will be an intern case manager for a transitional family home.
Romeo Alexander Guerrero graduated from USF's School of Management in 2018 and landed a sales job at Tesla. After a year, he realized sales wasn't for him. To make a transition to an analytics career, he took Professor Nicholas Ross' SQL Certification Course and got a new role with the Sustainability Accounting Standards Board as a business analyst.
Alexandra Kennedy is studying community health and prevention research at the Stanford University School of Medicine.
Allyn Margret Tabunda celebrated six months as a registered nurse at Ann & Robert H. Lurie Children's Hospital of Chicago. In her spare time, she indulges in hot yoga, beach volleyball, and boxing. She plans on pursuing a DNP in the near future.
Glenhall Elmer Taylor IV was accepted to Burrell College of Osteopathic Medicine at New Mexico State University for the class of 2023.
'19
Bereket Negassi published a book, Rectitude, which uses African proverbs to talk about social therapy.
Justin Nkemere is glad to be back at USF as an admission counselor. In this role, he travels to different parts of the country to organize events for future Dons.
1960's
'65
James Andrew Aiello JD returned to the U.S. after more than 20 years in South Africa assisting the post-apartheid government in accessing private funding for public infrastructure. He continues to provide guidance on public-private partnerships. He lives in McLean, Virginia.
1970's
'71
Joseph N. Shahpar MBA is on his homeowner association board in Alameda, California. He wrote a book with friends in his creative writing class and published it on Amazon. He is writing another book that will include his USF experiences.
'75
William H. Baltzell MA retired in 2012 after 36 years as an Air Force recreation administrator and remains active with travel, sports, family, and playing drums in an oldies band.
'76
Robert Giffin JD retired from the practice of law after more than a quarter century serving clients in California and Hawaii.
Charles Lewis JD was named by Best Lawyers as a "Lawyer of the Year" for 2020 in Chicago for construction law. He is a member of Duane Morris' national construction practice group and the head of the Chicago office construction practice group.
Peter J. Logan JD is enjoying his semi-retirement. "Nice to have a small caseload and time for music, fun, culture, and people. Saw classmates Lynda Martyn JD and Art Siegel JD recently."
'78
Kathleen Lagorio Janssen MA served more than 20 years as a regent at the University of the Pacific. For the last six years, she was chair of the board.
Stan Tosello JD retired from Citibank Group after 29 years of service, working in many countries, including Panama, Argentina, Bahamas, Brazil, Mexico, UK, Malaysia, Thailand, Germany, Chile, and the United States.
'79
Ira Book MA was hired at the Queen of the Valley Medical Center in Napa as a spiritual care chaplain.
1980's
'82
Renée Welze Livingston JD, the founding member of Livingston Law Firm in Walnut Creek, California was unanimously approved for fellowship in the International Society of Barristers.
'84
Brother Robert Scott Clark MA is part of a new community of the Marist Brothers in Austin, Texas. Known as a "Community of Welcome," the seven members welcome young adults to share in prayer, community, and service. Robert is a campus minister at the University of Texas at Austin.
'85
Mary Esther Russo MA is an author and psychologist who helps individuals enrich their sense of self through personal development. Mary lives in California with her husband and has two grown children.
'87
Paul Bonapart JD married Lisa Levin in a summer garden wedding celebration with close family and friends. For the last 30 years, Paul has been working as a financial adviser. Paul is president of Financial Security Planning Services Inc.
The Rev. Michael Skluzacek MA has been appointed by Archbishop Bernard Hebda to the faculty of the Saint Paul Seminary in St. Paul, Minnesota, as director of pastoral formation.
'88
Cynthia Joanne Brawley MA retired after almost 30 years as an elementary educator in California's Central Valley. "Thank you USF for the excellent training and education. You prepared me for the opportunity of finding an outstanding position at not only one, but two honored schools, located in an area that grows crops that sustain people all over the world."
Jan Melsen MBA is a consultant, corporate trainer, and business school lecturer in Brussels, Belgium, after representing Butterfield & Butterfield Fine Art Auctioneers in Europe for over 10 years. Each year, he participates in the USF MBA Alumni Circle meeting in Europe.
Deborah Bradford Stanley MA, published a book with ABC-CLIO/Libraries Unlimited, Practical Steps to Digital Research, Strategies, and Skills for School Libraries.
'89
Cheri L'Orange Etheredge EdD, a nursing professor and nursing department chair, was named teacher of the year by the Contra Costa Community College District. She was selected by a faculty vote and was honored at a dinner in September.
Janice Beth Kaplan-Klein MPA moved with her husband in 2018 to Mirabella Seattle, a retirement community. "We travel extensively. I maintain my RN license in order to volunteer with the Seattle-King County Public Health Reserve Corps."
1990's
'90
Arnulfo Cedillo EdD has served as interim vice president for student services at Santa Ana College and interim academic dean at Urshan Graduate School of Theology in St. Louis since retiring in June 2017.
Michael R. Fraley MA was a featured poet in the May issue of Better Than Starbucks, a poetry journal. His poem, "Encounter with a Tapir," was the editor's choice of the formal poetry group.
'92
Natalie Tweddale Daprile JD celebrated 20 years since the founding of the Daprile-Bell Family Law Offices in Santa Clara County.
'94
Karen Benke MA was recently awarded a writing residency at Numeroventi Design Center in Florence, Italy. She leads writing adventures at The Writers Nest in the Bay Area and internationally.
Bridget Porter MA spent a weekend with the Jesuits at Bellarmine College Preparatory in San Jose, where her oldest son, Nicholas Metz, is a freshman. "I am so excited for his Jesuit journey and grateful that the Jesuits will instill in him a love of God, a faith that does justice, and the importance of serving the greater good. Go Bells!"
'96
Catherine Greenspan MA is a licensed agent with New York Life Insurance Company. She began her financial services career in 2004. More than a decade later, she published her young adult novels, The Veronica Series, in 2017, which were based on her master's thesis.
'97
Laura Kyriazis JD joined Metallicus Inc. as senior counsel for commercial and product and also privacy, trademark, and general corporate matters. The company's flagship product is a cryptocurrency digital wallet called Metal Pay.
'99
Stephanie A. Stone MPA, chief deputy director of military and veterans affairs for the county of Los Angeles, developed the "Spark the True You" program for female veterans in the Los Angeles area in partnership with the WNBA champion LA Sparks. The first of its kind, the program connects female veterans in a yearlong program with professional athletes.
2000's
'01
Jeffrey David Cook MNA started a new job as chief communications officer at California State University, Long Beach. Before that, he led the strategic communications and brand management unit at California State University, Fullerton, since 2008. On Dec. 31, Jeff married Drew K. Ishii in Laguna Hills, California.
'02
Jonathan (Jay) DeGooyer JD joined San Francisco–based Narvar in July as its first general counsel, after nearly five years at Marin Software.
'02
Ronald Holt MPA was inducted as a distinguished fellow of the American Psychiatric Association in May.
'04
Jason Bergado MS is IT director at Box, a tech company in Redwood City, California. "Thanks, USF, for instilling and helping me further develop great values in my career!"
Kris Rodriguez MSOD received certification for the Leadership Circle Profile (LCP), a tool to help leaders understand how they inspire others and how their natural reactive tendencies might appear in times of stress.
'05
Mysti Berry MFA's short story about murder appeared in the September/October issue of Alfred Hitchcock Mystery Magazine. Her short story about reproductive rights and murder in 1930s Bisbee, Arizona, appears in the anthology LadyKillers.
'06
Ronda M. Evans MA welcomed her first child, a son named Isaac, with her husband, with whom she celebrated her 10-year anniversary one month later. "We feel so blessed and grateful."
Carmela Marie Santos MS became an environmental planner in the Philippines after passing the licensure examination in June.
'07
Ruth Stevens Krumbhaar MA has a private psychotherapy practice called WellTherapySF in San Francisco. She also enjoys designing interiors and selling real estate.
Jillian Lontayao MA and her husband, Anthony, welcomed a baby girl in September. Their oldest son will be 3 in December. Jillian is director of operations for Encore Volleyball Club in Redwood City, California.
Yumi Wilson MFA published a book called The Social Media Journalist Handbook.
'08
Ari Baruth JD became a deputy city attorney for the city and county of San Francisco, specializing in construction and public contracting.
Heather Boshears JD joined Hoge Fenton Jones & Appel as an attorney in the trusts and estates practice.
Chantal Hayes MA has a private psychotherapy practice, Banyan Tree Counseling, in Winston-Salem, North Carolina. She is married and has three children. "I thank USF for being the backbone of my professional success!"
Bruce Genaro MFA published When Stars Align, inspired by the true story of the last prince of Italy. He learned about the prince in a newspaper article during his time studying at the American International University in London.
Kristina Marusic MFA was honored by the Group Against Smog and Pollution (GASP) with the Michelle Madoff Award of Environmental Excellence, recognizing her work to improve the environment of southwestern Pennsylvania. A reporter for Environmental Health News, she covers issues related to environmental health and justice.
'09
Rachel Susanne Sears Casanta MA was elected to the 2019–20 board of directors for Triathlon Business International, an organization that advances the business and sport of triathlon.
E. Michael Chelsky MA teaches digital media at Independence High School in the Sunset District in San Francisco.
Anniqua Rana EdD's debut novel, Wild Boar in the Cane Field, is a celebration of the rural women of Pakistan.
Kevin Kelly EdD co-authored an upcoming book Going Alt-Ac: A Guide to Alternative Academic Careers, designed to help people with advanced academic degrees consider their career options.
R. Harrison Edell MSEM was promoted in 2018 to chief mission officer and executive vice president at the Dallas Zoo. He supervises education programs that reach 1.2 million guests annually, oversees field projects and strategic partnerships targeting 12 key conservation initiatives, and directs animal husbandry programs for approximately 6,000 animals.
Jenna Ruth Elliott MA married David Elliott in Napa in June.
2010's
'10
Kevin Christopher JD has been named to Conscious Company magazine's list of Top 22 Conscious Business Leaders of 2019. Kevin is the principal and founder of Rockridge Venture Law in Chattanooga, Tennessee.
Kelsey Rae Dimberg MFA published her first book, Girl in the Rearview Mirror, and the New York Post named it a best book of the week. The noir novel tells the story of a glamorous, privileged political family and their nanny.
Cheryl Wozniak EdD says the education she received at USF opened up several new career opportunities for her in Piedmont Unified School District. She first served as an elementary principal for two years, then moved on to be a director of curriculum and instruction for four years. She just completed her first year as an assistant superintendent of educational services.
'12
Stephanie Fletcher MA has a growing private practice in San Francisco where she provides therapy for adults, college students, and adolescents.
Terri Forman MSOD became executive director of First Graduate, an education nonprofit in San Francisco, in June.
Brian Keeney MA graduated from USF along with his daughter, Cierra Keeney '12, both with master's degrees in education. Cierra married Bryce Huff on Aug. 17 at St. Theresa's in Lake Tahoe.
Sheree Sekou EdD published a book, What A Difference A Change Makes! She is a motivational speaker, international facilitator, leadership coach, and owner of Sheree Sekou Consulting, a global learning and development firm.
Leuwam Tesfai JD was appointed by Gov. Gavin Newsom as chief of staff to Commissioner Genevieve Shiroma at the California Public Utilities Commission.
Image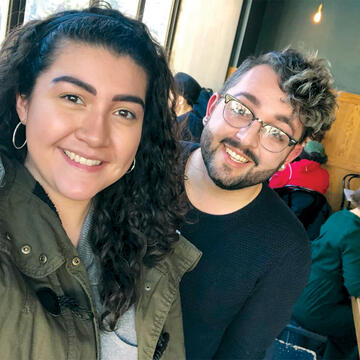 @MattMNazario: #USFCA RAs turned #ResLife #SAPro from coast to coast! It's always amazing to see colleagues who share the same roots doing big things.
MATT NAZARIO-MILLER '15 M.ED. #USFCAALUMNI
'13
Kellan Martz JD joined the boutique firm of Hobson Bernardino + Davis, specializing in affordable housing development for low-income people, seniors, and veterans.
Alen Mirza JD published his first book in July, A Practical Guide to Using International Human Rights and Criminal Law Procedures with USF law professor Connie de la Vega.
Patrick Moses Musibi MA is a child protection specialist with UNICEF Cameroon. His agency provides support services to conflict-affected children and strengthens community-based child protection.
Cheryl Ossola MFA's debut novel, The Wild Impossibility, was published in May by Regal House Publishing. A mix of contemporary and historical fiction, the book is about a woman, Kira, who believes she's living the memories of someone she's never met, whom she eventually decides is her grandmother.
'14
Candace "Candy" Campbell DNP is a professional actor and Florence Nightingale research historian and has signed with a theatrical agent for her third solo show, "An Evening With Florence Nightingale: The Reluctant Celebrity." To celebrate Nightingale's 200th birthday (May 12, 2020), she will lead a tour of Nightingale's London and Paris.
Alejandro Rodriguez EdD is president of the Salesian University in Mexico City. "My doctoral studies at USF have been key in this role, as they were the perfect match between leadership, research, humanism, and service to college students. As leader of the Salesian University, every decision makes me invoke the most important thing I learned in the USF experience: People matter."
'15
Claudia Flores MS took a job with Charles Schwab in San Francisco this year and since then has been promoted to senior UX researcher and is lead for their new line of retirement products.
Angela Gala MA is a blogger and Instagrammer representing millennials in museums.
Dina Sofi MA married the love of her life on June 12. She also works as a coordinator of the academic research section at English Language Institute at King Abdulaziz University in Saudi Arabia. "I miss USF. I miss San Francisco."
Sarah Anne Thompson JD moved to Los Angeles to join Hersh Mannis LLP after working as an adjunct professor at the USF School of Law teaching legal drafting.
'16
Virginia Meadors Barrett MFA's poetry collection, Between Looking, was published by Finishing Line Press in May.
Jessamyn Phillips MPH, DNP '19 gave birth to her daughter, Claire McKelvey, five days after graduation. On Aug. 1, she passed the family nurse practitioner certification exam. "Finally, this past weekend, I hiked Lassen Peak."
'17
Nancy Gabaldon MGEM was hired as the digital content manager for the U.S. National Guard Association in Washington, D.C.
John Lambert MBA and his wife, Kristen, became parents to Madeline Virginia Lambert, born in September 2018 in Redwood City, California.
Brandon Chase Lantrip MA works at the U.S. Attorney's Office for the Northern District of California in San Francisco as a financial technician. In August, he was promoted to budget analyst. A native of the Sunset District, he lives in San Francisco with his wife, Lin-Pei, daughter, Kaia, and son, Logan.
Miriam Graciela Mendoza-Moody MNA has been working for nonprofits for over 10 years and recently joined The Nature Conservancy as executive assistant to the chief development officer.
Manuel Alejandro Pérez EdD married his partner, Juan Raul Gutierrez, on Dec. 20, 2018, in Tequila, Jalisco, México, at Hacienda El Centenario. They were joined by family and friends, including fellow USF graduate Olivia Muñoz '17.
Shanda N. Whittle MSN published her first book, Can't Find My Way Home: Memoir of a Wounded Healer, about her transformation from disabling childhood illness in a home of domestic violence and alcohol addiction to mental health nurse. Shanda is a DNP student at USF, due to graduate in May 2020.
'18
Sabrina Aller manages the customer service department for a West Coast dessert distributor and joined the executive MBA cohort at Sonoma State University in September.
Nicholas P. Daher MNA accepted a job as a development assistant at Peninsula Open Space Trust.
Desmond Narain Doulatram MA is a professor at the College of the Marshall Islands. The capstone he developed for his graduate program was published and archived in the German National Library. "For this, I can't help but thank the University of San Francisco for giving me this moment!"
Katie Dolan MAT took on two long-term substitute teaching positions and fell in love with the students and the school in Millbrae. She has now accepted a position teaching sixth grade. "I am excited to be embarking on this journey as a teacher in the field of education."
'19
Glen Ryan Flores Alejandro MAT has started a full-time teaching position at the Academy of Art University in San Francisco.
Travarus Fauntleroy MA is a diversity and inclusion program manager at Facebook, something he was hoping to do when he wrote his master's thesis on "Diversity and Inclusion in Tech." He also launched a T-shirt collection called Fauntleroy.
Deirdre Jones MSN, MPH is a school district nurse near Elk Grove, California. "It is the perfect job for a new grad who wants to enter the field of public health as a nurse, and I just bought a house for nearly the same monthly payment I am paying for my Bay Area apartment. Life cannot get any better!