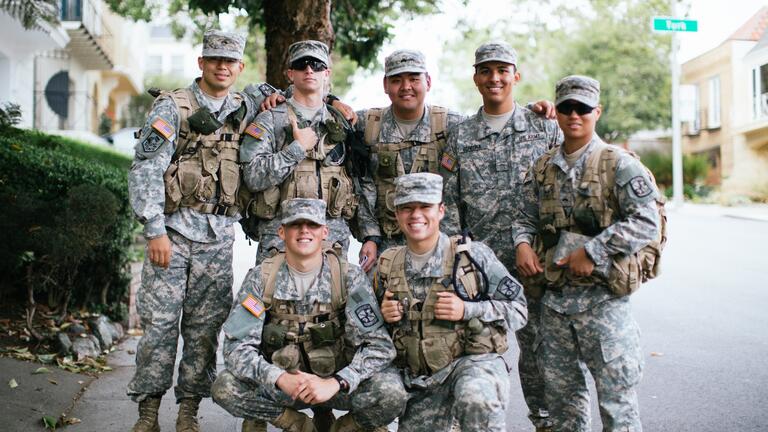 The Army Reserve Officers' Training Corps offers scholarships for active duty, National Guard Reserve.
Army ROTC offers four, three and two-year scholarships. Currently, these scholarships pay full tuition costs as well as a flat rate of $1,200 annually for textbooks and supplies. Each scholarship includes a stipend of $420 per month for 10 months per year, during each year that the scholarship is in effect. Additionally, USF currently provides room and board grants for ROTC scholarship cadets earning their degrees at USF. The room and board grant is set at a cap annually and all scholarship recipients must stay within the cap when selecting housing.
National Guard and Army Reserve Scholarships
National Guard and Army Reserve scholarships are also available to cadets in this program. Included are 3-year Guaranteed Reserve Forces Duty (GRFD) Scholarship, for either National Guard or Army Reserve.
These scholarships are for those students who wish to serve their country, but want to work in the private sector on a regular basis. USF ROTC also offers two to four year Minuteman Scholarships for those who wish to serve in the Army Reserves or National Guard.
Language Incentives
A language incentive is also available for students wishing to study the following languages: Arabic, Persian - Farsi, Persian - Dari, Chinese - Mandarin, Pashtu, Urdu, Indonesian, Swahili, Hausa, and Korean. Any scholarship Cadet that studies and passes courses in these languages will receive an incentive of $100 per month for 100-level courses, $150 per month for 200-level course, $200 per month for 300-level courses, and $250 per month for 400-level courses.
How to Apply
To apply for campus-based two-to-four year scholarships, students must be planning or currently enrolled in ROTC as a full-time student at USF, San Francisco State University, Sonoma State University, Dominican University of California, or the Academy of Art University in addition to other eligibility criteria.
High school students considering Army ROTC officer training during college should contact the USF ROTC Admissions Office directly at (415) 422-2562 for information and instructions about joining the USF ROTC program, preferably during the junior or senior year in high school.

Active duty enlisted soldiers interested in becoming an officer should learn more about the Army's Green to Gold program.
Army Reserve or National Guard soldiers, or those interested in serving in the Guard or Reserve while attending college, should request more information about the Simultaneous Membership Program (SMP). The program allows you to earn Reserve/Guard pay and benefits in addition to your Army ROTC allowances.
More Info
For more information on applying for a scholarship, contact our admissions office at [ArmyROTC@usfca.edu|ArmyROTC@usfca.edu]or (415) 422-2562.