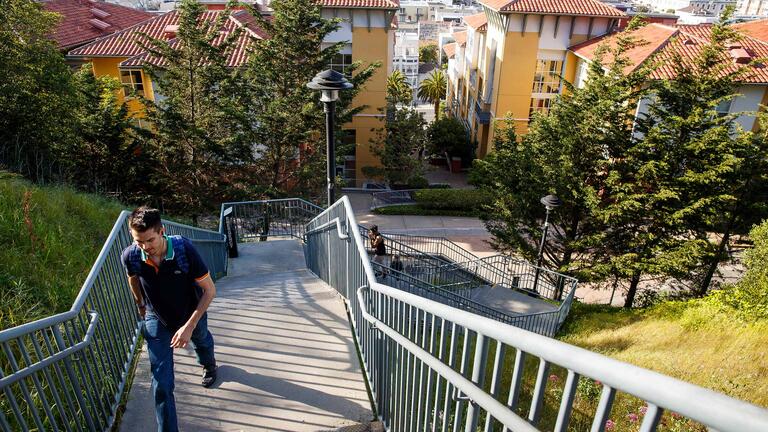 Loyola Village Residence Hall
Situated on the north face of Lone Mountain, Loyola Village is a 136-unit condominium complex that offers apartment-style living within walking distance of the campus. Here mature students can begin the transition to independent off-campus living in a secure complex that houses other faculty, staff, and students.
Population
Students turning 21+ by May 
Male and female residents
Building
Four floors
One-, Two-, and Three-bedroom units available
Bedrooms are double occupancy (Two residents per room)
Type One Double Room: A shared double room in a 3bedroom/2bath unit where the bedroom is smaller than 130 sq ft.
Type Two Double Room: A shared double room located in a 2bedroom/1bath unit or any shared studio unit, or any double room that is larger than 130 sq ft and smaller than 150 sq ft.
Type Three Double Room: A shared double room that has a bathroom dedicated to that room or is larger than 150 sq ft.
Please note that there are limited single units in studio apartments available.
Each unit in Loyola Village is unique
Community Areas
Laundry room (laundry services are free to residents) 
Recreation
Cable TV connector in each room
Security
24-hour front desk
Key card required to access building
Key card and code required to access rooms
Location
Anza St., between Masonic and Parker St.
Located behind Lone Mountain
Closest dining facilities: Open Door and Koret Lodge
History
The construction of Loyola Village was commenced in order to provide housing for faculty and staff to purchase. However, the lack of demand for these housing units resulted in the complex being repurposed as a residence hall. Opened in 2002, Loyola Village offers apartment-style housing for students who wish to live more independently. With each unit featuring a full kitchen and furnished living room area, mature students are able to reside conveniently close to campus while maintaining a more independent lifestyle. In addition to providing student housing, Loyola Village provides housing for some faculty, staff, and guests of the university. Nestled on the north side of Lone Mountain hill, Loyola Village is a picturesque community.