Artist Statement
My work is filled with actors, film stills, costumes, artifacts, sea life, painted lines, and technicolor. I make pieces that build my own directorial vision: reclaiming, recasting, and re-working land, roles, and history. I use genres, both film and art historical, to question romanticized views of the past that have persisted.
In the series CA Collages, scenes within scenes are overlapped, building compressed moments in time, looking to the future, overseeing the land, reclaiming a place real and often mythologized.
---
Image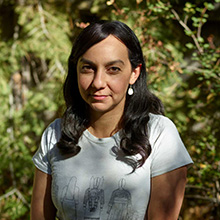 Katie Dorame (Tongva) is a visual artist born in Los Angeles, currently living and working in Oakland. Dorame's work has recently been exhibited at Shulamit Nazarian in Los Angeles, Guerrero Gallery in San Francisco, Form and Concept in Santa Fe and the de Saisset Museum in Santa Clara. She has attended the Institute of American Indian Arts in Santa Fe as an artist in residence, and contributed to SFMOMA's Open Space project blog. She has also contributed to the Facebook Open Arts mural project.
Artist Recommended Resources