Artist Statement
Some folks made sourdough. I took to taking photos of myself dressed like the flowers in my neighborhood. In these pandemic times of grief and isolation, the Unfaithful Recreation series has allowed me to feel joy, delight, and connection. For the floral version of the series, I use Odissi dance and South Asian saris to weave stories for myself about California's native flowers, tinged with the pleasure and pain of recovering fabrics, dance, and indigenous landscapes that have been disrupted by colonialism.
My creative work is rooted in the process of turning personal and systemic trauma into moments of joy, whether it's in the form of street theater celebrating South Asian American resistance movements, or taking photos of plants at night after the loss of a parent.
Share your reactions with me on instagram @berkeleywali.
---
Image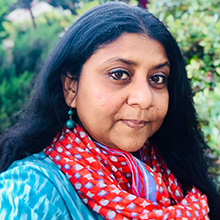 Barnali Ghosh is a designer and storyteller, and a public transit, walking, and biking advocate. She co-founded the award-winning Berkeley South Asian Radical History Walking Tour, which uses storytelling and theater to share narratives of local South Asian American resistance movements, from immigrant freedom fighters in the 1910's to queer and feminist organizing a century later. She has curated two art shows, Our Name is Rebel and Rebel Legacy (with Kearny Street Workshop) based on these histories. Much of her work explores the connections between home and homeland.
Artist Recommended Resources